Volunteer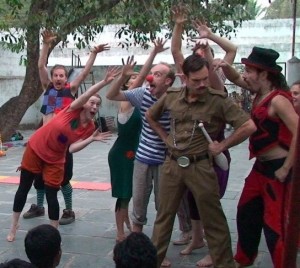 Touring

Applications are now closed for the 2017 tours.
PWB make a call for volunteers annual (usually May or June) if you would like to be notified of this call then please sign up to our newsletter:
About volunteering for PWB
PWB is entirely run by volunteers. We have a volunteer committee of management who works towards fulfilling our vision and makes sure we adhere to our values.
The teams that undertake our tours are volunteers drawn from the talented pool of performers and teachers from around the world. From time to time we send out 'calls for volunteers' to find people to undertake tours. If you would like to be the first to hear about volunteering opportunities sign up to our newsletter.
What does it mean to participate in a tour?

If you are successful in applying to go on tour with PWB, it's a big commitment, but an incredibly rewarding one. It means fundraising, travel, teamwork, learning, teaching, eating exciting food, playing, quite possibly being very ill, having loads of fun, languages, sunshine, great shows, and, in the words of one past volunteer – 'one of the best experiences of my life'.
The journey begins when you are accepted into a team, and you have to start planning for the tour. Each tour is slightly different, and each team is unique. There're funds to be raised, ideas to be shared, and many months of fevered anticipation.
When you make it out on tour, the basic plan is as follows – create a show with your happy and slightly jet-lagged team, travel to some incredible places, teach lots of kids and young people who are invariably extremely excited to see you, do the show lots and lots of times, and have many incredible experiences along the way. You'll improve your teaching, organisational and performance skills, and you'll have stories and memories that will last you a lifetime.
So what are you waiting for?