India 2017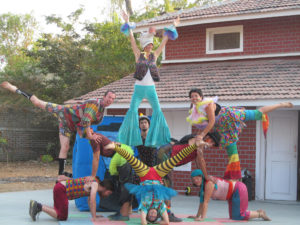 Tour Facilitator: Avi Chertok, USA.
Avi is a circus and fire artist and teacher with company Pyrotechniq, specialising in staff. Avi is also a certified firewalking instructor, and enjoys clowning (not at the same time). He lives in Chicago and toured with PWB Team India in 2015. He is back for more this year and we are very happy to have him leading Team India! you can find out more about what he does by visiting Avi's facebook page 'Avi's Imaginiarium'
Meike Schnapper, Germany, 19.  Meike's home is in circus. She wants to give the same opportunity to other people, for it fills her life with so much laughter. She wants to use circus to change the world and believes that through this art we can teach self respect, awareness and hope; without competition and oppression. She hopes to transport these values through circus, especially at this time of needing a free society.
Grant Jensen, 26, Australia. A man who has passion for poi and delights in dance, as well as being proficient in many other circus arts. He combines his love of circus into his day job teaching science at secondary level. His favourite part of teaching is seeing a child progress and he says "they develop a sense of achievement and self-confidence from working through circus and they nearly always smile regardless of whether they can do a particular trick. I'd like to have the opportunity to spread that joy to kids who face some pretty big challenges and hopefully give them some of their childhood joy back"

Lynne Lee, USA, 25.  Ling Lee is a human bubble of energy and colour. Hailing from San Francisco, one of her main joys is to watch the fog eat the city. She has been performing in theatres around the bay area all her life, and doing circus arts for the last 4 years. She loves getting wacky with dance and storytelling. Her current favourite props to dance with are fans, buugeng, and rope dart.
She wants to share her art on a global level. To support underprivileged communities by sharing time together and exchanging skills and passions. To make connections that will last and make an impact on both parties.
Benjamin Bergeron, France, 36.  Ben is very excited to be part is the team as it combines his two passions; Travel and Circus! He has been teaching circus for years as well as performing his amazing skills! Imagine 5 ball juggling, 4 club juggling, devil sticks and cigar boxes, unicycle, slack line AND longline. PWB India is in for a treat with this huge range of brilliance.
Daniel Griffiths, UK, 26.  Daniel is totally dedicated to circus art as a tool for social change. He has experienced himself the powers of circus and in turn shares his experience and skill with all sorts of youth and community groups. He loves the Indian culture and to combine this with teaching circus art would be something he will never forget.  He has also spent the last few months cycling from Wales to Turkey, as a charity fundraiser!
Jamie Mulligan Smith, USA, 41.  Combining over twenty years of performance experience in theatre, dance, fire arts, and original spoken word with twenty years of experience working with children, Jamie is on board with her grassroots diplomacy and global peace making to offer her vast experience and to bring her dream of connecting with PWB a reality.
Johny Douglas, USA, 23.  A self confessed spinner of all the things! Johny has a strong love for growth, performance, and puns. He wants to help people and believes that giving back what he has loved is the best way to do this. Having been inspired by the work through PWB he is now part of the crew that wants to spread smiles and share joy.
Rowan Thompson, 25 from UK.  Playing with circus toys is Rowan's favourite thing to do. She loves to teach, perform and play games; anywhere, for anyone, at any time of day, in the hope of bringing a smile and infecting others with the circus bug. It is her aspiration to share the joy of circus with the world, particularly with those that most in need. She is really looking forward to creating and touring a show with an international team of performers. Rowan says "I believe that together we can bring joy and hope and make children believe that their impossible can happen".