The Back Story
Written in the Autumn of 2007…
The idea for Performers Without Borders (PWB) was first developed by Jonny Forbes and Matt Morris in India during the Spring of 2006.
While Jonny was studying in India and Matt was finishing a voluntary project they meet up in Varanasi. Sweltering in the summer heat they formed the idea to fuse their shared interests in performance skills and community development. From this beginning they have found that there is great interest and enthusiasm from the performing community, they are now working to ensure that PWB will be a success.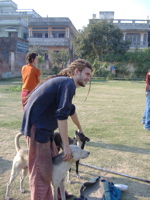 Jonny Forbes
jonny[at]performerswithoutborders.org.uk
Jonny started studying his BSc in Development Studies in 2002, and recently graduated with an upper second class degree from the University of East London (UEL.) Whilst studying, Jonny was active within the University, acting as the class representative for the development studies group. This was followed by one year working with an emerging NGO, based at the university. Global Development Links was set up by students of UEL, and aimed to give all students an insight into the issues of Development today. Jonny's role on the charity was that of fundraising coordinator, he also held a position on the management committee. Through this role Jonny was able to actively shape the NGO's first year project; an I.T. supply an training program Northern Tanzania.
It was this program in Tanzania that gave Jonny his first experience of living and working in another country. The three month trip was filled with challenges and rewards that gave Jonny a great taste for living overseas. The next opportunity came at the end of his degree when he chose to spend 5 months living and studying in Varanasi, India, at the prestigious Benares Hindu University (BHU.) These 5 months, followed by 1 month traveling in Northern India, gave Jonny a real taste for living in India.
Jonny has been juggling since 2000, and he has been a regular at many of the juggling events held across the UK. As a performer he has worked in several different settings, from London nightclubs, to the streets of Scotland, and numerous places in between. It is through these events that Jonny first met up with Matt.
Whilst in Varanasi, Matt came to stay with Jonny at his home, it was here that the idea of Performers Without Borders (PWB) started taking shape. Both Matt and Jonny have a strong interest in the possibilities within Development, and having both worked for various actors within that sector. They decided it would be best to start a group focusing their two main skills together; juggling and Development, and PWB was born.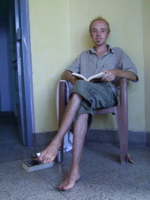 Matt Morris
matt[at]performerswithoutborders.org.uk
In 2002 Matt started an MSc in Development Studies at the School of Oriental and African Studies as an attempt to make some sense of the poverty and negative impacts of Development he saw while travelling overland to India the previous year. After graduating he entered into the not-for-profit sector to find out how such organisations meet their stated objectives. He gained experience in fund-raising, administration, communication, volunteer management, project management and logistics, working with such organisations as War On Want, Survival International, Concern Worldwide and The Fairtrade Foundation.
However he was dissatisfied working towards other people's ideas of how Development could and should be conducted, so he left to return to Asia for inspiration. While in Sri Lanka and India he worked as a volunteer on post-tsunami community development and human rights research respectively. These experiences were influential in the idea of starting PWB.
Parallel to Matt's career maturation in the field of Development was his growth as a performing artist, and his involvement with the juggling and circus skills community in London. Matt has been juggling for over four years and has a wide repertoire of performance skills. He has run a weekly juggling workshop, worked at Oddballs the premier juggling shop in London, and now teaches juggling.
Matt is well connected in the alternative progressive scene in London; he has worked with the arts community Synergy Centre and was the Secretary of Sanford Housing Co-operative. In January 2007 he spent two months working with Circus2Iraq touring Palestine and Israel. The circus made 40 performances to 8,000 children and made 20 circus workshops.