Variety in Varansi
Categorised in: India 2017
By Tour Updates
It is hard to believe that nearly four weeks have passed since our arrival in Varanasi.  The sights, sounds, and smells that at first overwhelmed the senses have become strangely normalized and now dodging swerving motorbikes or enduring over amplified bollywood tunes as celebrating families dance through the streets seem like routine elements of a life I have always lived.  Walking to Asha Deep (one of the schools we have been working with here) each afternoon, I am greeted by familiar faces all along the way and it hits me: I have come to feel at home here.
Likewise, in our work and home life, the group has settled into a fun rhythmn.  We enjoy nightly dinners together cooked in our own kitchen, a pleasant change to the constant eating out that defined our time in Gokarna and Ahmadebad.  Juggling and other prop practice happens daily in the living room and on our apartment building's rooftop, and the joy of working with the same students over the course of several weeks has allowed for meaningful and loving relationships to develop between members of the PWB team and the children entrusted into our care.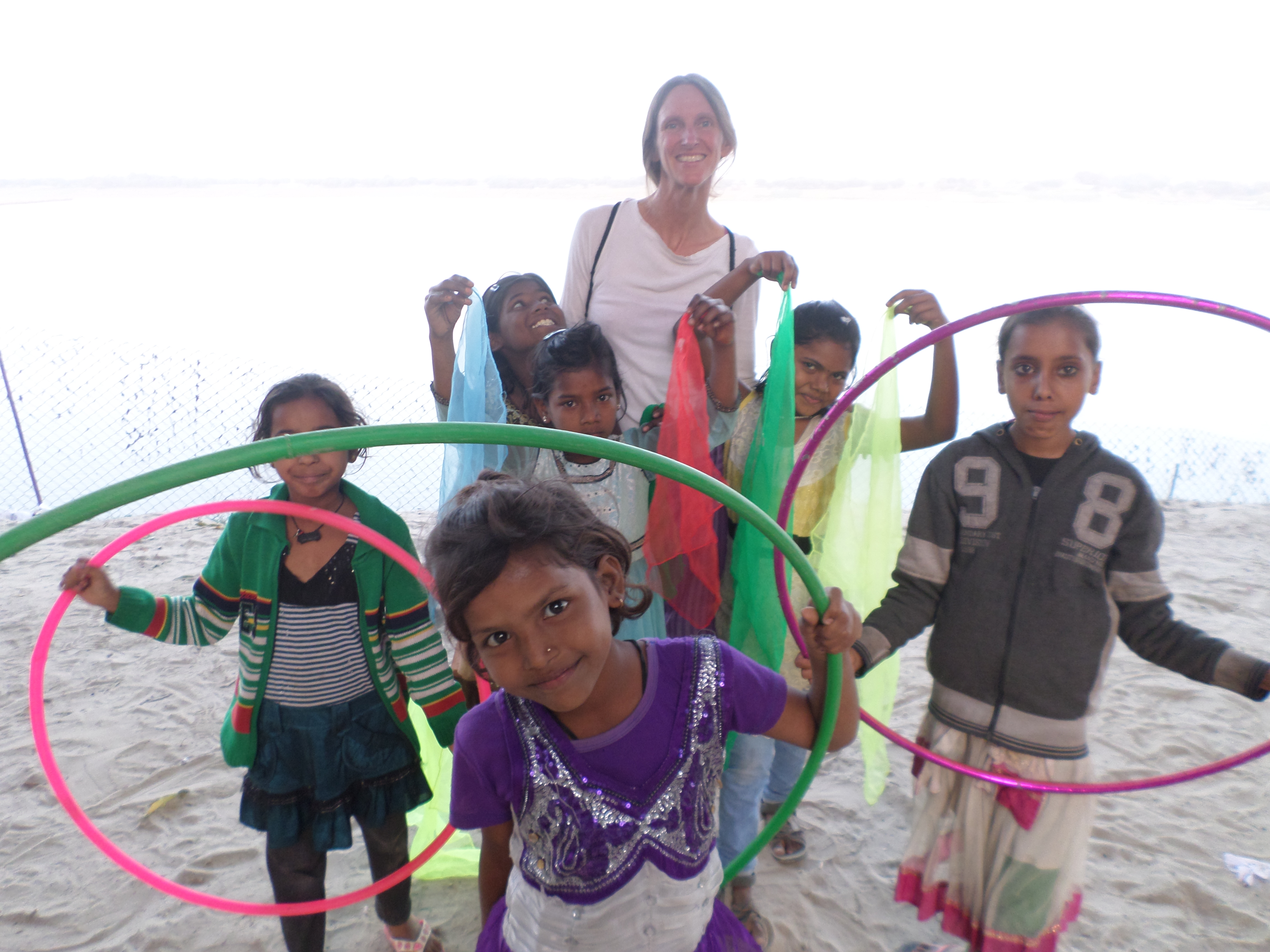 The entire team works daily with the students at Asha Deep, PWB's longest running partner organization.  Because of the history that PWB has here many of the students have advanced cirucs skills and it is a lot of fun to play alongside them and challenge them to further their learning.  It is also exciting to help mentor those who are ready in taking on greater responsibility and independence in their lives as young performers. After facilitating a school wide meeting for those interested in fire performance and conducting a specially designed fire safety workshop, 2017 has seen a great increase in the number of students (and particularly young women) who are spinning fire.  Twice this month members of PWB have joined students from Asha Deep in fire busking on the ghats.
The last two weeks have been especially busy as PWB instructors have been helping students at Asha Deep prepare circus acts for their annual Spring Extravaganza.  Staff, hoop, club juggling, fans, poi, unicycle, diablo – these kids can do it all! And on fire!! The show is just 4 days away and it is shaping up to be a guaranteed dose of fabulousness!
In addition to Asha Deep, Team India has invested considerable time in developing PWB's relationships with two other schools in the area during this period.  Several of our instructors spend three mornings a week at Duniya school while another group offers instruction Monday through Friday at Jeevan School.  We also continue to perform; last week we performed our show twice, first for students of Ashray School and a second time on the banks of the Ganges for those living in the slum community near Jeevan.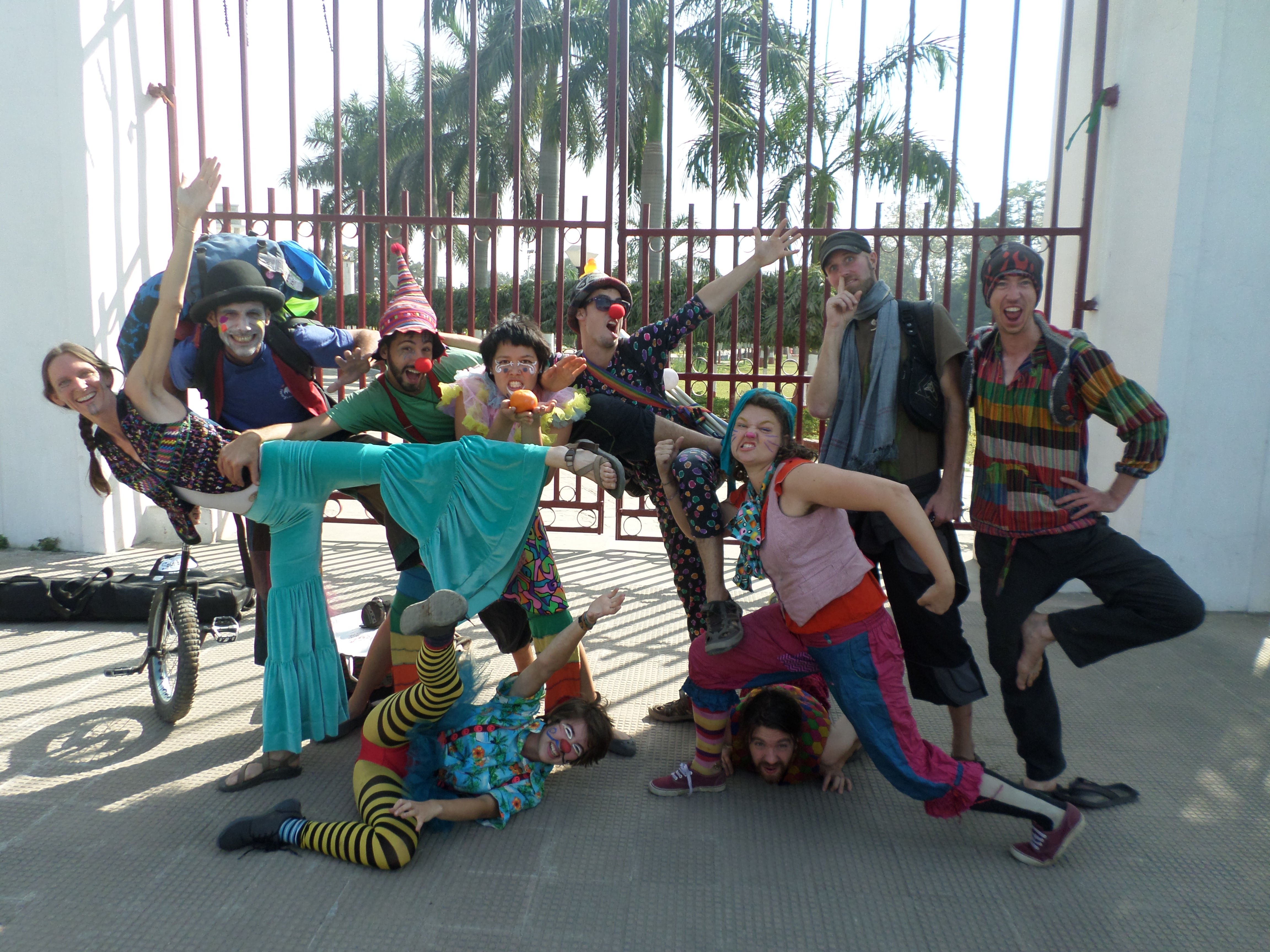 Yesterday, while at Jeevan, it came up that this would be our final week there.  A girl who had come to class grudgingly (at best) the first few days, but who has in the weeks since seemed to discover a real joy for PWB "class" time, suddenly spoke up.  Her bright smile turned into a temporary frown as she leaned in to hug me and say, "I will miss you.  Circus coming to my school has made me so happy." It took all I had to hold back the tears in that moment.  Knowing that we have made a difference in even one child's life, that somehow our presence and efforts have made her day a more joyous one in any capacity – this is why we do what we do and her acknowledgement of impact is our greatest reward.