Tour memories- Looking back with PWB volunteers
Categorised in: PWB Central
By Tour Updates
Here at PWB we're starting a series of looking back on tour memories from our previous volunteers. Heres the first in the series- Enjoy:



Who are you?
Hey there! I'm Abi, currently I'm the international tour coordinator, but I'm flexing my wings in social media and fundraising during the lockdown whilst we put all our international tours on hold.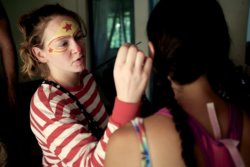 Abi face painting on the Kenya 2019  Tour
What memory have you most revisited from a tour?
Oh the smiles, the high fives, laughter and cheers! Gosh there's so many, just to pick one? Ok, it might be when I took our first team to Kenya. We were all so exited to be the first PWB team there, so much energy and drive and I was so nervous for things to go well.
So this particular memory we were out doing some outreach for the Sarakasi Trust in Nairobi, we were going to teach in an informal social circus meet up- I think usually around 40 kids usually turn up. So we made all our plans- we got, timing, numbers, props, show off time. Then…..over 100 kids turn up…. Word got around that we were coming to teach- right round the whole community. "Ok team we're to have to rethink!" We put our heads together and discussed our options, made a new plan then went out with huge smiles and energy for all those kids. I remember looking out across my team with all the shrieks of laughter, dust all around and my team, we had made the absolute best from that and really really succeeded as a team. I was so proud of the team and that tour, we absolutely smashed it!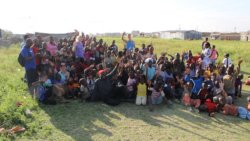 Our team after the workshop in Kenya 2016

What areas or aspects of the tour challenged you the most?
Being able to adapt; so many times during tours you make plans, even back up plans and they usually don't go to plan like in the last story. The most valuable thing you can have in a team is the ability to adapt, communicate, go with the flow and make the best with what you have.

On the tour what was your biggest achievement?
Hmmm I think it's sharing the achievements of others, when they get the trick you've taught them it's such a special moment between teachers and students, I'm also super proud to have done 6 tours in my 7 years with the charity.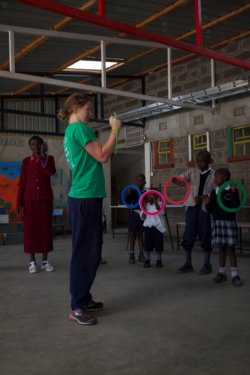 What was your kids show about?
On my last tour of Kenya in 2019 our show was based on superheroes, so much fun; costuming, face painting, and superhero's have the best soundtracks. In that show we also had some great performers in our team, it all fit into place so smoothly we did that show so many times and it always felt such a joy to perform and share it.
What was your biggest breakthrough with teaching?
Definitely encouraging students to use their imagination and create, more recently I worked with some really tiny kids- they just loved playing cars or wind or pretending juggling scarves were telephones, its harder to get teenagers and adults to do but it brings so much confidence in believing in the validity of your own ideas. 
How did you fundraise for the tour?
I've usually done a combination of gigs, online fundraising and plain old saving up. Once i'd been a performer for a long time you get a lot of downtime at the start of the year- you make it work if it's your passion and the rest just slots into place. It never feels like work just a path that I needed to follow