Tour Memories – Looking back with PWB Volunteers
Categorised in: PWB Central
By Tour Updates
Who are you?
McKenna 'Mooncake'. I am 24 and from the US originally, but I have been living overseas for the past three years. My circus journey began in Thailand with the Medicine Circus out of Pai in the Northern Mountains. I was a volunteer on the PWB India 2020 tour.
What memory have you revisited from a tour? 
A memory that hits me straight in the love eyes was after the eldest students of Asha Deep performed their fire numbers in the show, I went backstage to check on my fire hoop girls (6 first-timer burners performing full choreography in front of a huge crowd! One more round of applause for the ladies!!!) "Any burns? ANY BURNS?" We had one burn… I guided Anuradha back to the wing where we had stored our first aid kit along with the help of Jyoti, an older Kashi Fire Warriors member and sister of Pretti. The three of us looked at the burn, a minor flesh burn on her right arm from the metal attachments of the wick. I lifted my own arm and showed her my matching burn from the previous weeks busking show. Almost instantly, Jyoti lifted hers to show a small scar on her forearm; another match. 'Fire sister marks' Anuradha pronounced us, we finished cleaning her wound and all hugged. United through art, expression and power.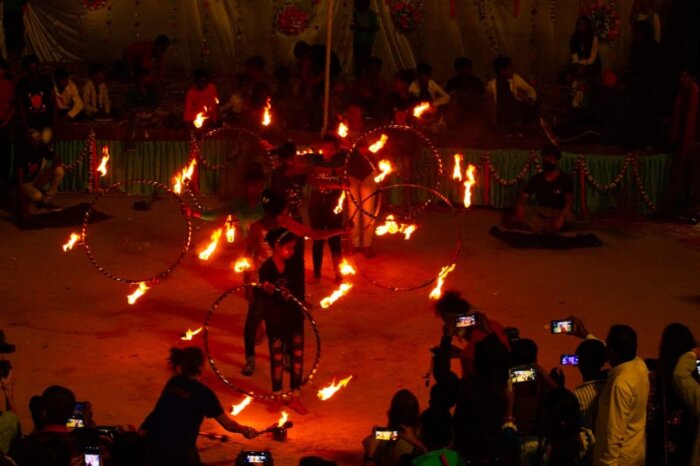 Final show in Varanasi, the fire hoop girls <3
What areas or aspects of the tour challenged you the most?
INDIA challenged me the most! I mean, I've been bopping around countries for the past 4 years and it was nothing compared to what it's like to experience the cultural differences that comes with a country run on a caste determined system. The country tested my patience and arose many personal conflicts but in that same breath, I am counting the moments until I can return.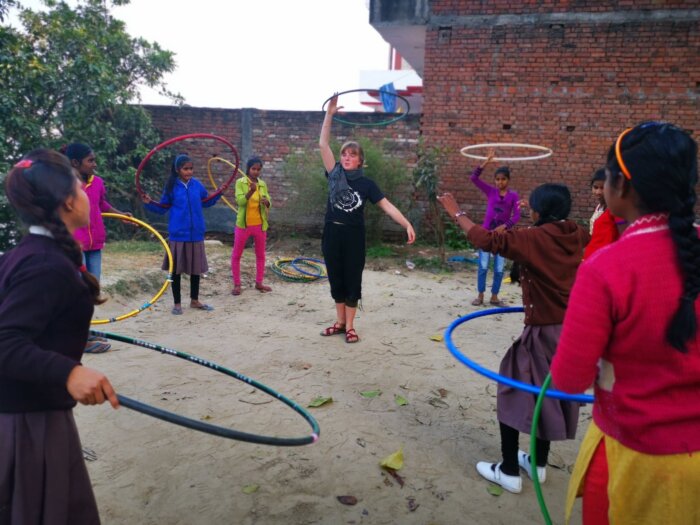 Teaching hoop workshops at Asha Deep
On the tour what was your biggest achievement?
I have never considered myself a choreographer but I keep returning to the memories of working with the Kashi Fire Warriors in preparation for their big performance in Patna. Though the performance was cancelled last minute due to COVID, these kids worked hard and patiently as we provided them choreography, puffed up their stage presence and drilled routines. Meeting the girls at off-hours between their studies in the yard of Asha Deep we laughed, moved and bonded together. The girls picked up choreography brilliantly and were so eager to learn. Seeing their devotion and successes (even without the performance going through) it felt so special to have gotten to share in it.
What was your kids show about? 
On the India tour, our show was very special because it was a hero's tale we all felt so excited to share. Early on in our development we unanimously agreed we had a unique opportunity to spread messages in the story we presented. I immediately vouched that we emphasize the power of women and the potential to follow their biggest dreams. We were in India, after all, this is a message that these girls and women would not as often be exposed to. Our story followed the circular tale of a young girl who, after seeing the Grand Circus Finale, dreamt of being on the stage herself with all the colourful clowns. Her father insisted that she remain devoted to only her house chores and in an instance of confidence, from looking at her beloved circus program, she ran away. The world was frightening and overstimulating and she nearly gave up her dream until the female clown from the show, her absolute idol, saw her playing around with a bottle turned eco-brick (upcycling messages!) and offered her shelter with the circus community. Brought backstage, she was in awe of the talent, fun, and magic that was Circus. The others encouraged their new friend to practice, exercise, patience and mindful behaviour and uplifted the girl so she too could join them in the Grand Circus Finale. The show ended with the girls' father returning and, seeing his daughter achieving success, approved and accepted her (it was a children's show, after all) 😉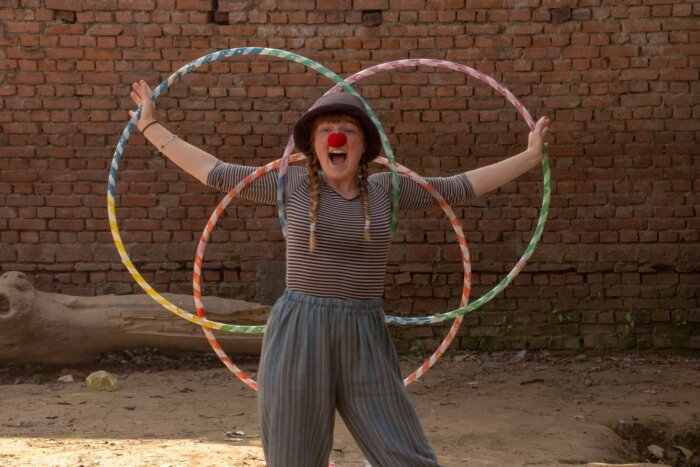 When the hero finally performs in the show!
What was your biggest breakthrough with teaching?
I felt that a huge breakthrough for me was understanding that plan, plan, plan was the best way to teach but when it comes to proper preparation, flexibility is the backbone of giving lessons. To be flexible with the goal of your teaching to best-fit students needs, English language level, understanding and behaviour. 
How did you fundraise for the tour?
I fundraised for the tour by picking up extra work as a hoop dance and movement instructor on my days off from my other two jobs. It was a beautiful way to earn and prepare for the experience of circus education and grading skills when working with youth. I also was able to earn funds by setting up a GoFundMe account and sharing the story of the project and my personal mission with as many people and I knew and the people they knew.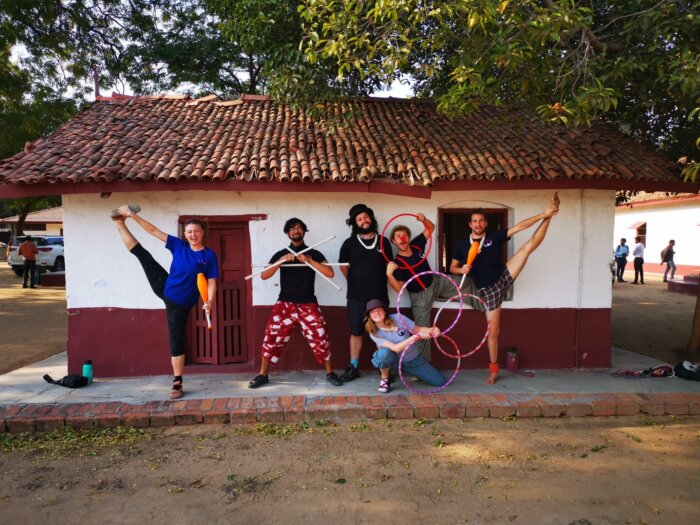 Team India 2020