Tour Memories – Looking back with PWB Volunteers
Categorised in: PWB Central
By Tour Updates
Who are you?
I'm Gina 'Bazinga' Disney and I was the tour coordinator for the 2020 India tour. I'm a professional clown and performer from the UK, I graduated from Circomedia in 2018 and have worked with contemporary and traditional circuses for the last 8 years. I also did three tours in 2019, a week-long Calais project, a Flying Seagulls residency in Samos working with refugees and the India 2019 tour as a volunteer and I have been working hard to fundraise and spread awareness for the charity since.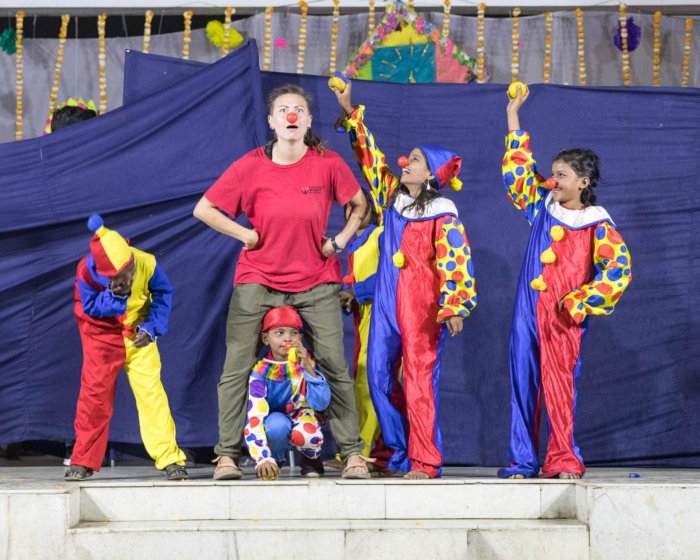 India 2019, team clown <3
What memory have you most revisited from a tour?
From my first tour where we were doing some fire busking on the banks of the Ganges river in Varanasi, there were 100's of people all gathered around to watch the fire spectacle and these little street kids trying to sell bunches of balloons to make their dinner, they were transfixed by the show with mouths wide open, gobsmacked. Everyone was ignoring them in their desperation, looking down on them like vermin. I thought they looked totally 'under-circused' and needed a smile so I decided to pick one up bear style and swing them around, we were both laughing so much and this continued for about 10 minutes (until I was very out of breath) When we stopped I realised that the audience we had gathered was watching half dismayed that I was engaging with the lower caste and half delighted, It gave the kid a few minutes of a respectful spotlight and left them with the biggest grin, one lady then came up and bought all of their balloons, also with a huge smile on her face. This memory makes me happy, I hope that I changed a few perceptions that day and made some people self reflect on their inner kindness and the power of sharing smiles with all.    
What areas or aspects of the tour challenged you the most?
My first India tour was quite challenging as we had so many health problems on the team, we were the unluckiest tour ever! Two cases of typhoid and continued travellers sickness' for over 4 months, we had a highly choreographed 8 person show that we performed over 25 times and only ever twice with the whole 8 of us, this meant changing scene and choreography on the fly for each show! It was a big challenge but I believe it's shaped me and the others to become very adaptable performers.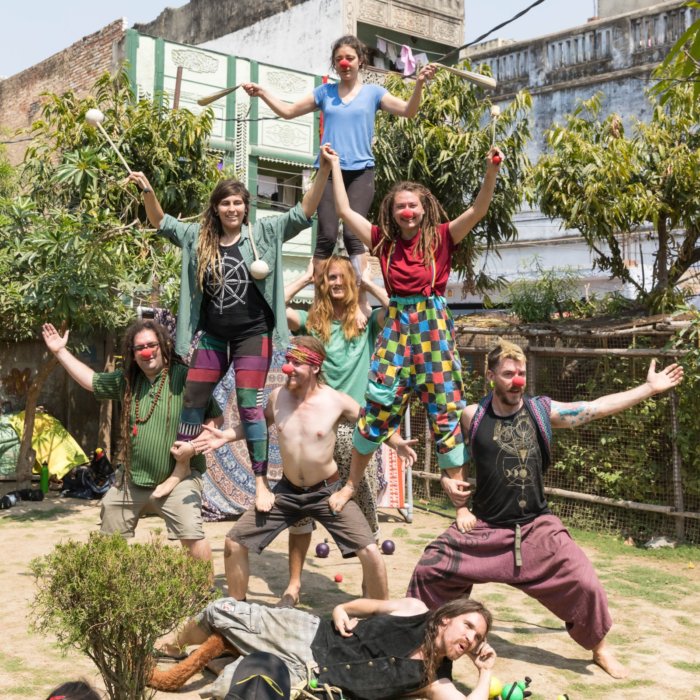 Team 2019 with all 8 of us in our final pose for the show!
On the tour what was your biggest achievement?
I guess getting the team all working well together and for us to have produced such a good show, we had a very successful tour (although it was cut short) in 2020 and brought smiles to hundreds, our outreach was greater in numbers than any India tour previously and we even ran a few teacher training sessions in order to aid future project longevity. 
What was your kids show about?
On my last tour in 2020, we wanted to try and tackle a few of the issues that are very present in Indian society in a hilarious 'clowny' style but still on a relatable level for the kids. We produced a female empowerment story of a young girl who runs away from a very unsportive farther with a travelling circus and follows her dreams to become the star of their show, the father comes to the show and sees his daughter performing and forgives her and loves her for her hard work, our materials for our juggling props were also made from upcycled trash with hints throughout about recycling and how you can do circus, play and games with imagination, hard work and every day rubbish. The response we got for each show was beautiful with everyone understanding the non-verbal storyline, we even found some kids copying a scene from the show and practising balancing a broom on their hands and arms and making rolla-bollas out of scraps of wood and old piping. Success!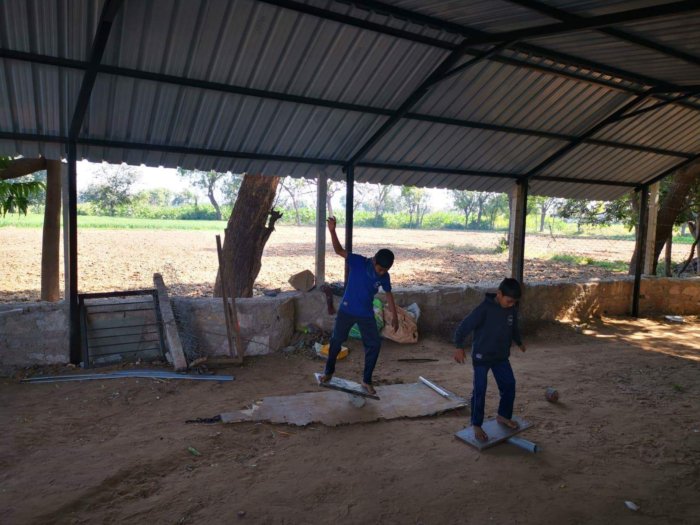 2020 India Tour, the kids had made their own Rolla-bollas!
What was your biggest breakthrough with teaching?
I think having the space to develop my own kick-ass action-packed kids clowning workshop was the greatest breakthrough I had on my 2019 tour. I had some of the most challenging kids to deal with they were some of the youngest, they had very little spoken English, very short attention spans and were totally full of energy in the 30+ degree heat! I really loved growing as a facilitator in these extreme conditions and survived by taking the clowning games 'what's next' and 'yes lets' as my commandments, I feel I gave these kids a chance to really express and explore their own ideas that seemingly usually get ignored. We created some brilliant content for their annual show performance and I wrote a great series of workshops from this experience!
How did you fundraise for the tour?
I've organised a showcase/cabaret in November in Bristol for the past two years with volunteer circus performers, dancers, extra staff, musicians and artists. We also put on cake sales and ran a bar. I also did 2 hours a day busking on the streets with my trumpet playing some catchy tunes and some still life modelling sessions for a friend's regular classes (that runs on Tuesdays at the Jam Jar – Bristol) and from teaching adult rope-dart workshops. It can be hard work but also a lot of fun, fundraising has pushed me to achieve things I thought were impossible before!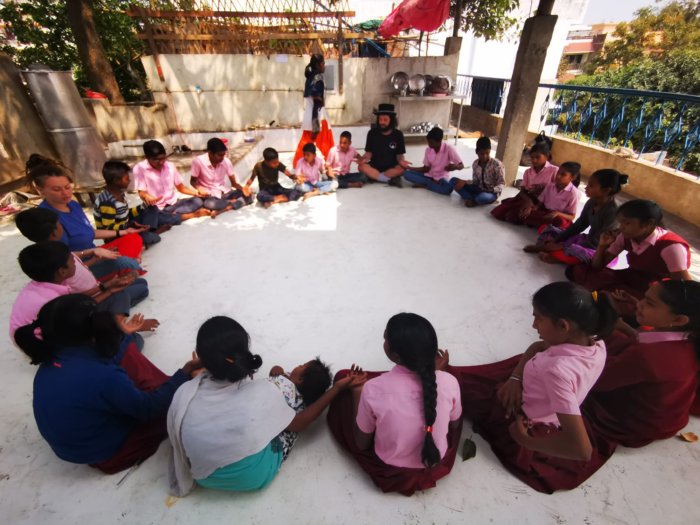 Teaching a focus workshop through songs and play, India 2020