Tour Memories – Looking back with past volunteers
Categorised in: PWB Central
By Tour Updates
Who are you?
I am Kiera or Kiki the hula hooper! I joined the PWB India tour in 2018 and learnt so much during the tour. I loved being able to connect and share some of my magic with the locals that would otherwise not have an experience of circus arts and performance!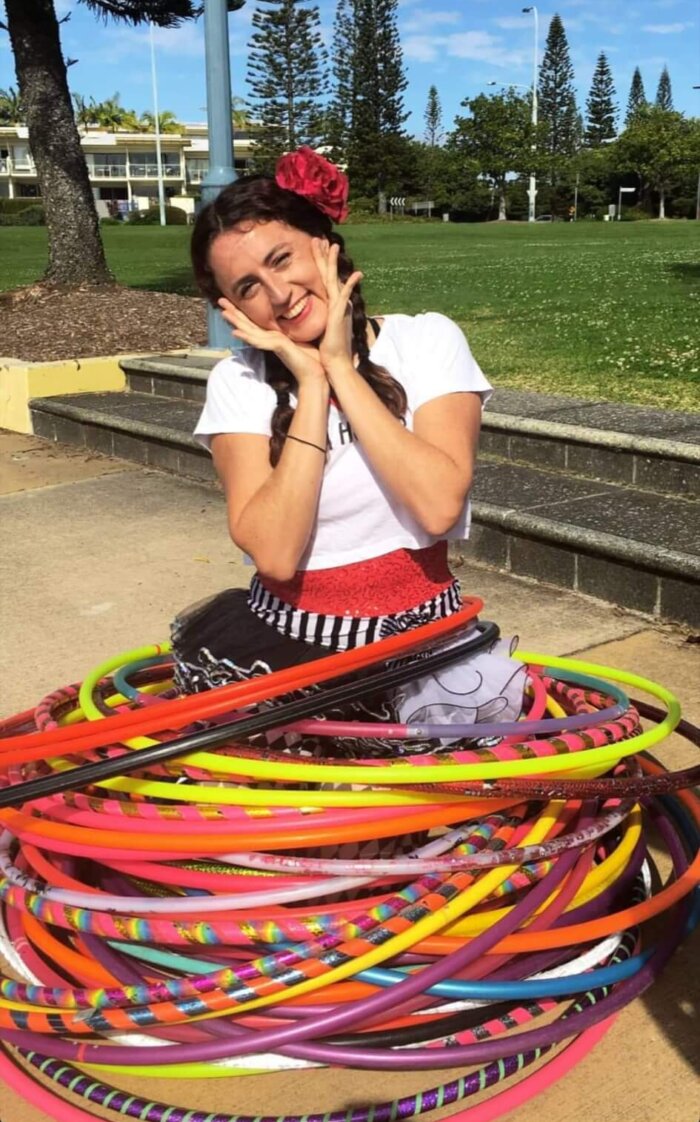 You can never to have many hoops <3
What memory have you most revisited from a tour?
Well, it has to be during a visit to a tiny village in the state of Gujarat in India. PWB had never visited there before and the village was so interested! We played games with the kids all afternoon and the adults all gathered to learn also. Then we decided to do a show for everyone and a tight circle was formed around us. We all took turns doing a few tricks, it was very different to the shows we did usually which were an hour long. After the show everyone came to thank us and one man who I will never forget came up to us and in great English said, "Hello, where are you from?". Which I answered with, "Australia!" He then continued to tell me how important it is to disconnect from the attachment of where I am 'from' and to think about saying that I am from the world. He said that our group had such a powerful way to influence our world's children and that he wished me to share that message.
What areas or aspects of the tour challenged you the most?  
My skills in teaching were challenged because of the language barrier and sometimes the very large groups! It certainly gave me so much confidence when I returned and continued hosting circus workshops in Australia. I felt like I could handle anything from hosting circus workshops in India.
On the tour what was your biggest achievement? 
My biggest achievement was to show my most authentic self while performing. When I started the tour I didn't have a lot of confidence on stage. Sure I performed a great show but was always nervous. During all the shows we performed in India I learnt to let go of all the nerves and show my true self.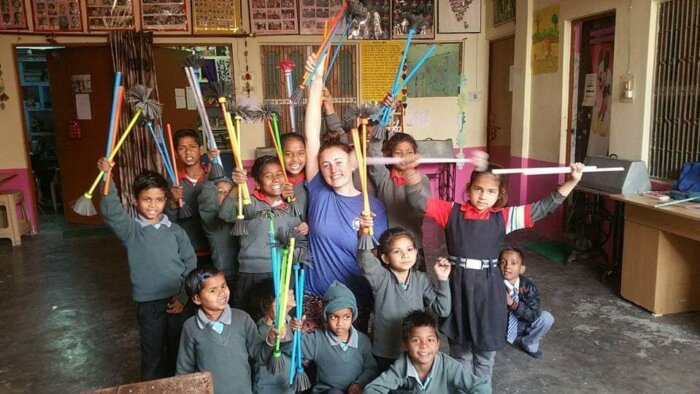 Flower sticks workshop at Dunya Education in Varanasi
What was our kids show about?
Our kids show was not about just one thing! We all got a chance to make different parts so there were lots of mini stories within it. I felt that the first part was about mystery, the second about colour and creativity, the third about women empowerment with women and men working together, the fourth about violence, the fifth about every person coming together to support each other and build a human pyramid!
What was your biggest breakthrough with teaching?
My biggest breakthrough regarding teaching was learning how to properly structure a class! I remember watching our group leader, Livi Little, run a workshop and was amazed how well she kept the kids engaged. I learnt that it's important to vary the activities and change the activity frequently to keep the kids engaged… and always have emergency activities up your sleeve!! Reading the group and having flexibility to change the workshop structure to fit the group was something I picked up on tour.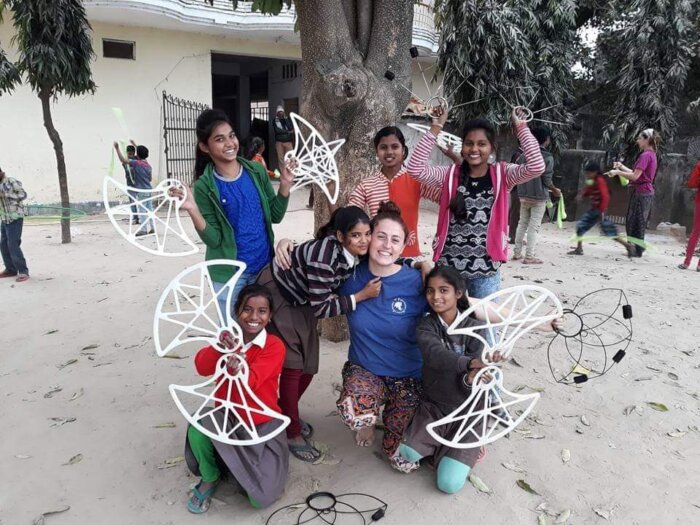 Teaching fans group choreography at Asha Deep
How did I fundraise for the tour?
I hosted hula hoop workshops especially for the tour and the workshop was sold out! I also asked for friends and family to donate through online platforms. I also did a busking show and all the money went to PWB. I was so lucky that a local circus and play company called Threeworlds donated lots of props for me to bring along and donate to the projects on the tour. So a big thank you for Threeworlds!!!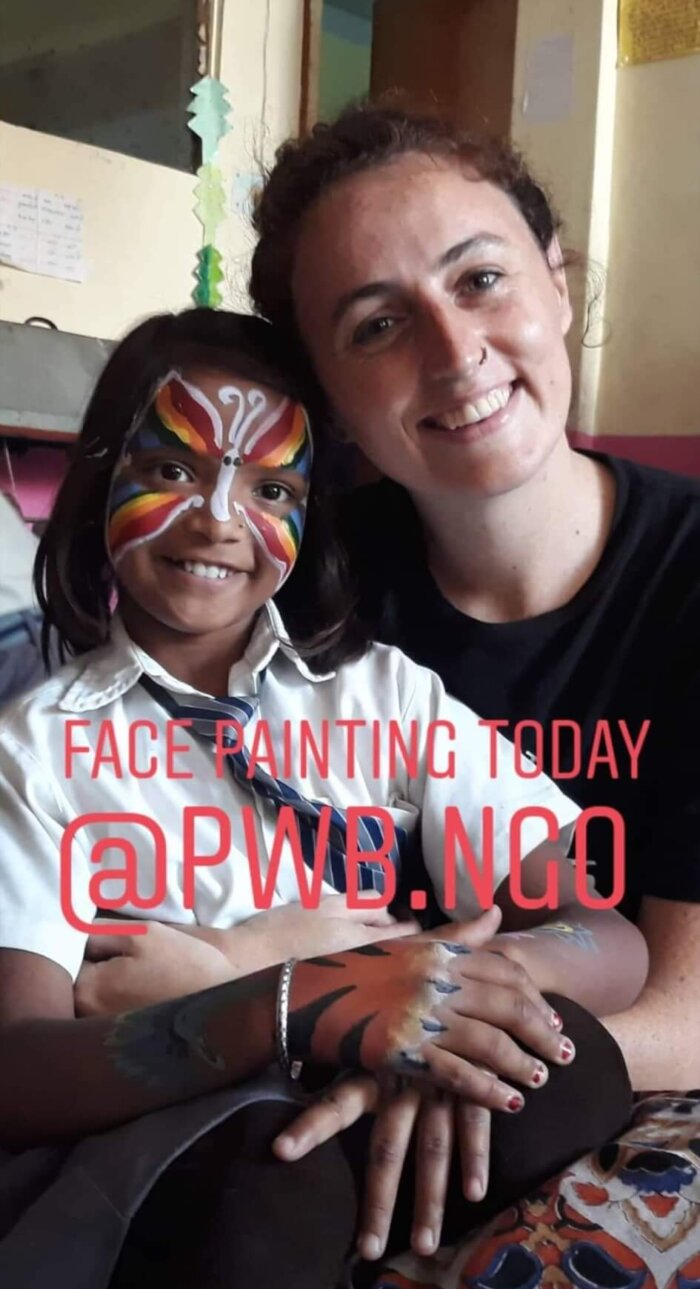 Fabulous face painting day at Dunya Education