Tour memories – Looking back with past Volunteers
Categorised in: PWB Central
By Gina Bazinga
Who are you?
These days I'm Drolkar, a Buddhist Nun who lives and works at a Meditation Centre in Brighton, UK. I used to be Jess or 'Grubby Neck Jelly Spine' – which was my PWB nickname given to me because my neck was always grubby from doing contortion in our shows on the dusty ground! I used to be a professional circus artist, doing various bits and bobs, mainly specialising in contortion. I toured India in 2012 with PWB.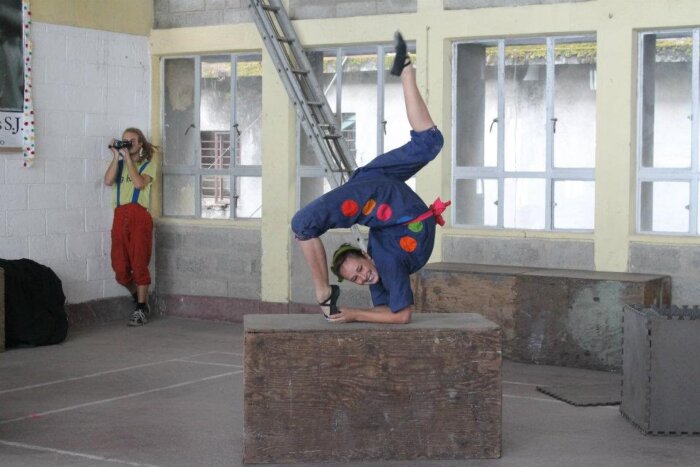 Grubby Neck Jelly Spine
What memory have you most revisited from the tour?
I don't think I can choose just one.
Being able to share silliness and fun the whole time! Seeing all the smiling faces, joy and the laughter in all of the shows and workshops! My mind likes to revisit all of the jolly faces and giggle again. Also, the moments where you see children doing things that they didn't know they could do and seeing their confidence and creativity grow, it's a magical thing to be a part of.
What areas of the tour challenged you the most?
Physically I was sick a lot, but that wasn't the biggest challenge for me.
For me, the tour was an amazing opportunity to do SO many things that I'd never done before and things that made me nervous. Things like helping to organise parts of the activities we were doing, writing blogs and cooking for everyone scared me the most because these things were unfamiliar to me. Because we had such a supportive team who all related to the potential within each other I found it easy to accept the challenges and give things that scared me a go.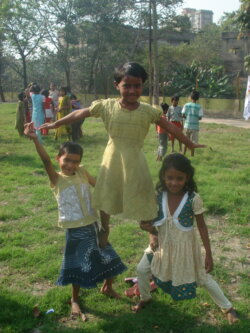 Such a proud moment!
On the tour what was your biggest achievement?
Our team even started a thing called 'Secret Challenges', a bit like secret Santa, but where you secretly give a team member a challenge that they have to do by the end of the week and then you come together and reveal what your challenge was and find out who gave it to you. We would purposely pick things to get us out of our comfort zones a little to help us to realise we were capable of more than we think.
I was most confident in teaching gymnastics, and never wanted to lead the theatre games, so one of my secret challenges was to lead a theatre games session in the style of an 80's rapper! I managed to do it (I think everyone thought I'd gone mad apart from the person who had given me the challenge!) But it was a massive laugh for everyone taking part, and I gained more confidence in not taking myself so seriously. I think that was my biggest personal breakthrough. I also learned to ride a unicycle after a lot of practice!
What was your kids show about?
It had Mystic D – a magic person, a monkey, twins and other fun people, it was full of magic, silliness and fun.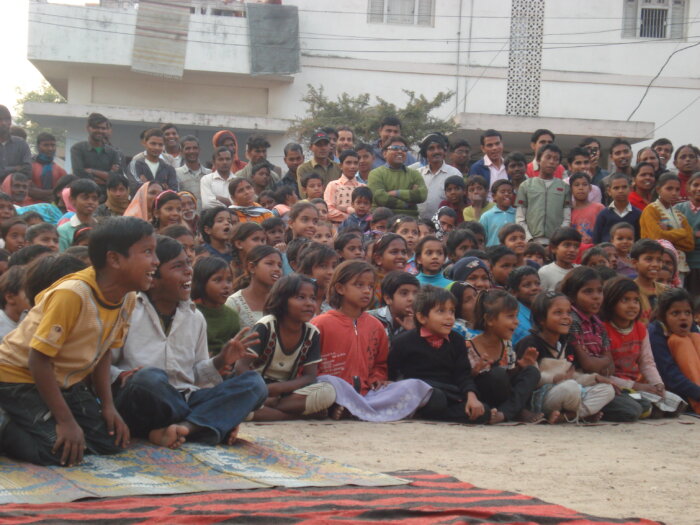 Happy faces from the (big and small) kid's show!
What was your biggest breakthrough with teaching?
I particularly loved seeing the girls who are normally very shy and lack the confidence to come out of their shells and see what they are capable of and to see them becoming more open and relaxed. We visited a place called Sanlaap, a home-based just outside the centre of Kolkata for young women and children who have been rescued from various situations involving trafficking. The young women there were incredible! They were one of our most enthusiastic audiences to perform too. I loved teaching them acrobatics, they were so excited to create their own show to perform and invented loads of their own new tricks.
How did you fundraise for the tour?
I contacted the organiser of a festival that I used to teach circus workshops at and he gave me a ticket for the festival to give away in a raffle to raise money for PWB, many people who attended the festival took part in the raffle to win the ticket to the festival and helped to raise money.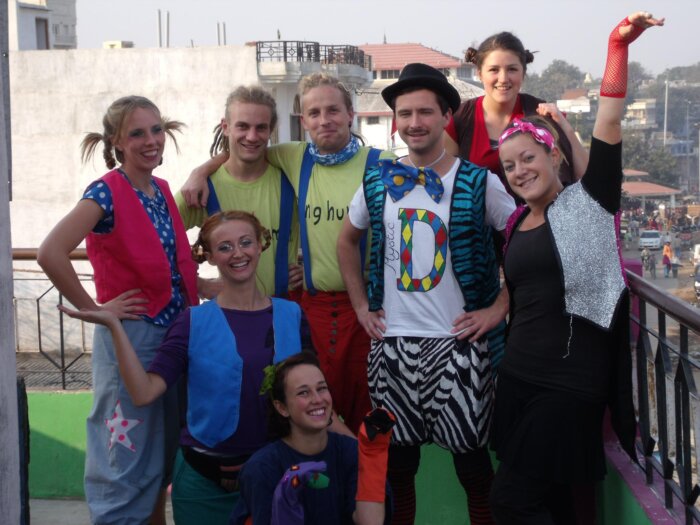 Team 2012 India tour