Tour Memories – Looking back with past Volunteers
Categorised in: PWB Central
By Tour Updates
Who are you?
Hi, my name is Dan. I suppose the question who are you might imply something deeper than what is your name. I am a guy from Swansea in South Wales who first picked up a circus skill (diabolo when I was 8) then progressively diversified into performing and teaching circus from quite a young age, 12, when I was putting on shows for charity and 15 when I started getting paid for gigs. My other passion is Chemistry but I have found no way of merging the two so have tended to go back and forth throughout my life so far.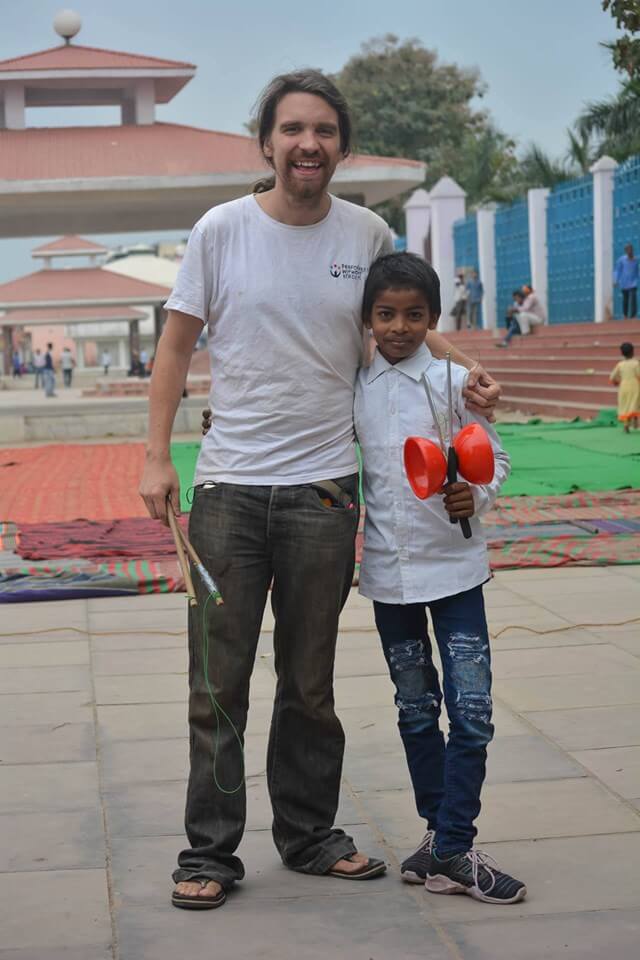 One of the diabolo students getting ready for his performance in Varanasi
What memory have you most revisited from a tour?
It's a difficult question to answer as there are certainly more extreme moments of joy and difficulties than the true answer. The true answer would be the times when teaching has gone well and everyone in the team has had a good day and the kids have learnt a lot. Teaching one of the students to juggle up on the rooftop on technically a 'day off' comes to mind a lot, on the first tour, as he progressed massively over the duration of the tour. As well as looking at the view from the school after a good day teaching in Darjeeling during the second tour and taking in the scenery and thinking the place is beautiful. 
What areas or aspects of the tour challenged you the most? 
It was different with each of the tours. I had been to India multiple times before the first tour and so knew what to expect with the weather and poverty and I think you are mentally prepared for that before arrival. It would be the days off on the first tour when we'd still have group meetings and I just wanted to chill on those days and have a beer the night before if I am honest and not have to think about the plans for the next day to get up early to have a chat but I realise that it is very important for some people to get some feelings off their chests. On the second tour, we had a lot of illness within the team, which meant teaching large volumes of children on multiple days with fewer breaks whilst ensuring care for those in the team that were ill.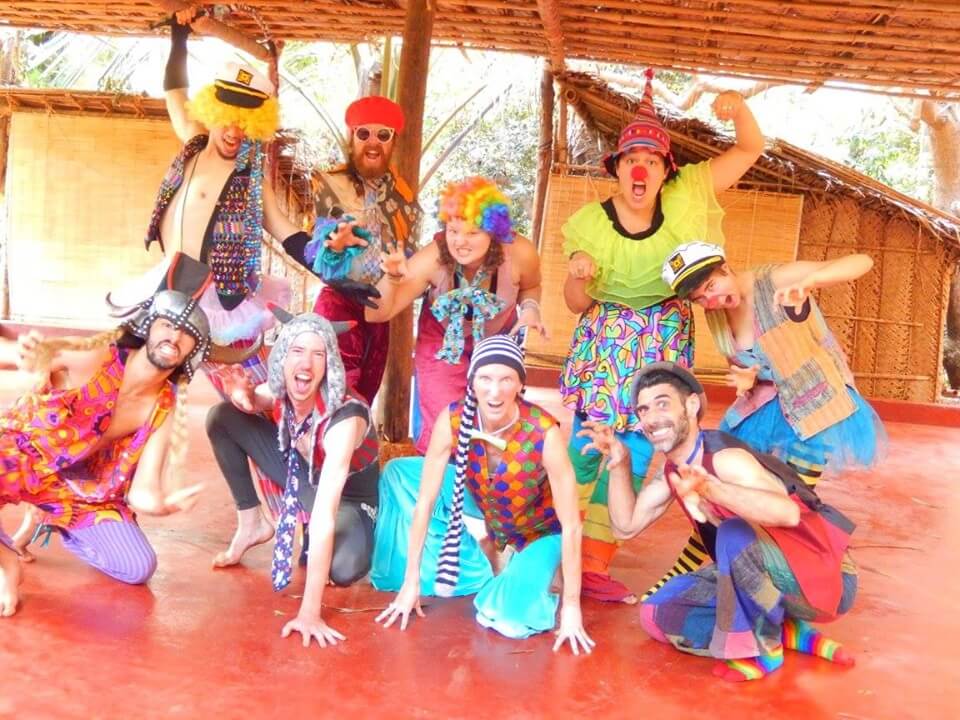 Rehearsing for our kids show at Bootcamp
On the tour what was your biggest achievement?
On my first tour, keeping the group fed and hydrated at one of the locations for the duration of the time there. Having a massive bunch of GPS points as to where to buy the cheapest goods to be within budget. Purchasing 90 eggs at a time for the cheapest prices. 4.5p an egg! 
On my second tour, successfully running a tour. There was quite a lot of logistics work prior to the tour with dates and times of the different locations being somewhat flexible and there were barriers with different locations being hard to contact by any fashion and some partners being unsure of when they will be free. The person who had run the tour the year previous was unable to be contacted. Then there are limits on the amount of tickets you can book per day maximum so arranging transport and places to stay which I assumed wrongly to be just contacting the same places I had stayed with the team 2 years prior but some places had changed for the year in-between for budgetary reasons that I did not realise. Then there was a massive amount of illness in our team, we performed the full show I think twice with a full cast. We were often down more than one member.
What was your kids show about? 
On tour one, after making the perfect orange juice the juicer broke after fixing it, it turned into a magical juicer that produces circus equipment. 
On tour two it was about the adventure of a clown trumpeter that every other character has found the trumpet playing annoying but the clown uses it to tame a dragon and saves the day.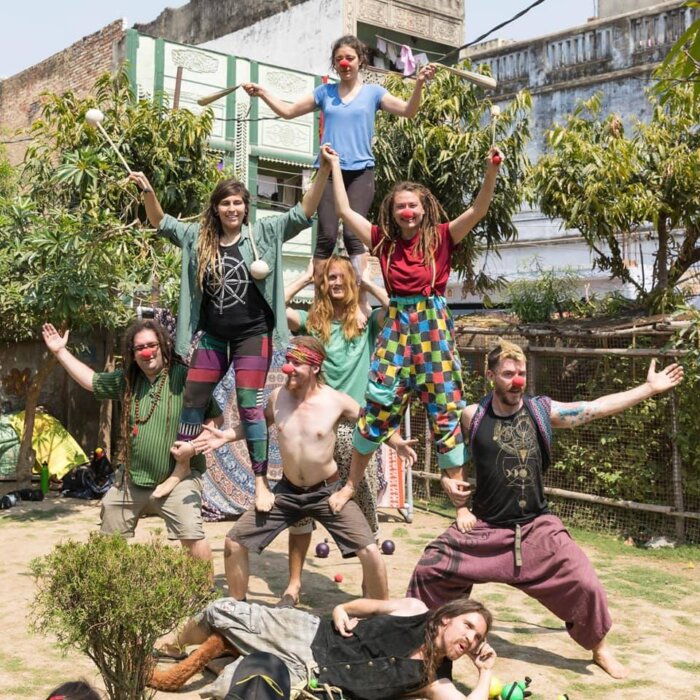 The final pose on the second tour for our kids show
What was your biggest breakthrough with teaching? 
On tour one, it would be teaching someone who had circus skills but couldn't juggle at first to gaining the ability where they could pass clubs inside a month! 
On tour two I think it was the sheer volume of students taught in such large groups with less equipment to child ratio we would have to get creative with how we taught. It was impressive to watch the team manage the classes with such large numbers of children and keep them fully engaged.
How did you fundraise for the tour?
Well, I paid the amount straight out in full for tour one and then I cycled to Turkey, in winter, camping to raise additional funds for the tour.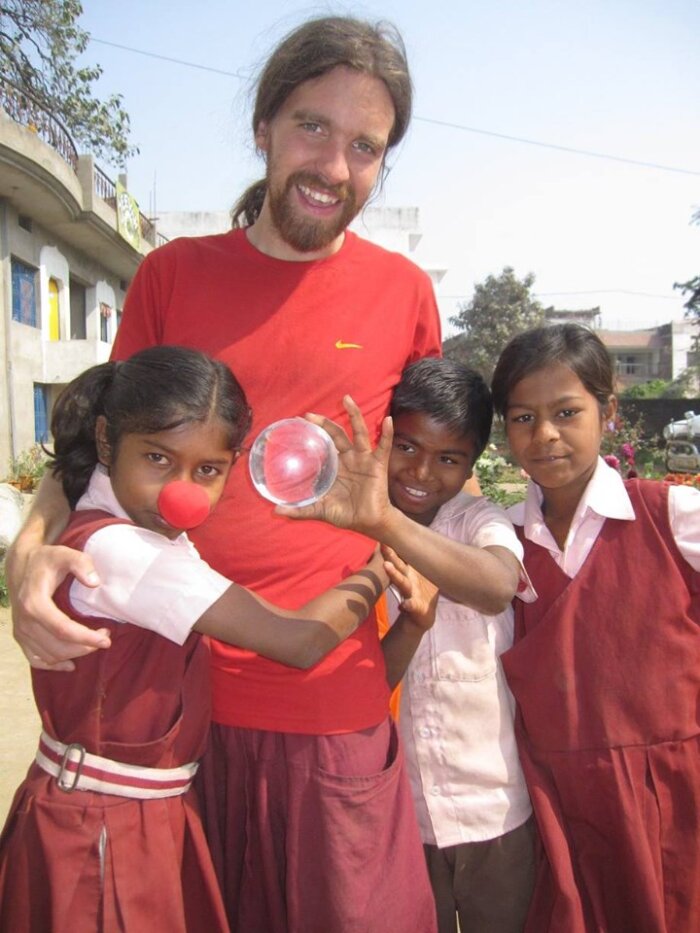 Contact ball workshops in Varanasi at Dunya Education