Tour Memories- Looking back with past Volunteers
Categorised in: PWB Central
By Tour Updates
Who‌ ‌are‌ ‌you?‌
I'm Mr. Sunshine, PWB's regional manager for the south of England. So far as part of PWB I have facilitated a number of accessible circus workshops in the UK, I went to Calais in Nov 2019 and organised a residency project with The Flying Seagull Project in Greece, Samos in Dec 2019. I also joined as a volunteer on the India 2020 tour.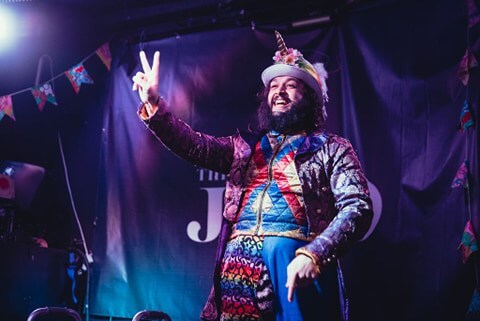 MCing at the Jago for a PWB Fundraising event!
What‌ ‌memory‌ ‌have‌ ‌you‌ ‌most‌ ‌revisited‌ ‌from‌ ‌a‌ ‌tour?‌
The memory I have visited the most from a tour was probably when my partner asked me to marry her. Or that time in India when we saw a cow in the road.
What‌ ‌areas‌ ‌or‌ ‌aspects‌ ‌of‌ ‌the‌ ‌tour‌ ‌challenged‌ ‌you‌ ‌the‌ ‌most?‌
The most challenging aspect for me was probably trying to take so much equipment on our backs across India's public transport system, Oh and the noise and the smells from the slums which was overwhelming. A big struggle for me was feeling the heartbreak after leaving each of the projects involving refugee's, there's so much injustice in the world, it feels great to help where you can but it breaks your heart when the tour is over!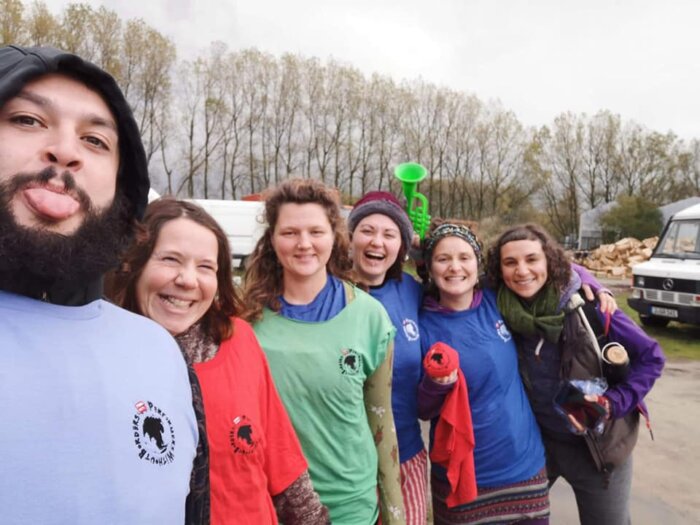 Team 2019 Nov, in Calais at the volunteers Wearhouse.
On‌ ‌the‌ ‌tour‌ ‌what‌ ‌was‌ ‌your‌ ‌biggest‌ ‌achievement?‌
Not exactly on tour, but it was certainly a huge achievement to present a wonderful video and impact evaluation of the Swiss Cottage workshops at the Circus Works 2019 conference! Getting to present at an event with industry leaders and scientific researchers was a huge personal success. You can find links to the video on the PWB website! https://www.pwb.ngo/case-studies/
What‌ ‌was‌ ‌your‌ ‌kids‌ ‌show‌ ‌about?‌
Women's empowerment, forgiveness, following your dreams and making trash/rubbish into toys and circus props! We devised our show based on the question 'why?'. Our 'why?' was to leave children feeling that they could achieve their goals with hard work and determination. With a lead of a young girl who falls out with her father and runs away with the circus, only to have forgiveness from both father and daughter at the end when he sees her achieving her goal.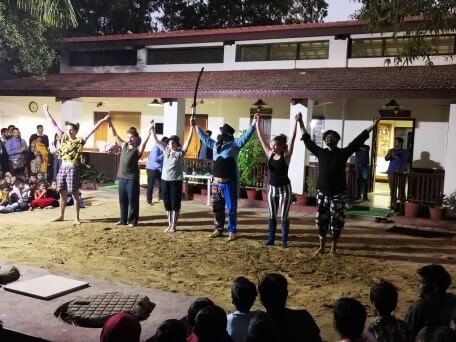 Bows from our 2020 kids show in Ahmedabad, India, at Gandhi's Ashram!
What‌ ‌was‌ ‌your‌ ‌biggest‌ ‌breakthrough‌ ‌with‌ ‌teaching?‌
The P.L.A.Y. learning machine really helps understand the process of how people learn, what the barriers are in the way and how to avoid accidentally putting them up yourself.  Understanding the learning engines to enable the better formation of workshops is a really useful concept to look into, it works, its science! See more here – https://arpaonline.ca/program/PLAY/physical-literacy/ 
How‌ ‌did‌ ‌you‌ ‌fundraise‌ ‌for‌ ‌the‌ ‌tour?‌
To fundraise for the India 2020 tour I made and sold circus props (diddle sticks), asked on social media and threw a Cabaret evening in London which raised about a grand! A massive shoutout to all the people who helped make that evening possible. Everything right down to an iconic London venue was donated to help put our show on the road! The biggest thanks to you all.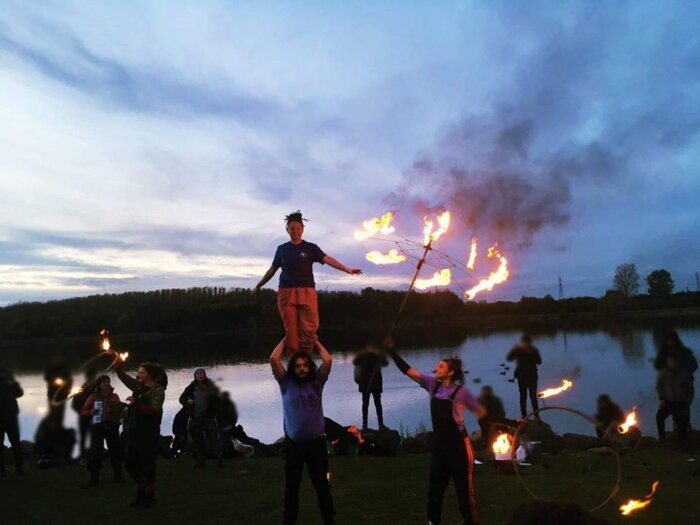 Performing in a hotspot camp in Calais, bringing together groups of people to forget for an hour <3