Tour memories – Looking back with past Volunteers
Categorised in: PWB Central
By Gina Bazinga
Who are you?
Tyler Spades, international Man of Mystery! Actually that's not entirely true, I'm pretty much an open book, you just have to know which page to turn to 😉
I'm a fire performer, juggler, and circus instructor from Portland, Oregon, USA and I have been teaching and performing around the world since 2007. I primarily focus on staff spinning, specifically a style called "contact staff" where I utilize balance points and precise motions to roll multiple staffs all over my body or juggle them in the air (usually while on fire). I'm also a certified empowerment coach and promote the idea that anyone can do what I do, you just need to believe in yourself and put in the practice.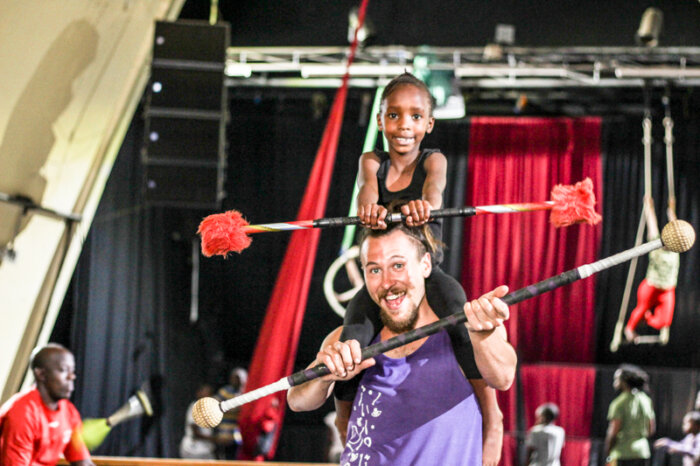 What memory have you most revisited from a tour?
I first got involved with PWB as a volunteer for the 2016 India Tour and I returned as a Tour Coordinator for the 2018 Kenya Tour. Both tours were extremely different so it is really difficult to pick a single memory!
I think one of my happiest memories is teaching several advanced students from Asha Deep Vidyashram in Varanasi, India how to spin fire safely and draw a crowd to do shows on the Ghats. We drew huge crowds and it really boosted the confidence of all the students that joined us. They even went on to create their own professional performance group Kashi Fire Warriors doing shows for weddings and community gatherings and they are still going strong today, just recently completing a 125km Unicycle challenge!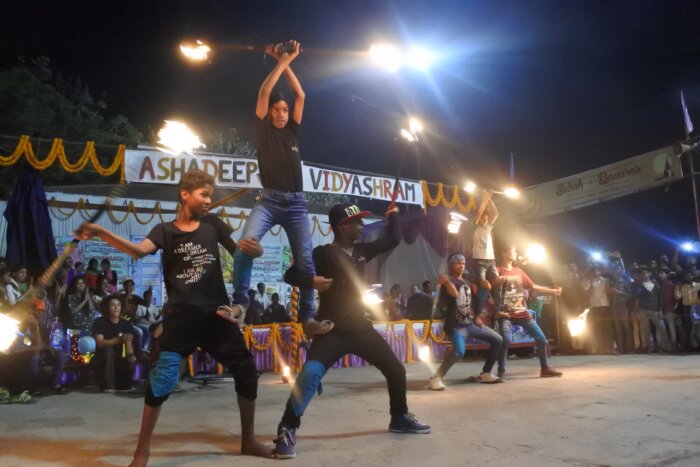 What areas or aspects of the tour challenged you the most?
I would say for both tours I attended, the biggest challenge was maintaining a unified and respectful team dynamic throughout months of very physically and emotionally demanding work. We were always able to persevere through the difficult moments and come back together as a team, but these tours are not easy and require an immense amount of dedication and focus on the goals at hand. Most team members meet in person for the very first time on the first day of boot-camp at the beginning of the tour, so you can never be completely certain how all the unique circus-style personalities will work together. Luckily the work is extremely rewarding and everyone I've been on tour with always puts the children and the tour as the main priority, so any disagreements are overcome and we were able to work through them. PWB has some great outlines on group communication strategies that really helped keep us unified and work through any conflict. I think everyone on these tours strengthens their communication skills throughout the trip.
Here is a video I edited from the Varanasi section of our India Tour in 2016 mimicking the reality-TV style of "The Real World" – https://vimeo.com/158907340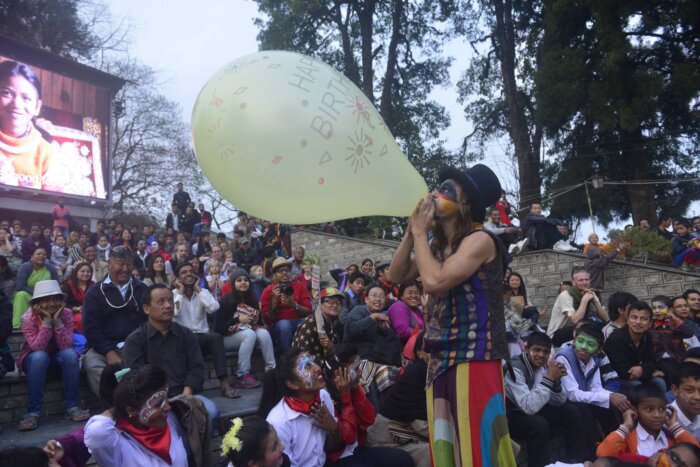 On the tour what was your biggest achievement?
I think my biggest achievement with PWB was leading a very successful 2018 Kenya Tour. As Tour Coordinator I was the point of contact with most of our outreach projects and the person in charge of organizing boot-camp, fostering a successful team dynamic to build our full-length show, scheduling our workshops, performances, housing, and the run of tour in general. Of course, this was achieved with an immense amount of help from every single volunteer, but at the end of the day, I was the one responsible to work through any conflicts and keep the tour progressing forward. It was an absolute pleasure to work with so many amazing Kenyan community organizations, the thousands of kids we taught and performed for, and of course our very talented group of volunteers.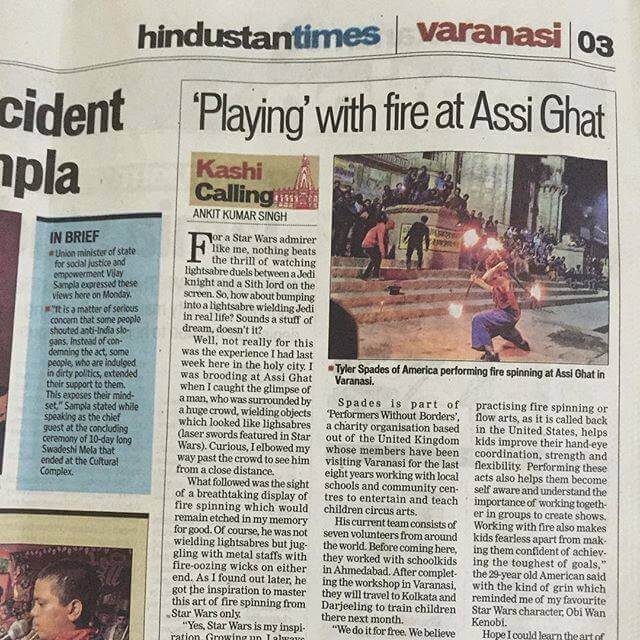 What was your kids show about?
On the 2016 India Tour, our show was about stepping out of your comfort zone and into a brand new and foreign world as outsiders, specifically space aliens coming to Earth! This was a really fun theme to work with as all of us were literally aliens to India from all around the world. On the 2018 Kenya Tour, our show was based around the concept of MAGIC where I played a magician guiding the protagonist on a journey for magical treasure. She made many diverse friends throughout her journey and in the end, discovers that friendship is the source of true magic in the world and your friends are the ultimate treasure.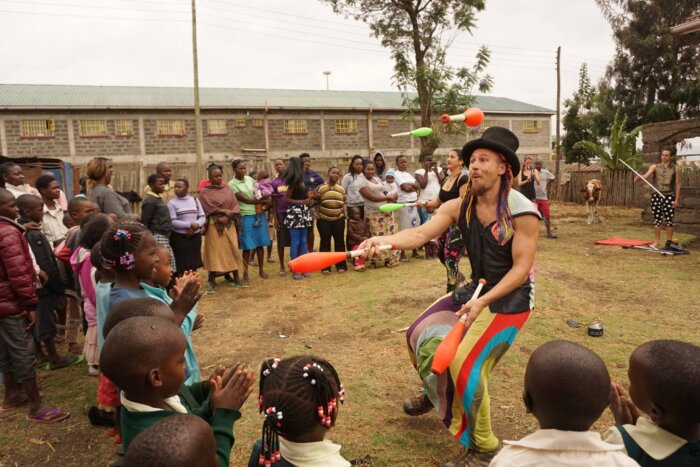 What was your biggest breakthrough with teaching?
I think the memory that stands out the most to me right now is teaching a large group of deaf children at a home and school for the deaf in Darjeeling, India. All the children were completely deaf and could not speak, so our workshops were all completely silent except for the sounds of props and uncontrollable laughter, grunts, or natural noises made by the children. It felt absolutely magical to teach these children as they gave you their absolute full attention and were really excited to learn. We had lots of practice teaching without using specific language because many of the children we taught did not understand English, but having it be 100% visual was such a unique experience and a true treat I will never forget.
How did you fundraise for the tour?
I fundraised for both tours similarly. I made a personal "GoFundMe" page to collect digital donations, I organized a public show and charged admission, and I hosted an empowerment ceremony consisting of group activities leading up to a firewalk where participants were able to safely walk across glowing hot coals. I was trained to facilitate fire-walks by the Firewalking Center in California, USA, so I don't suggest that exact technique unless you are properly trained to host the experience safely!