Team India Blog post No.4 : Varanasi — Arrival, Asha Deep School and Duniya School.
Categorised in: India 2017
By Tour Updates
Get ready! Team India has landed in Varanasi! Unrelentingly noisy, deliciously high energy, and ruthlessly chaotic, Varanasi is a whirlwind of colorful fabrics, aggressive tuk tuk drivers, and spiritual waters— namely the river ganges, or "Mother Ganga" as our students call it.  Varanasi is fascinating for a plethora of reasons; it is one of the oldest continually inhabited cities in the world and it is regarded as one of the seven holy cities as according to hinduism. Here in Varanasi, ritual is present in each moment, with a stroll down the riverside quickly becoming an intimate glimpse into the ceremonial honors of life and death. Devotees come from all over the world to cleanse their souls in the River Ganges, or to cremate a loved one nearby, specifically in the "ghats" or sections of city directly bordering the river. Varanasi is also a music hub in india, and one might hear the tinkling melodies of a flute, tabla, or sitar coming from just about any corner of this city.  Rowan's (a cherished team member from Leeds, England) mother Susan advised her that a cities worth can be judged by the amount of musical instruments that can be seen inside them, and if this is true, than Varanasi is a very worthy destination indeed.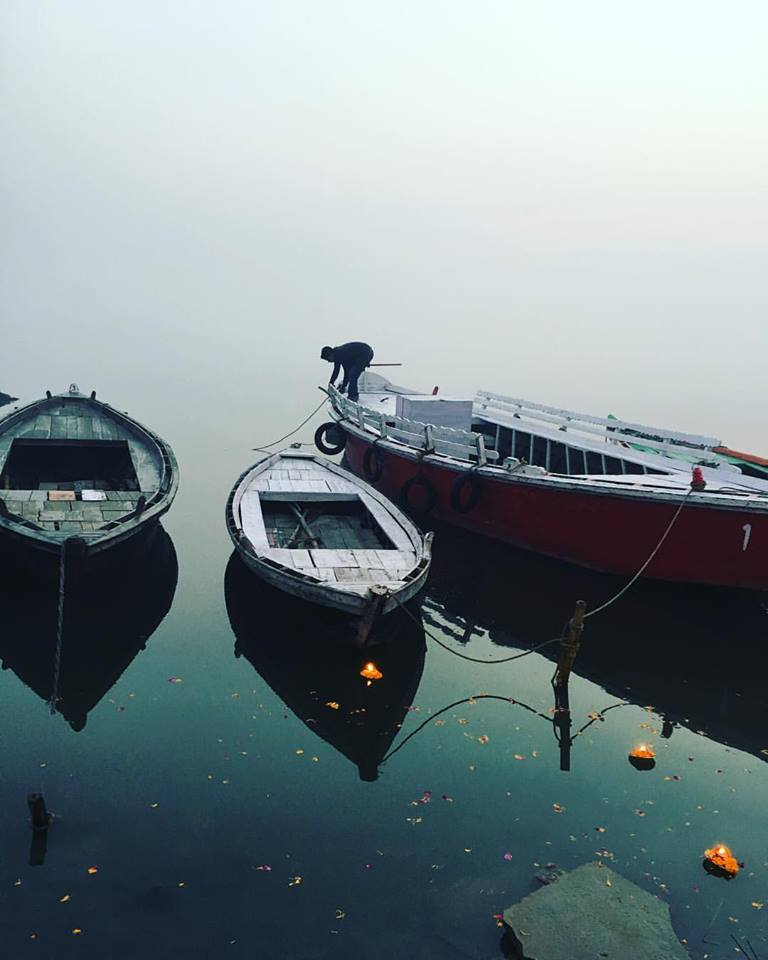 (PHOTO 1 : MISTY SUNRISE ON THE GANGES RIVER)
Arriving in Varanasi, the team was pleased at large to finally have a larger-ish accommodation with a KITCHEN!!! After a full month of eating out, being able to prepare food at home according to each of our individual culinary whims was a fresh breath of air.  We also have a lovely roof to spin on night and day, which helps with general quality of life since all of us silly clowns regard flowing, spinning and movement as crucial and necessary sustenance for our everyday lives.
(PHOTO 2 : ROWAN WITH VARANASI IN HE
Upon arrival, we performed our show for the school children we would be working with in the coming month. We hope to inspire the children with our show, displaying what is possible with each prop in a themed performance setting.  This will hopefully directly motivate the evolution of their own show, which debuts on March 4th.  This show will mark the end of our work here in Varanasi, and it is a wonderful showcase of how advanced the children here are in their practice.  They are ready to take the next steps in honing their circus skills and develop their own show with full artistic control.  It is beyond inspiring to be around fellow performers, even if most of them are a bit smaller than us!
We were all very excited to begin our month long teaching stint in Varanasi, as this is where the original site of the beginnings of PWB are: at a school called Asha Deep.  Here the students have been training for the longest (the program has been running at Asha Deep for 9 years now! :o) and have a great set of skills already established.  And those expectations were not disappointed.  Many of the children here can juggle/pass three clubs, spin intermediate level poi, and can hoop better than me.  Some of them were even doing fan tricks (!!!) and unicycling all over the ground level of the school.  We were excited to introduce some new toys to them like slack line and rope dart, and help them hone their already strong skills in other disciplines. In the following weeks we will be focussing more on the show with Asha Deep and getting into rehearsals, costuming, music and the like.  Much Excite!!!
The second school we are working with is an adorable little place just down the street from Asha Deep called Duniya School.  But the similarities between the schools are few and far between.  At Duniya School most of the children are still beginners at circus, so this first week was all about discovery.  Introductory free play with the props is the best way to get minds engaged and to allow the brain the freedom to choose with props call to which person.  It is a joy to facilitate this process as im sure all of us experienced prop initiation at some point.  To watch children play is to watch a flower blossom in the sun.  When allowed to play, the children are ridiculously inventive with the props and hilarious to be with.  Some children were making beautiful prop mandalas with the practice fans, and playing hopscotch over the patterns.  Others were doing cartwheels next to rolling hoops and picking the hoop up as their bodies come upwards again.  Some children began to play cricket (super popular here) with the clubs as a bat and a juggling ball as a ball.  We had to stop that due to concern for the props but the idea stands—- kids are so imaginative and smart.  It is an honor to work with them all. 
Cant wait to see what the rest of this month holds for team India 2017 — catch us sipping on Lassi's and juggling along the Ganges!
Namaste,
Ling