Our First Kenya Tour
Categorised in: Kenya 2016
By Tour Updates
Our story so far- inspired by words in Swahili. Written by Abi, Tour Co-ordinator
'Safari' : 'Journey'
This tour was a long time in the making.  It is the first time PWB has taken a team to Kenya. I made a trip here last year as a solo teacher, visiting projects and planning the tour.  I'm super-excited to be bringing four talented teachers along with me this time!
Fresh off the plane; Lillian, Katie, Joe, Abi and Coco
'Twende!' : Lets Go!
Arriving in sunny, sticky Mombasa on the eastern coast of Kenya, the whole team had so much drive to learn and create together; interluded only by team 'mango eating', and team 'let's swim in the sea' time. Our manifesto included grow, share, express and PLAY! We created our show and shared skills in theatre, improv, club manipulation and acrobalance.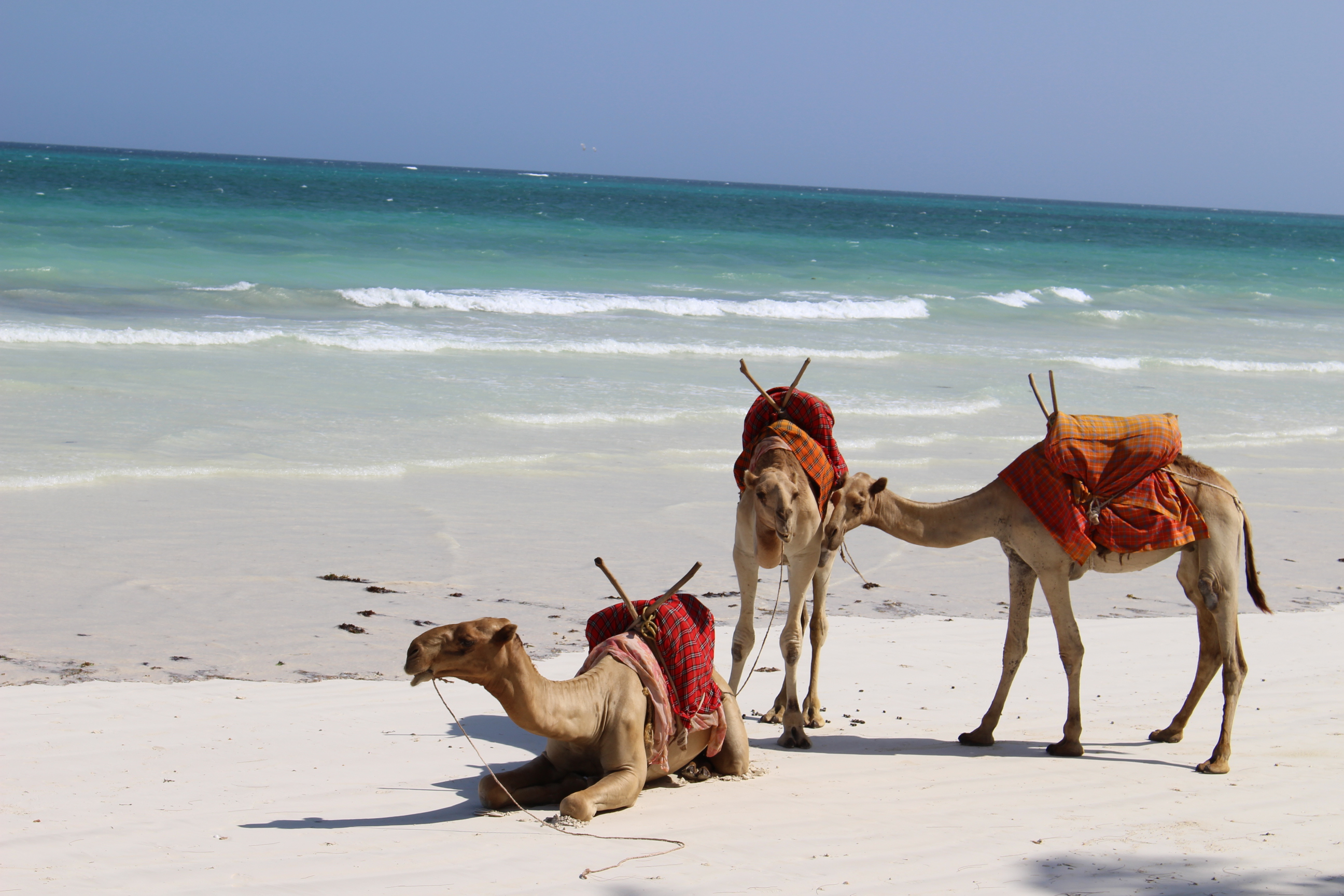 Diani Beach, 30 metres from our cottage
In our spare time we went snorkling, ate coconuts and fresh fish and played in our huge garden alongside all of the monkeys including the beautiful black and white colobus monkeys and mango-stealing baboons.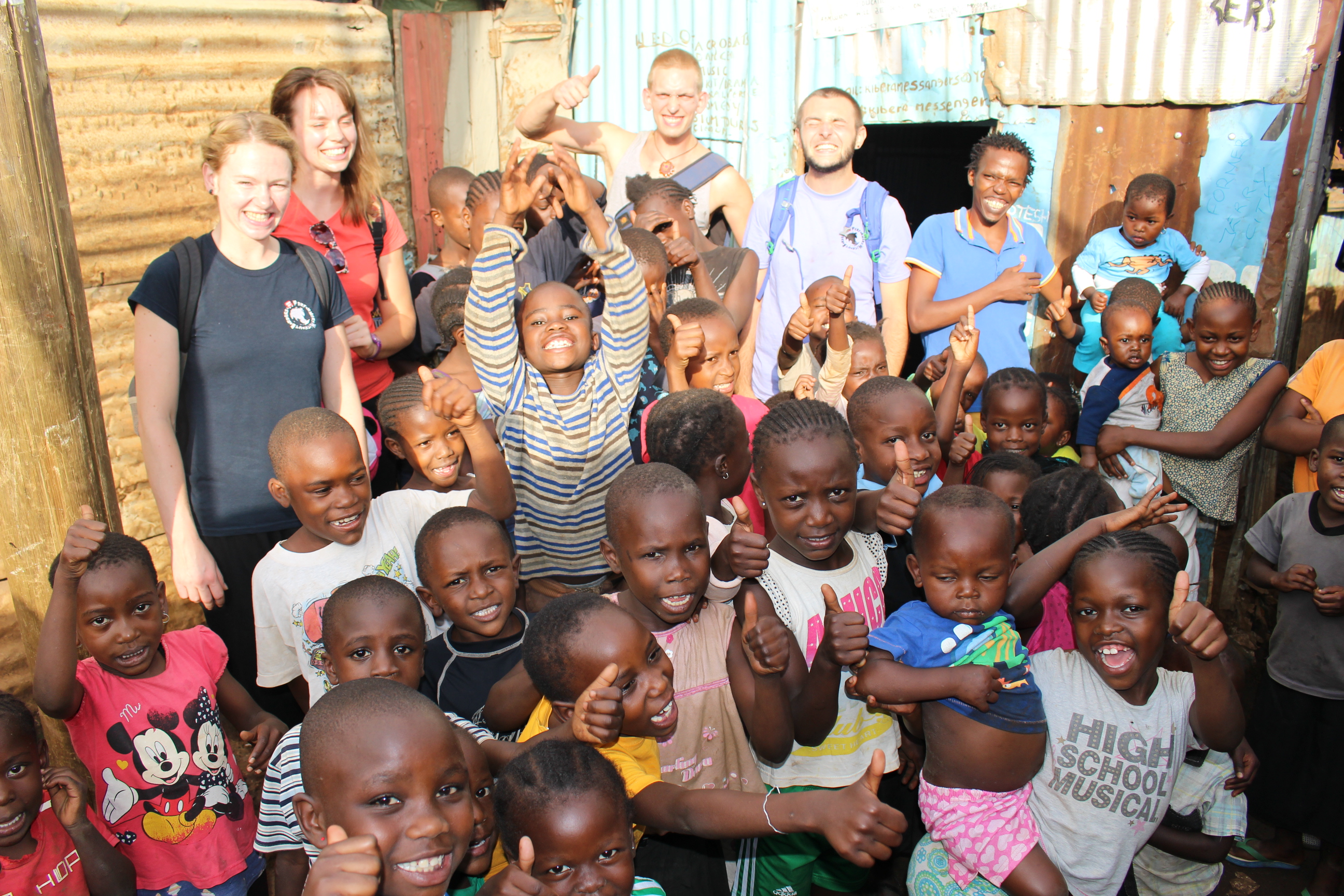 Workshops in Kibera- Africa's second biggest slum
'Mambo': Hello!
We headed to Nairobi, where our first project takes place. Getting on the bus, not just any bus, the the famous Nairobi 'matatus'; graf'ed up, pumping out reggae, afrobeat and sometimes – to our surprise – country and western! What an introduction!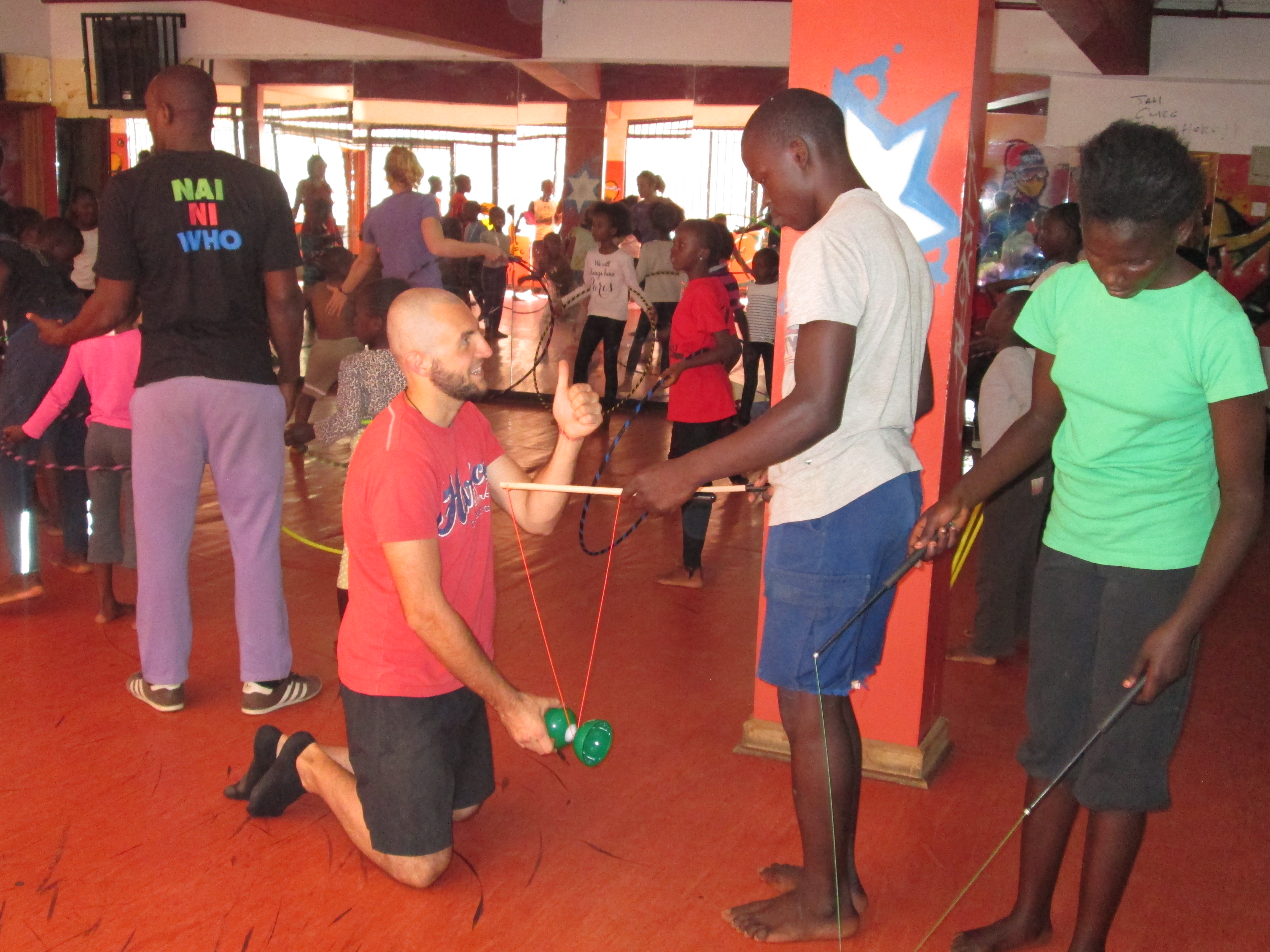 Coco teaching at the Sarakasi youth circus
'Sarakasi' : Circus
Sarakasi is a centre for performing arts in Kenya and our first partner in Nairobi. They teach acrobatics and dance internally and send teachers to outreach projects. The performers here perfect their skills in acrobatics, juggling and take acro and pyramids to dizzying new heights!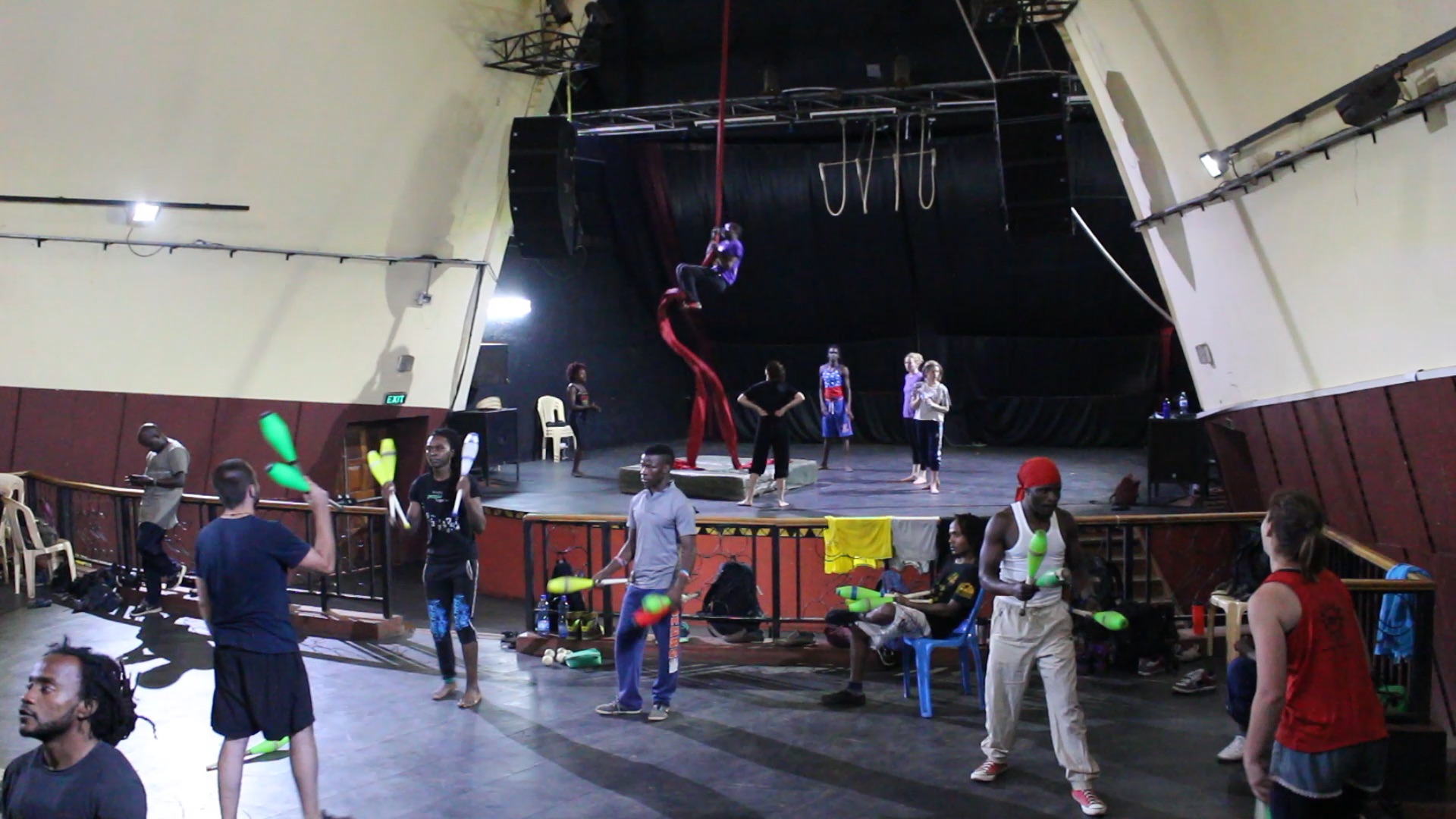 Playtime at the Sarakasi Dome
'Kidumbuisha' : Lets Play
We started teaching alongside the Sarakasi teachers on their outreach projects such as in a garden of Bahat Boys centre, a drop in centre for street boys, in a centre in the Kibera slum and 150 very exited kids in Kayole. it allowed us to build on our Swahili, and learn new games and songs too.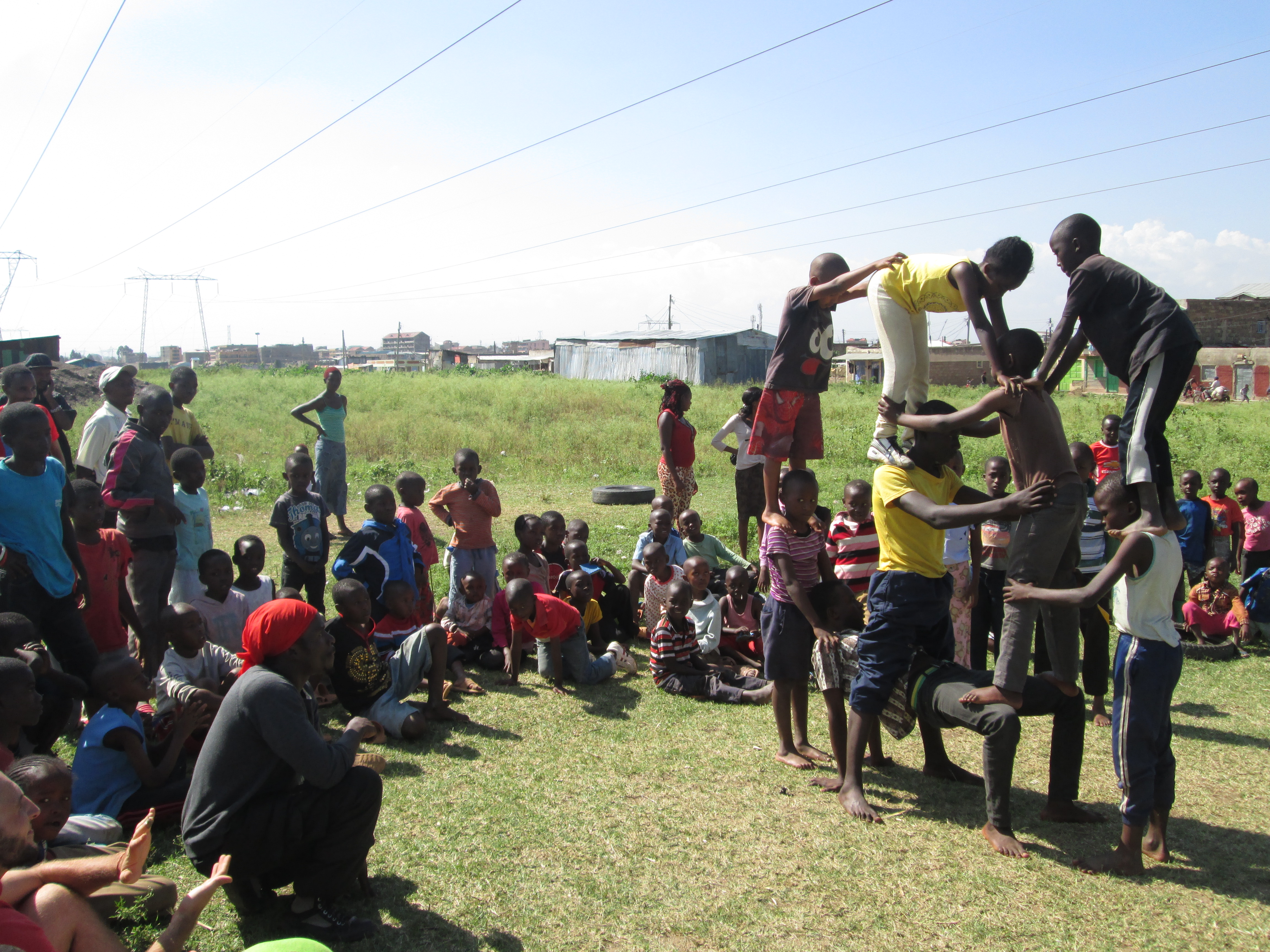 The kids show off their pyramids overlooked by their teacher Samjee; Outreach in Kayole
'Gerazani' : Prison
One of our most memorable workshops was in Kamiti Maximum security prizon, after we went through all of the security and seriousness we were greeted by a group of bright eyed gents who picked up juggling so quickly!  Afterwards they showed us some of the pyramids they had learnt from Washika the acrobatics trainer from Sarakasi. We heard afterwards that some of them made their own juggling balls out of rags and sand. A truly wonderful and memorable experience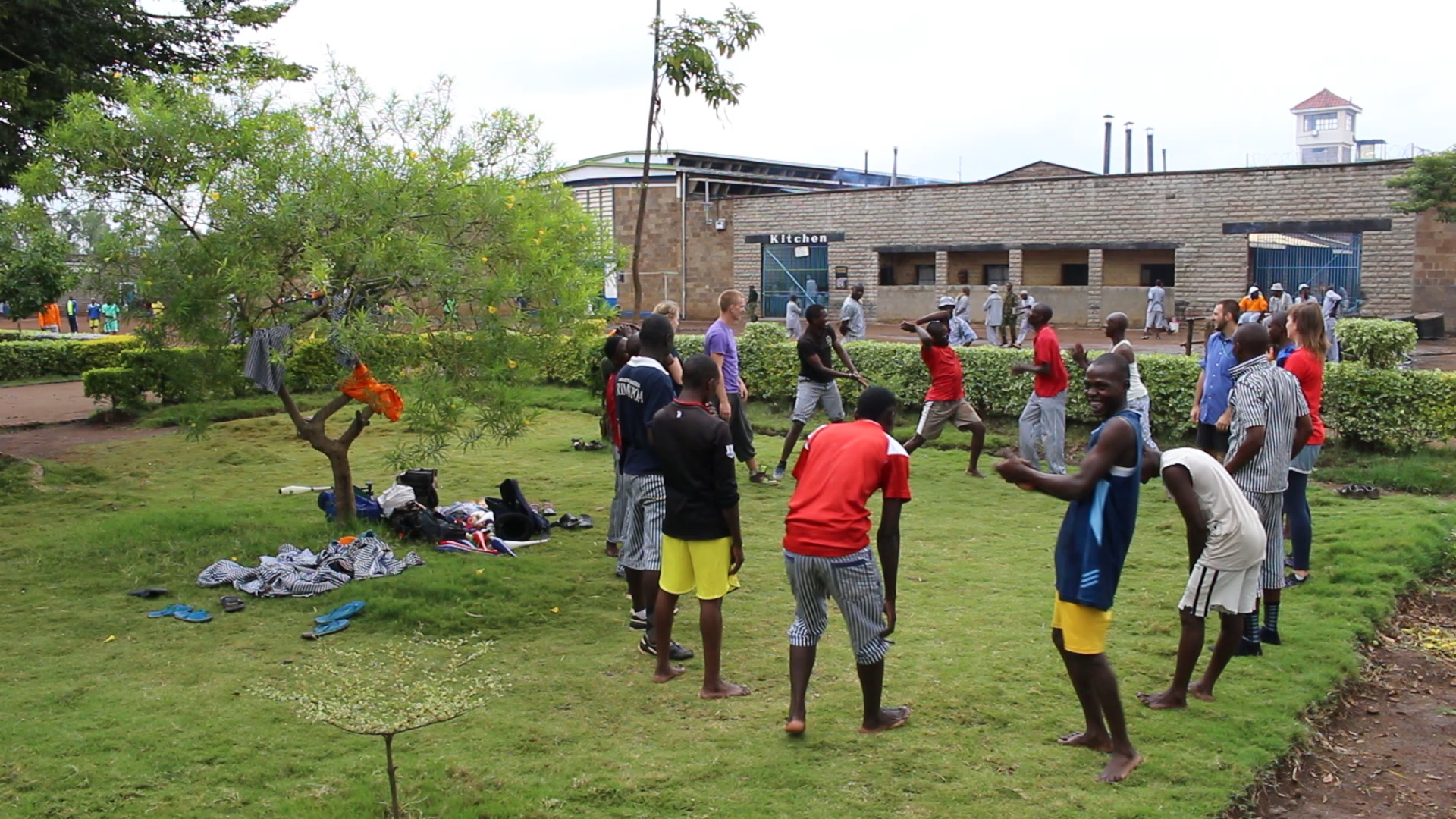 Games with the inmates at Kamiti maximum security prizon
'Kugawana': Sharing
I really believe that in sharing we are stronger, at Sarakasi we did one of their acrobatic workshops, and in turn we invited them to join us in the surreal world of improvisation, mime and theatre. We also held a discussion on working with children, doing games and role-plays with the outreach teachers at Sarakasi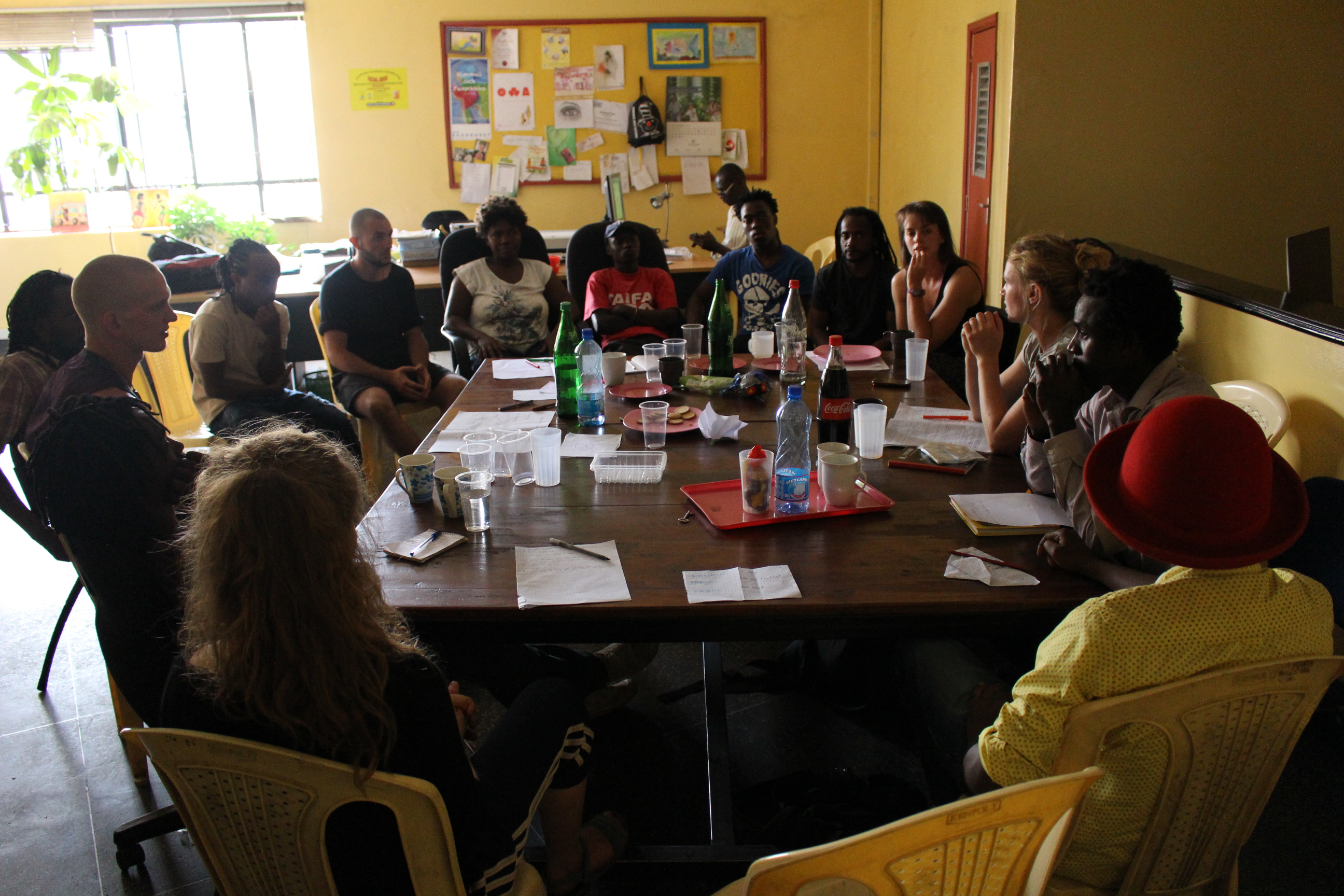 Discussions on teaching at Sarakasi dome.
'Karibu': Welcome
Our second week was partnering with the Smiles for Change Project (formerly Sarakasi Hospital Project), bringing performing arts to disadvantaged children in Hospital and rehabilitation centres. We did a wonderful workshop to Kirigitti girls rehabilitation centre alongside Mulkasa a musician and Lilian a social worker, we taught them hula hoops, acrobalance and self defence. We also did our new and improved show at Kenyatta National Hopsital, I will never forget looking out onto 84 little smiling faces, who for a few moments forgot their pain and worries and laughed! [We are sorry but we cannot show photos of this project]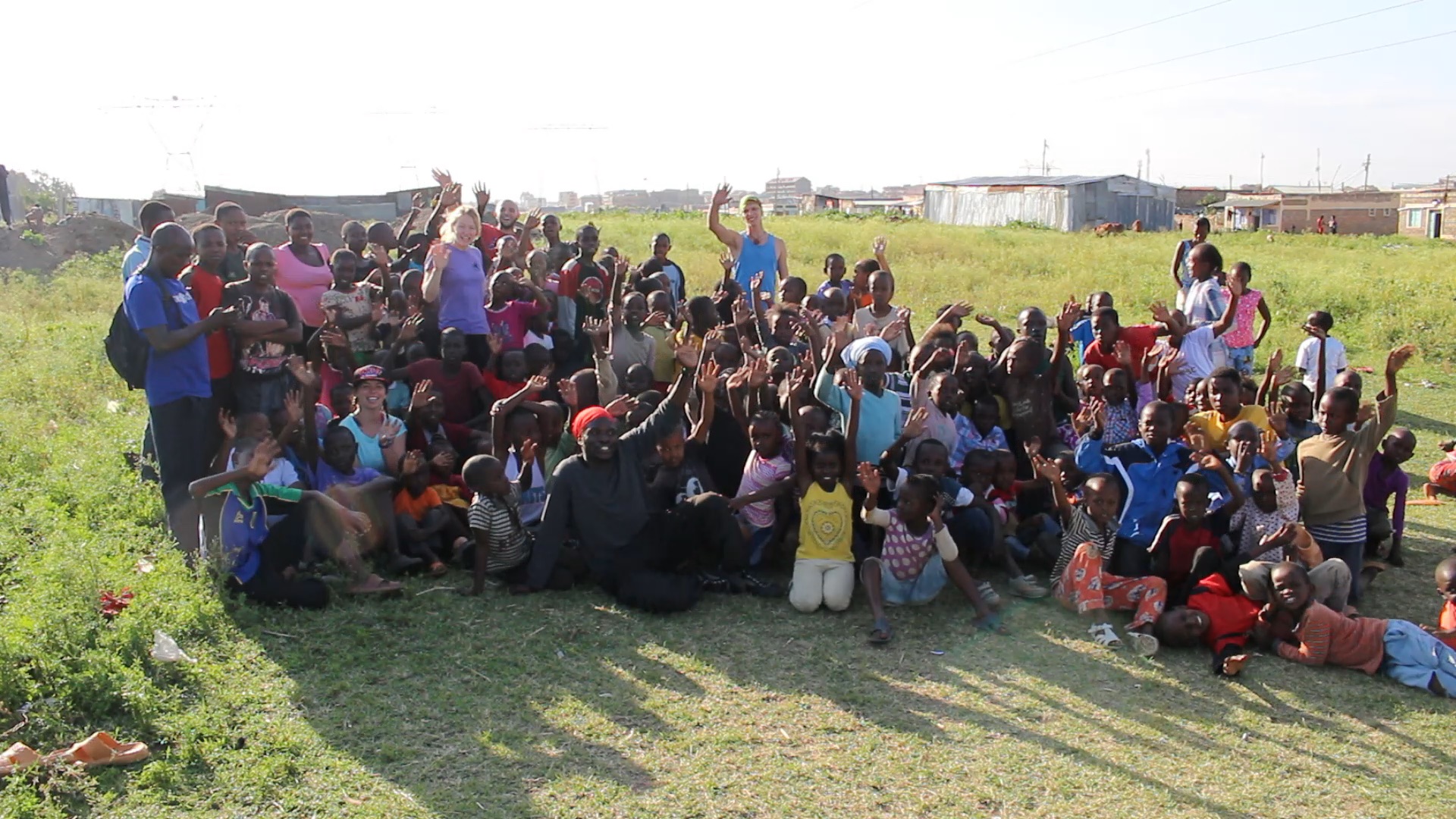 Our biggest workshop as a team so far; 150 smiling faces! In Kayole
'Asante Sana' : Thankyou very much
I would like to say thank you so much to everyone that has supported this project to bring smiles to the children of Kenya, for supporting Performers Without Borders and our wonderful teachers and volunteers.
Thanks for Reading. Lots of Love, Abi and the Kenya 2016 team.