Kenya Team Week Off (ON)
Categorised in: Kenya 2016
By Tour Updates
Hi everyone!
After completing a project with Koinonia Community we had a week off before starting work with Nakuru Hope.
Each team member has written a few words about their experience in the week off. Let's see what they got up to!
Abi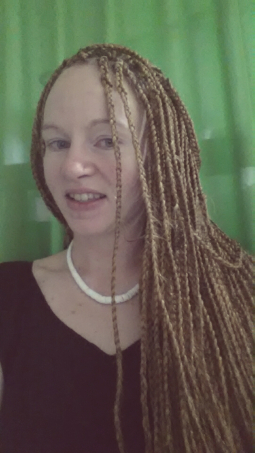 "Busman's holiday" – A vacation or form of recreation that involves doing the same thing that one does at work.
I am famous for my busman's holidays, so when we had a week off from training circus skills I head straight to Sarakasi to train circus skills with the acrobats and practice aerial rope. My week consisted of high-temperature yoga at the Africa Yoga Project, planning my next social circus project, and hanging out with the acrobats. Also being able to spend time with the wonderful Hege and Caroline from Norway who are volunteering as part of an exchange program with Sarakasi. My treat was a stunning acrobatics and dance fusion show at the Safari Park Hotel with an amazing meal of nyama choma (roasted meats), including crocodile, camel, and goat. YUM!
Doing the acrobatic classes at Sarakasi is a real treat, being way out of my comfort zone but in good hands. These highly skilled people share their encouragement and support so willingly. Spending time in the Sarakasi Dome is my paradise: a hive of activity, dancers, drumming, rehearsals, stretching, jamming, and drilling; achievements and blunders are all part of learning. Resting my tired muscles, taking walks around the wonderous markets, sipping the incredible Kenyan coffee, trundling around the city parks, and meeting the very friendly monkeys.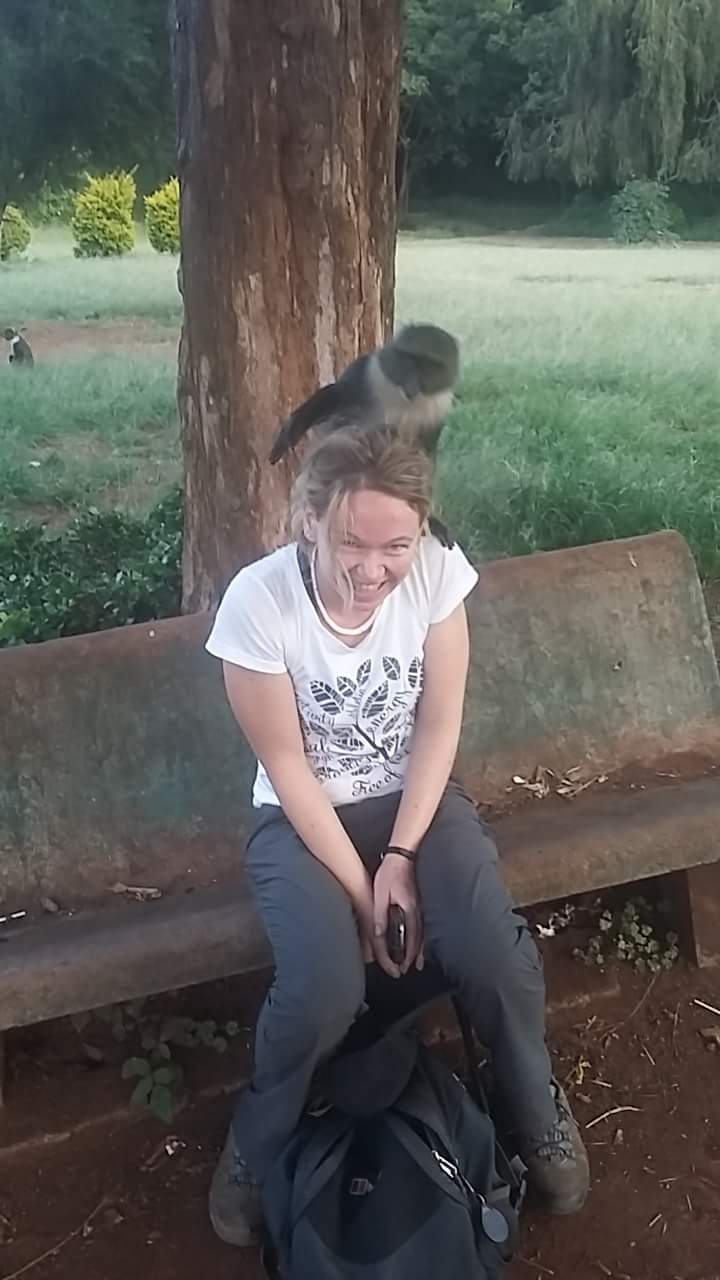 The best day was watching the Sarakasi acrobats perform at a mall opening, seeing them share their bundles of energy with the audience was fantastic.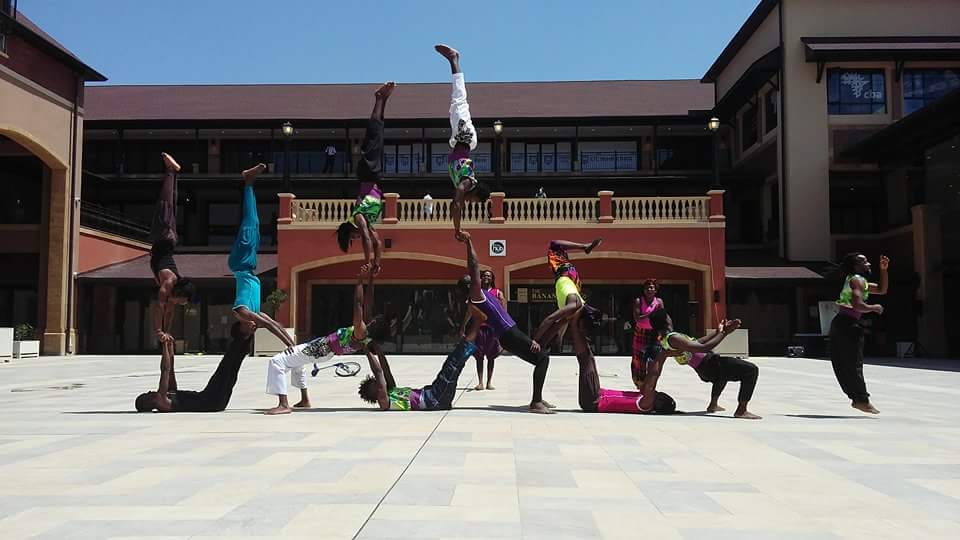 Joe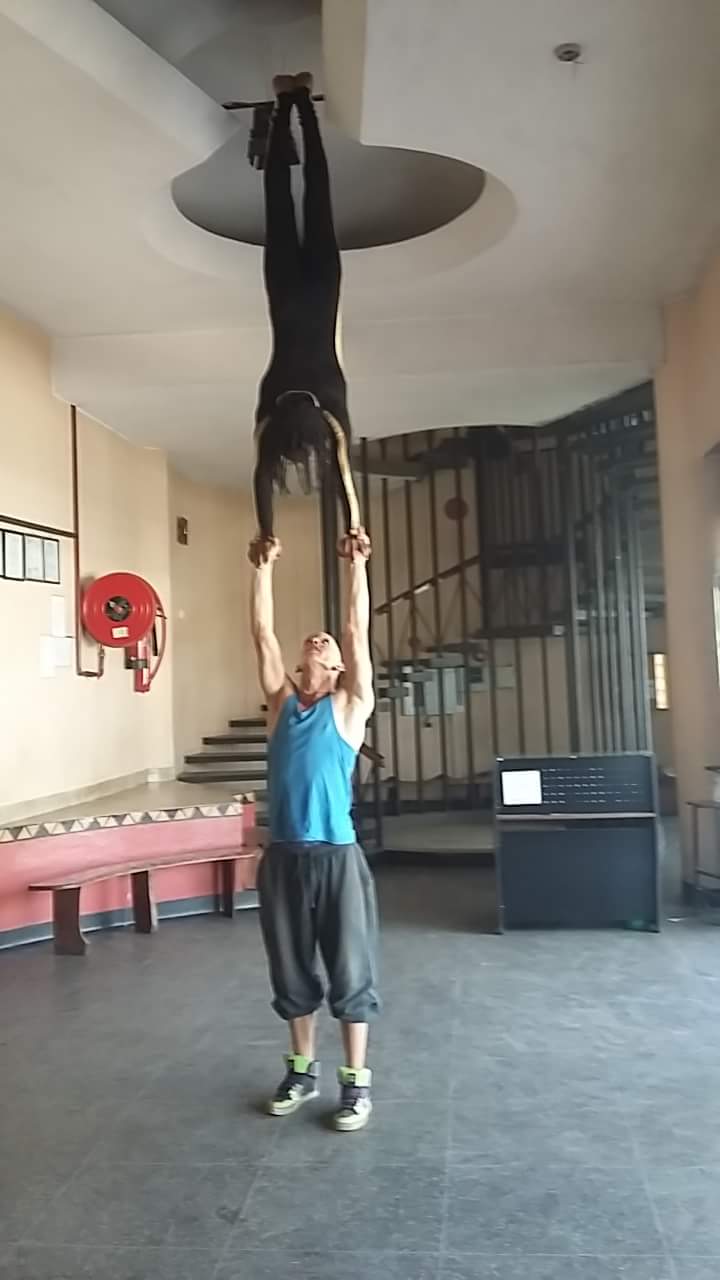 I also spent my week at Sarakasi; training alongside the local acrobats. I'm used to training in dedicated spaces with sprung floors in the UK and watching these guys busting out stuff I can, as yet, only dream of doing on cold, hard concrete is a humbling experience. I was fortunate enough to be invited out to the suburbs to train on some waste ground next to the train tracks. Being surrounded by a crowd of kids fascinated to see a white guy training alongside the locals is an experience I'll not quickly forget. I've made some good friends in Nairobi and even been headhunted as a base for an acrobatic troupe! I'll definitely be coming back here. I spent my final night in Nairobi on the rooftop of the beautiful old cinema building that houses Sarakasi, looking up at the full moon in a clear sky, a picture-perfect way to end a truly fulfilling week.
Katie & Lilly
Life in Iriari Kegonge Village, Embu district
written by Katie
Village life suited Lillian and I down to a tee! Gorgeous farms, wide landscapes, an abundance of birds and butterflies all on the doorstep of the most incredible homes made from all locally sourced materials. Our friend Njeru made us so welcome, we were part of the family from the start and had a fantastic first evening meeting his amazing Mama Alice and Papa Bogo, brother Peter, sister True and nieces Lyn and Liza. That night True was hosting a parliamentary meeting with local village leaders gathered to discuss community values and politics as True is running for election.
The food was plentiful with goat stew, pumpkin soup and a selection of delicious Kenyan dishes offered throughout the week! Later in our visit we even had the privilege of killing and eating our first ever chicken well, rooster, which really made me feel even more part of the village.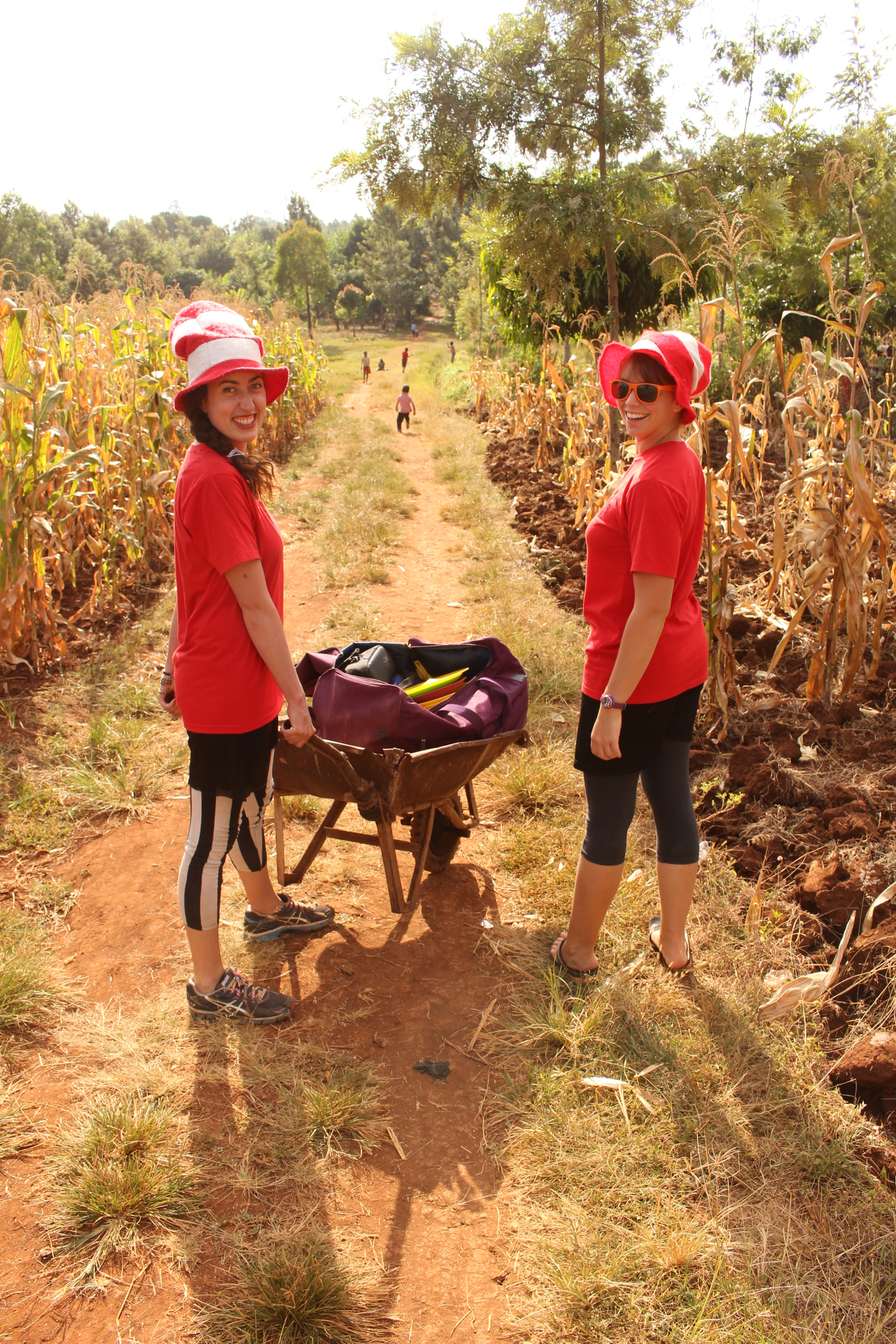 Mornings were calm and relaxing with opportunities for anything our hearts required! Yoga, drawing, taking in the vast view from the roof, walking in the hills, farming! In the afternoons we played with the wonderful village children who taught us the joys of playing, happiness, openness and how to have fun in a massive field with a pond and cows surrounded by a forest! DJ Chapati (Lillian) and DJ Ugali (me) were a great hit along with our guest team member DJ Nakumatt (Peter), a Nairobi based photographer who acted as teacher, translator and photographer.
We three musketeers were always followed home with our kit bag in a wheelbarrow, stripy hats on our heads, the full moon lighting our way and fifty happy children dancing, singing and congregating next to us! As the week went on we saw leaders begin to emerge in a really organic way and the children's confidence grew in ways we couldn't imagine. I feel blessed, fulfilled and honoured to have been welcomed into their village so wholeheartedly.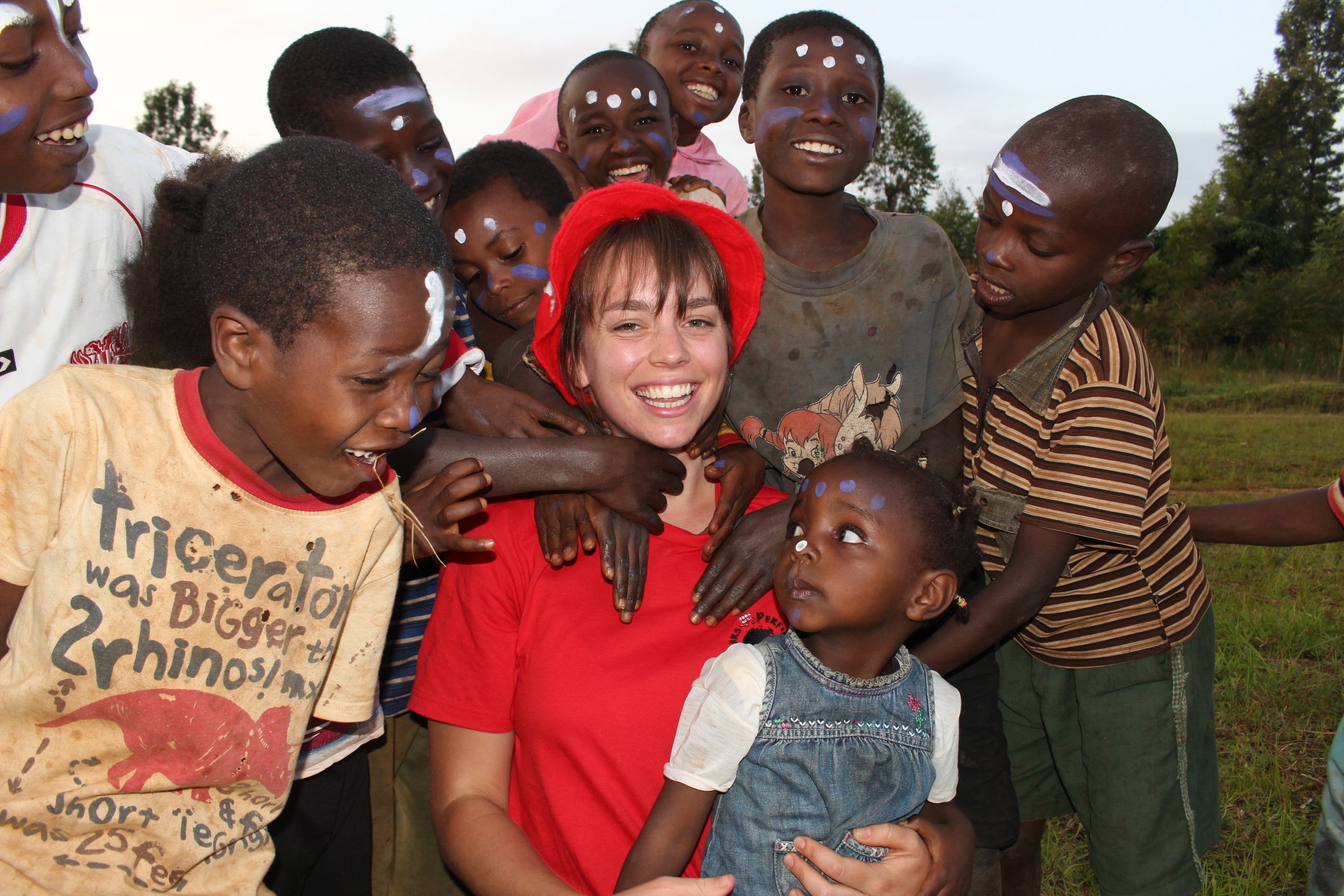 We also treated ourselves to an overnight stay in Meru National park on the edge of the vast Mount Kenya. WOW, what an experience that was! As we went on an evening game drive when the heat of the day was finally relaxing we spotted a lone elephant seperated from his heard almost immediately. We also saw families of baboons, the most gorgeous bright blue birds, water buffalos, hippos, giraffes and antelopes. The beauty of this park was the endless changes in scenery from wide open plains, to dense bush, to sights of vast mountain ranges and enormous baobab trees! The next morning's early game drive led us to more giraffes and buffalos with the added privilege of a zebra herd and close encounters with elephants! Such diversity and magnificence was incredible to see.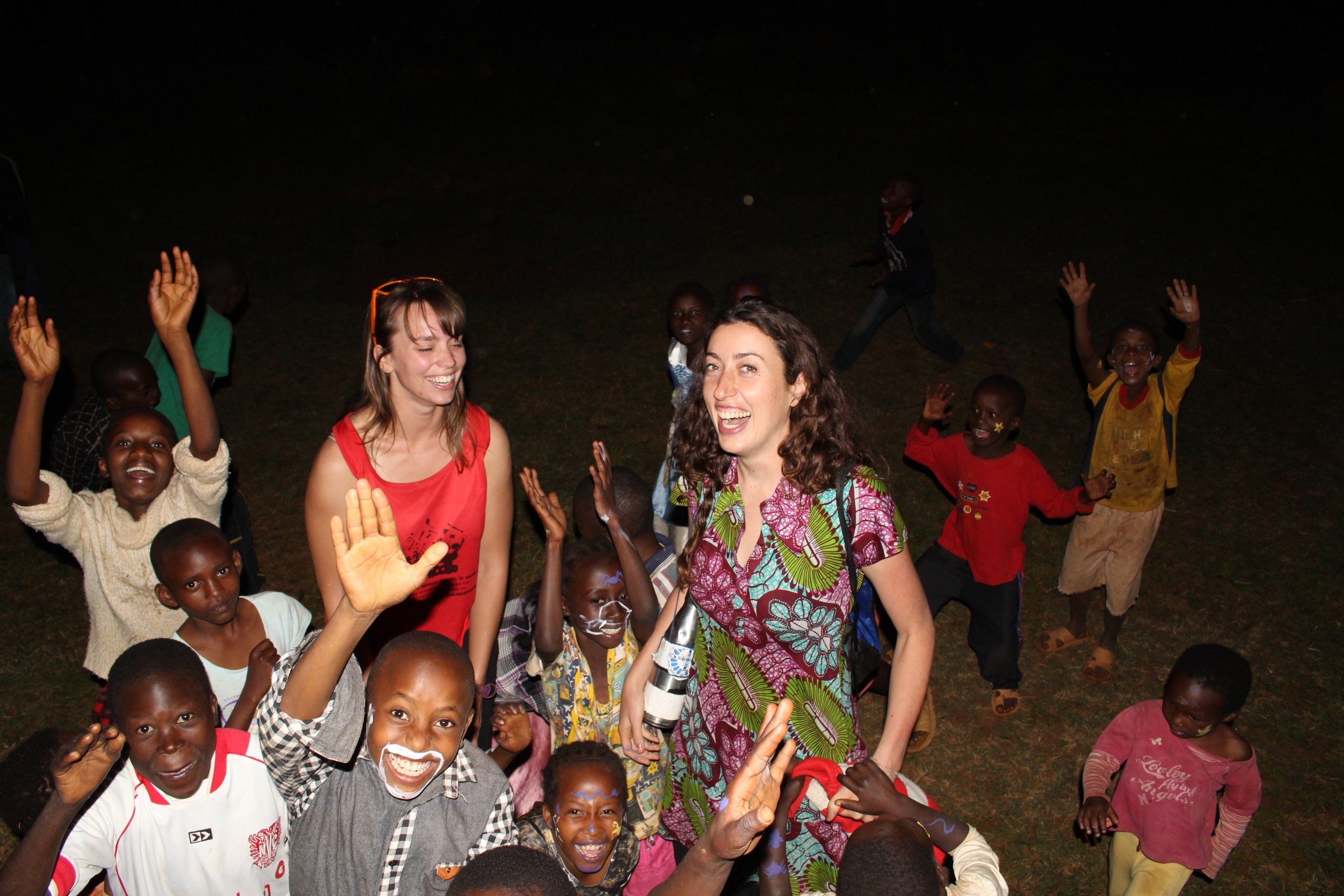 Lillian and I were given Embu names during the week. For Lillian it was Jaber, meaning beautiful one and for me Gakenia meaning the happy one. We will take forward our new names, experiences and open hearts to the final leg of the tour in this beautiful country.
Coco
Having a week off meant I could take a bus for a few hours and arrive at Mt. Kilimanjaro, the thought of which, I have to say, interested me quite a bit.
I went into Tanzania and headed for Arusha; got there, found a friendly taxi driver and asked him to take me to a backpacker's hotel downtown. On the way I asked Moody, for this was his name, if he knew of any group starting the Kilimanjaro trek the following morning. Moody said yes, that we could meet his brother at the hotel and he'd be able to organise it.
Upon arrival at the hotel, I was taken to the director's office where a young gentleman came in, sat down and started explaining the details of the journey that was starting the next day. After some negotiation we agreed on terms and I signed the permit for the climb.
The next day I met the chief guide for the expedition, we drove to pick up the other mzungu (google it) and were on our way.
It was a scenic trek, that takes you from jungle to moorland, through alpine desert, barren rock and eventually walking alongside a glacier. You make the summit on the morning of the 4th day right around sunrise: the only time of day when you get a good view.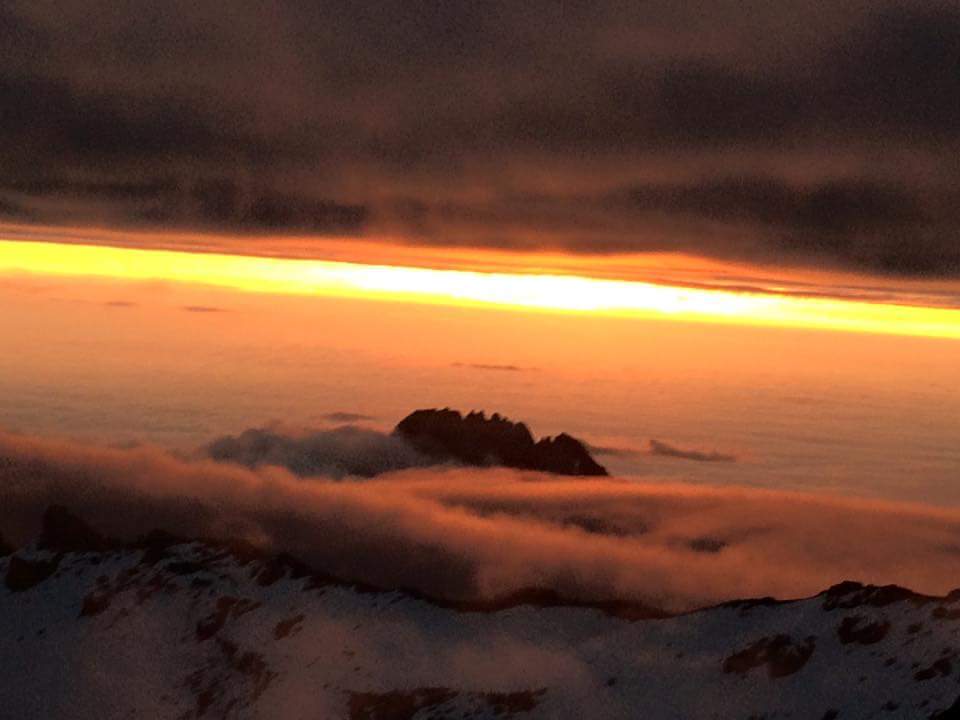 And it was good! This was the sunrise over the clouds below Uhuru Peak, the highest point in Africa at 6.20am, 20.02.16.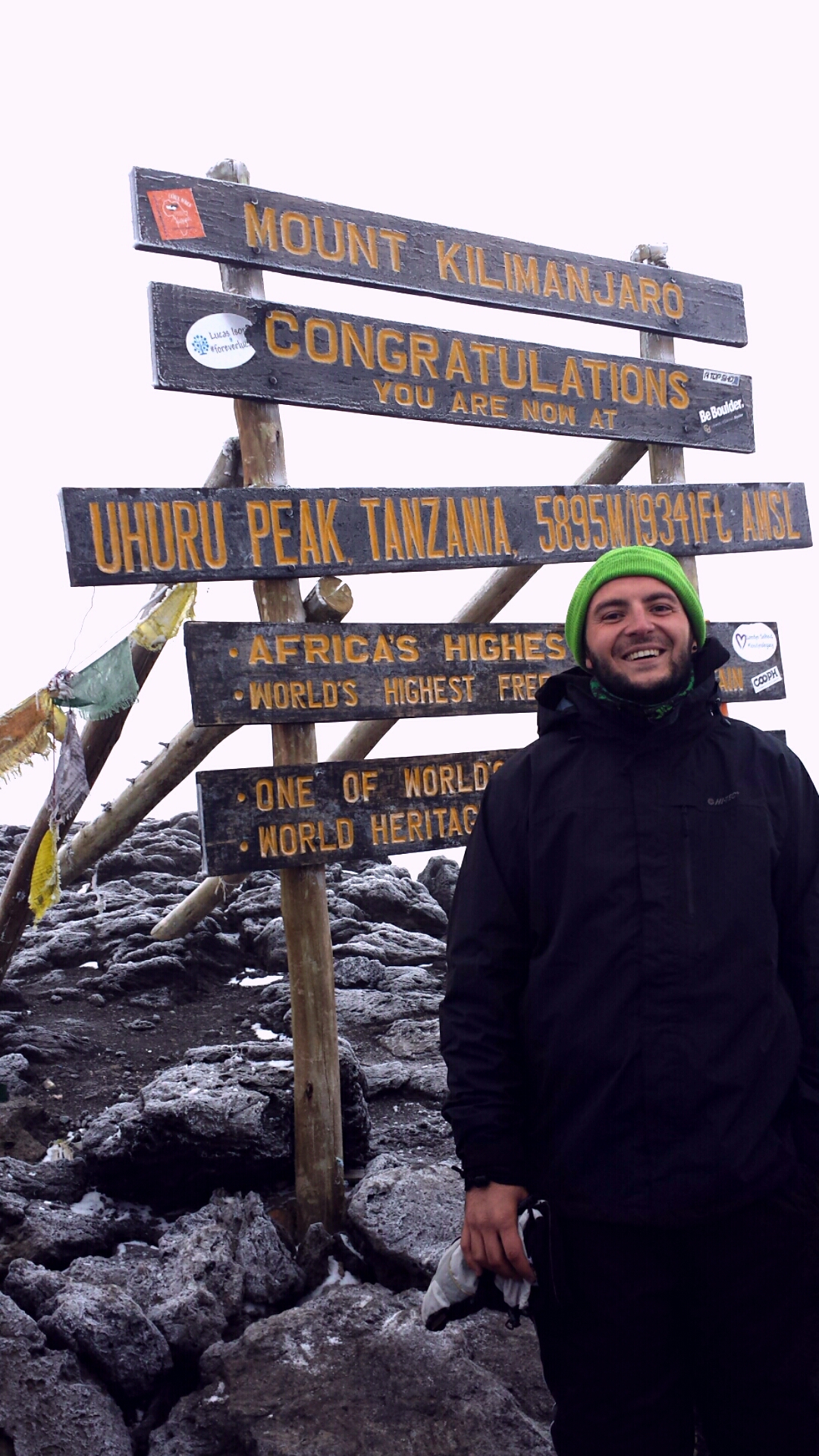 Happy and looking forward to more oxygen I slowly started the descent and made my way down the mountain into Arusha, back to a hotel, then a bus, then another hotel, then finally a Matatu (bus, sort of, google it) with Joe and Abi!  Together, we headed towards Nakuru and the last project of our tour.
As you can tell, we all like to rest in our spare time! Very relaxing holidays!