Kenya Blog Week 3 Sarakasi – by Jess
Categorised in: Kenya 2017
By Tour Updates
WARNING LONG BLOG… pick and choose a diary entrance or grab a cuppa and read them all!
SWEATY TRAVEL
Sunday 15th January
Today we endured a sweaty and delayed 15 hour journey from the humidity of Mombassa to the perfect climate of Nairobi at an elevation of 1870 meters. There is a sense of excitement in the group as we return to Nairobi to start the work with children having created our show at Bootcamp as well as spending some time getting to know our fellow team mates, work mates, room mates and play mates.
DOWN TIME
Monday 16th January
A day off! I took some time to explore the city as a tourist and catch up with my friends and family in the UK.
THE WORK BEGINS
Tuesday 17th January
We begun to work on our first project with the performing arts organisation The Sarakasi Trust. The Sarakasi Trust focuses on the development of perfomring arts including acrobatics, dance and music to encourage creativity and community engagement in Kenya. Our focus is working with the outreach projects to various disadvantaged areas across the city with national teachers. Today we began the day in the headquarters of Sarakasi which is a beautiful dome – perfect for circus! It used to be an Indian cinema.
We were up at 6 and left at 7 after our trusty porridge and coffee. We walked towards a Mettatu (city bus – usually with loud music and very crowded) and sat in a lot of traffic (this is very usual for Nairobi unfortunately). We arrived just before 9 to meet the acrobats and join in with their rigorous but fun training session.
We ate lunch in a local shack, a solid diet of ugali (maize flour and water squished into a lump – it is better than it sounds!), beans and veg.
Then it was time to deliver our first outreach session in Korogocho slum – one of the largest neighbourhoods of Nairobi.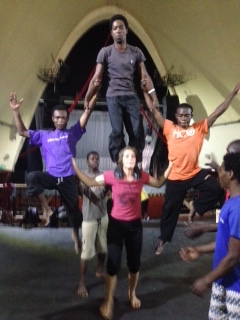 The workshops are part of a festival ran by Sarakasi called 'Amani Lazima' meaning 'Peace is a must'. The festival will culminate on Wednesday with our show and theirs…watch this space!
On the wall outside the community centre where we delivered the session it was written;
"God grant me the serenity to accept the things I cannot change,
courage to change the things I can and
wisdom to know the difference."
The young people were excited to see us and very receptive to everything we had to offer. Today we played lots of team games and did a fun but physical warm up lead by Nicholas. We then split off into groups; Mira and Nicholas taught ball juggling and Chez and I taught my all time favourite… HULA HOOP! I was so pleased that all the boys took to the hoop with the same excitement and passion as I have for a plastic circle! Yes!
We finished the workshop with a 'show and tell' which consolidated what they had learnt and gave each person a chance to perform if they chose to (which they all did). This is a great way to encourage their self-confidence in a safe environment.
Just before leaving they gathered in a circle to pray. I was already blown away by their graciousness and then a prayer containing this…
"Thank you God for giving us this time, space, these teachers and the and opportunity to do our practice."
A stark reminder to be greatful for what we do have.
A two hour trek back home and eat and rest.
EXPECT THE UNEXPECTED
Wednesday 18th January
Another 6am start this morning as we traverse the traffic towards the Sarakasi dome. Today we lead the training for the Acrobats! Chez lead yoga for half an hour, followed by a kickboxing warm up with me and conditioning with Abi – we successfully achieved our goal – we made them sweat and stretch!
We then offered out mini workshops of the various skills we have within the group – juggling, Chinese pole, yoga, stretching and massage, aerial, poi, silks and some acro!
Ugali, beans and veg power!!!!!
We went back to Korogocho to deliver another workshop – today Abi and Nicholas taught rings and Mira and I taught acro. Again it was a successful workshop encouraging creativity, play, focus and the all important team work!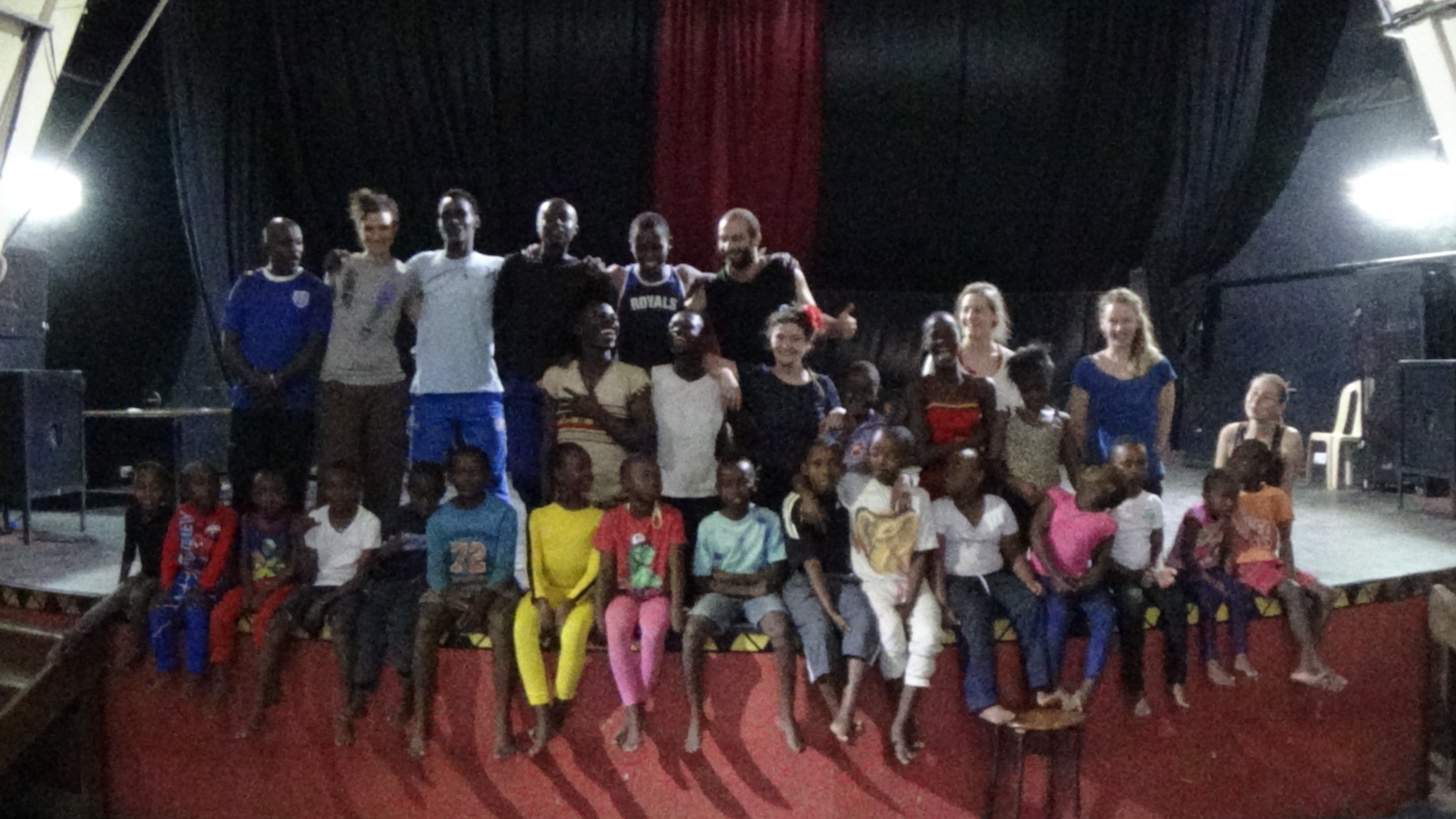 On our way home, after the prayer, we were taken on a mini tour of some parts of the slum. To our amazement and surprise we were taken to a farm! In the slum! There were about 5 cows, lots of chickens and some rabbits (for eating – sorry). They were really proud of their farm and rightly so! I was struck by the resourcefulness and ingenuity to make a space for animals, to feed and maintain them for the betterment and nourishment of the community.
Washika, the founder and head of Sarakasi (and an absolutely amazing man!) took us on another stop – the house of an acrobat who was killed two weeks ago in a car accident. Washika stops by often to show his support from the community of acrobats to the grieving family. We entered a shack with 5 women and 8 babies and children. They were very calm and quiet, from an outsider's perspective it looked as though they were really pulling together as a community and an extended family to support each other in this time and in all times I believe. We paid our respects to the family and chatted for a while. We also met the deceased acrobat's 3 week old baby boy. Heart-breaking.
The Kenyan view of death seems to be less morbid than ours. They seem to view it as an inevitability ("what can you do about it?") and I think it is more common here so people are more used to it for better or for worse. Also many people are religious, one person I spoke to spoke of God's will and plan which we may not understand. There is a calm acceptance.
MEETINGS
Thursday 19th January
A small lie-in! A chance for some Mysore Yoga practice with Chez. My body needed that.
Today we had an opportunity to meet as a team. This is so important for the smooth running of the project. We had a sharing circle to express in a safe space our thoughts and feelings. We discussed priorities, curriculum, team roles, what we will teach at a train the trainers workshop we are delivering on Monday and much more. We also had some time for self practice – also an important part of a PWB project.
DANCE SWOP
Friday 20th January
Time to practice, refine and improve our show!
We went to a different project today in a neighbourhood called Haruma, it is an estate of Nairobi.
The neighbourhood has an amazing atmosphere with high-rise buildings which somehow look out of place, decorated with colourful laundry drying in the wind reminiscent of prayer flags.
The young people immediately taught us a specific beat on the drum and beautifully guided us to become their band for a traditional African dance and song! It was spectacular! Such high energy, such smiles, so uplifting! Celebration, community, heartwarming.
In appropriate response to their dancing I preformed a little hoop dance to their African drumming. It was so much fun and happily received. We then had to change our original workshop plans due to a lack of space so we played group games, theatre games, physical games and silly games! Fun. Joy. Play.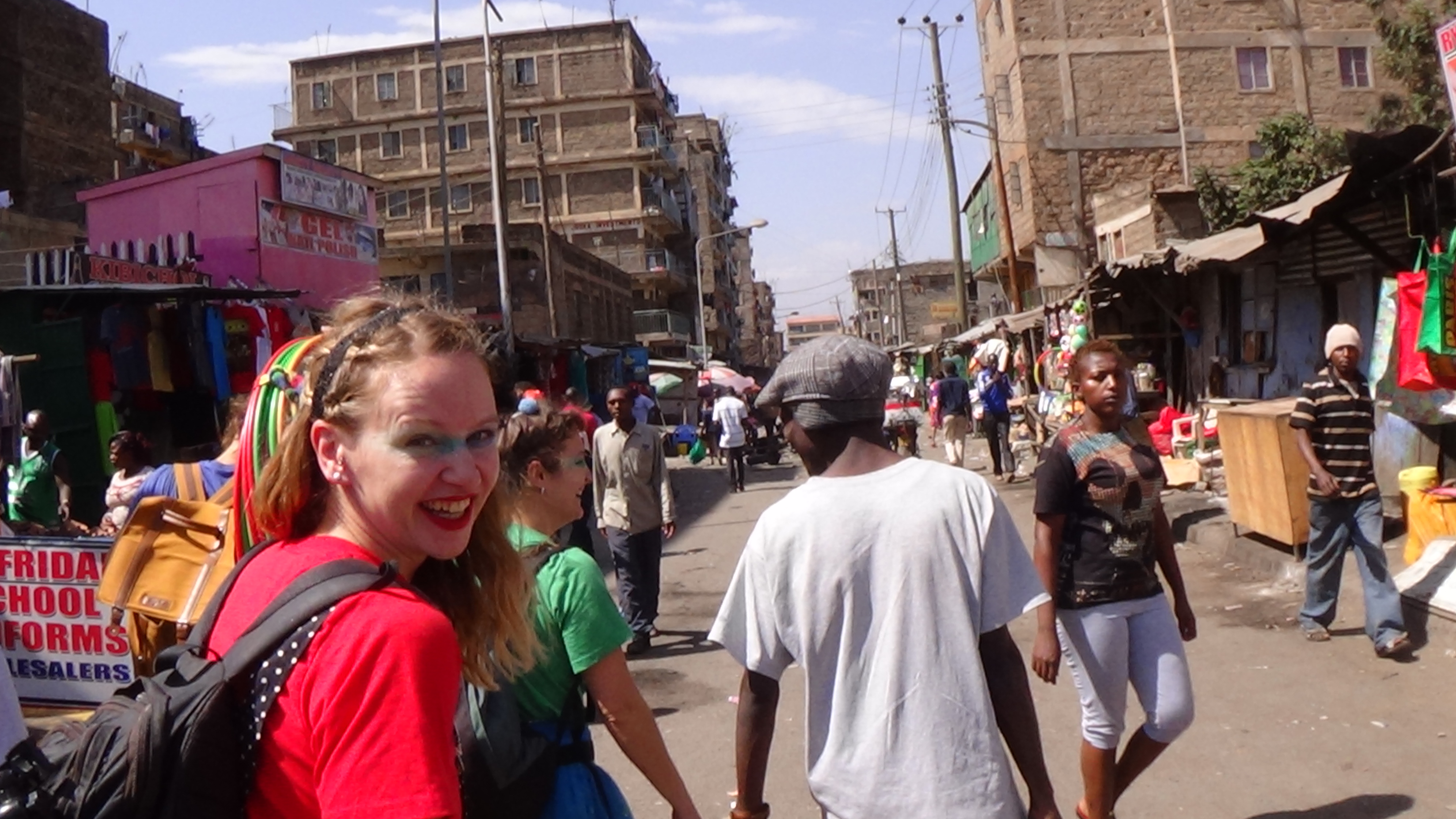 We were told to finish early because the Grandmothers of the community had a something for us…
We entered an old marquee next door to find 15 grandmothers (average age 40 something!) dancing and singing wearing the traditional cloth of their community. They donned us in the same cloth. A metaphor. It was such a spectacular experience. A welcome song and dance, not for us but with us. Here is a rough translation of the singing and dancing;
"You are welcome in our community.
Let us sing together
Let us dance together
Let us laugh together.
You can sleep anywhere here, because you are welcome with us.
Amani – Peace."
It was so powerful and special to be invited and honoured into their close knit community in this way. I was struck by the beauty and warmth of their hospitality and the manner in which they welcomed the stranger, using song and dance to rejoice.
Home time. Food. A Skype with my family on a Friday night and…. Sleep.
SHOW TIME
Saturday 20th January
Another early start. We taught at the Sarakasi Saturday programme for young people at the dome. Chez ran a theatre workshop focusing on awareness of space, audience and your fellow performer. Abi ran some conditioning and Mira lead some tumbling. We then had breakout sessions, Nicholas lead juggling, I lead hoop and Abi lead aerial.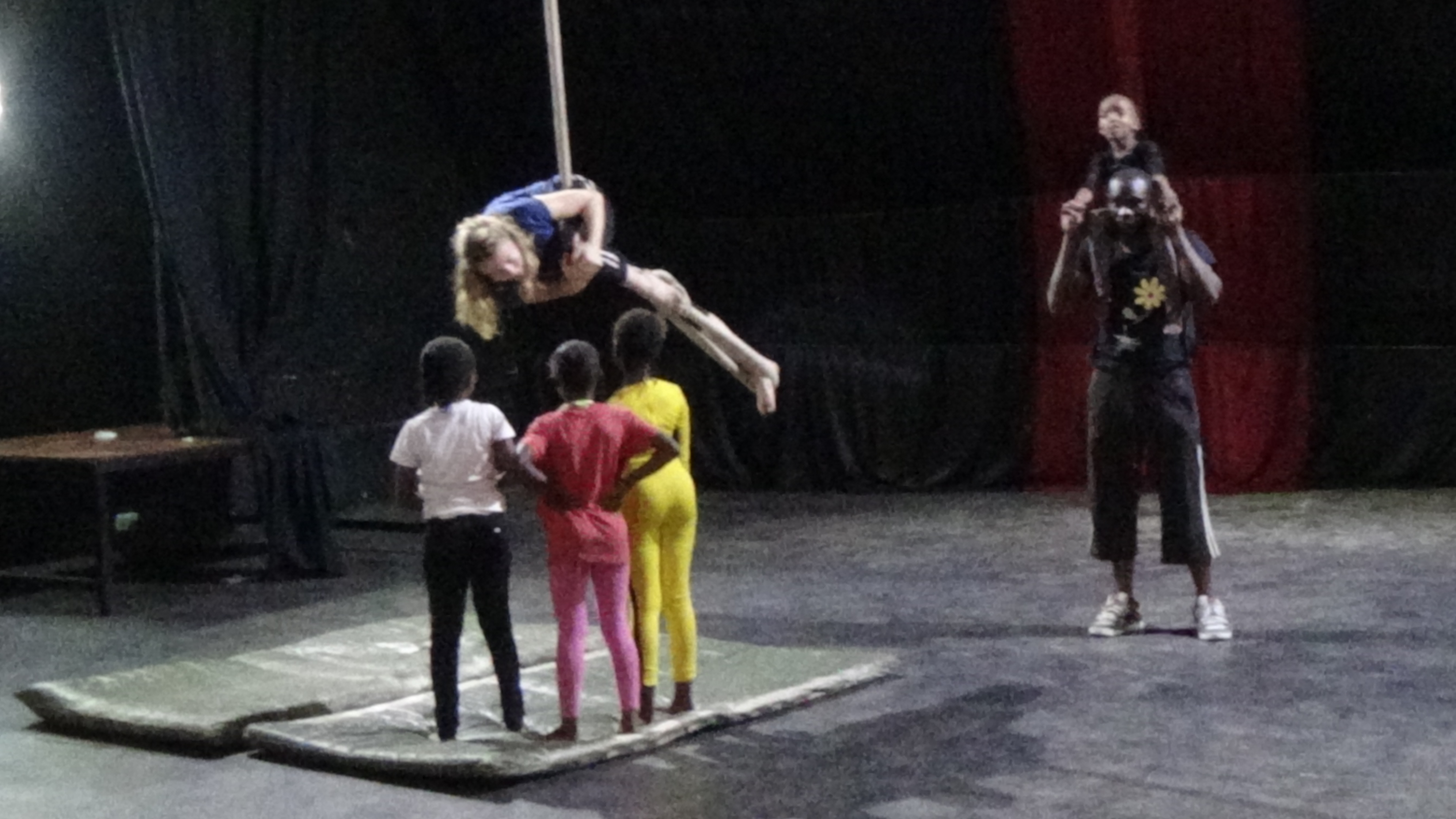 Ugali, beans, veg! Power…and some err gas!
We went back to Haruma to perform our show! It was quite crazy – over 200 in our audience in a square outside the community centre. We shared our stage with a motorbike just for an added challenge!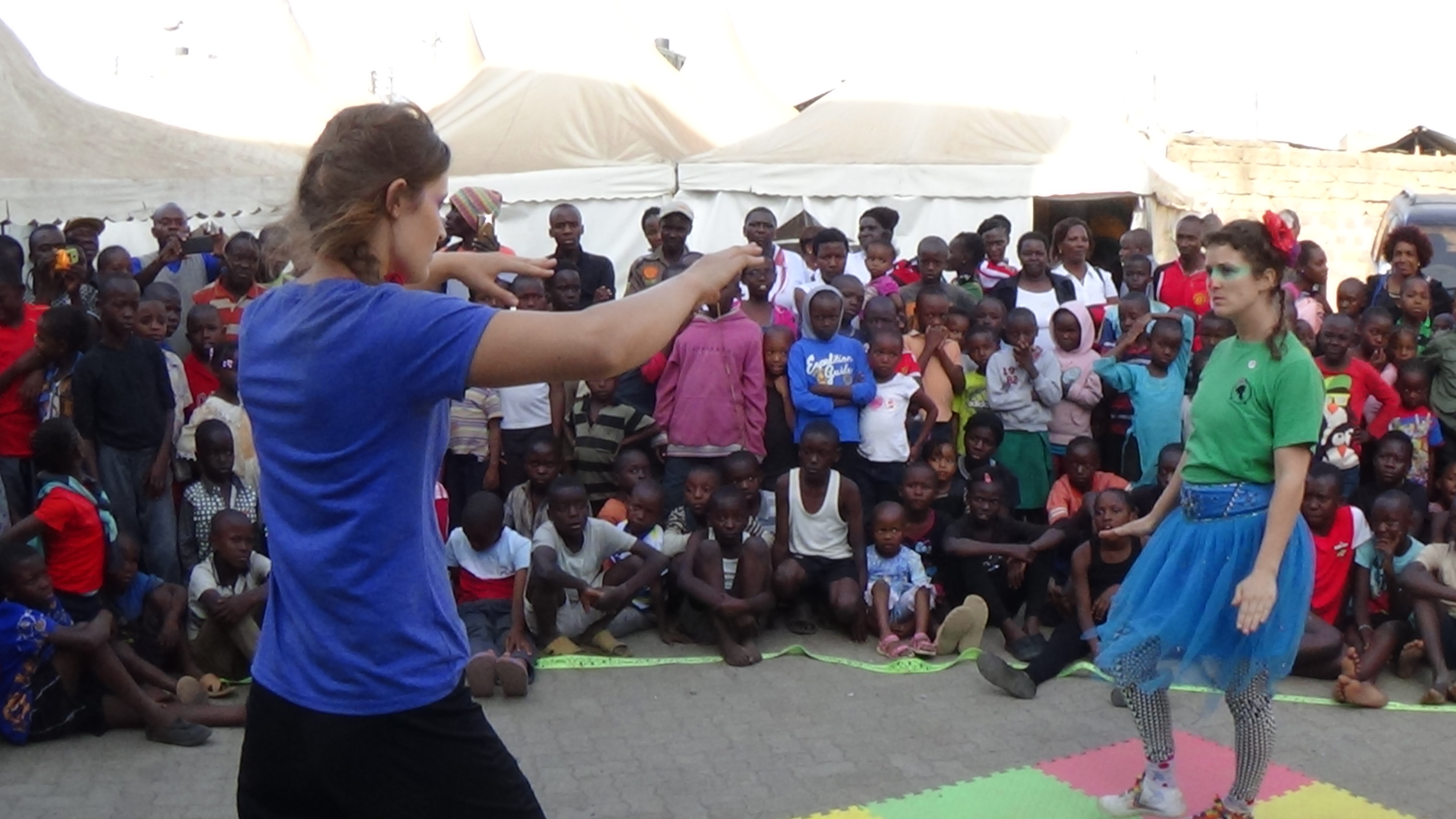 As there were so many children it was difficult to offer workshops for such numbers so we played musical statues and the good old hockey kockey until we were rudely and unexpectedly interrupted by….a man on a camel with tinsel on it's head. As you do.
The children were entertained by us and also intrigued by us. Especially our hair as it is so different to theirs. They took to touching, stroking and eventually pulling our hair in curiosity and wonder. That was when we knew it was time to leave. I am equally as fascinated by the incredible array of amazing hair styles available in Africa! I may come back with exciting braids and a blond mohican weave!
A positive and productive week! We decided to treat ourselves to an Ethiopian dinner. It was very bizarre to end the day eating in a smart restaurant coming from the dusty estate of Haruma. This is the diversity of Nairobi and possibly all cities. The gap between the richer and the poorer. The classes. The struggle for employment, survival and ultimatley fullfillment.  I feel so grateful and lucky to be able to be here to volunteer, to drink in this culture and share my knowledge and experience where appropriate. To give back, and as we say in PWB, the more you give you the more you get. I must have given a lot this week!
DOWN TIME
Sunday 21st January
Today is blog writing day and a day off! I am sitting in the garden of Shalom House, writing to the beautiful and lively surround sound of the various Churches around me. Chanting, singing and praising. It sounds like a happy affair of community and sanctity in the sanctuary.
A time to recharge the batteries ready for another week of PWB Kenya!
Amani Lazima.
Peace is a must.
Jess