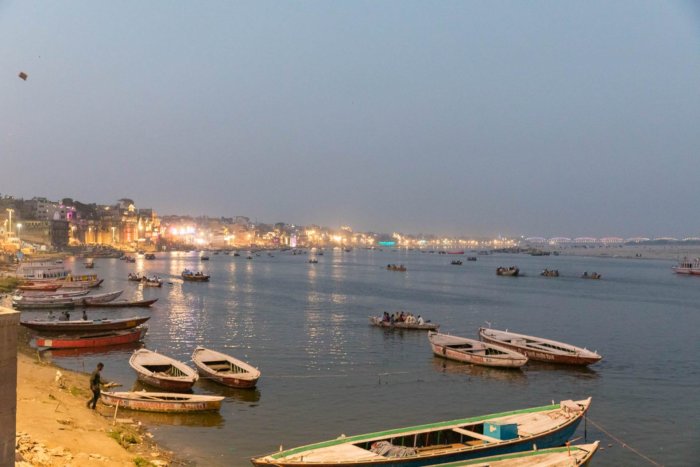 Our arrival in the ancient, holy city of Varanasi was heralded by the celebration of Maha Shivatri, a Hindu festival honouring Shiva, which carried on for weeks with unparalleled exuberance throughout the city. The population surged with an influx of devout pilgrims en route to pay their dues to their gods and bathe in the Holiest of rivers, the Ganges, around and for which the city was originally founded. Most obvious were the sadhus, Hindu priests whose ancient beards, ash covered skin, simple raiment and tents set up along the river gave way to their spiritual intent. Hoards of ostentatious marriage parades marched ubiquitously through the streets – this sacred time of year being the holiest in which to wed – with a decadence that ranged from dance-walking behind a pickup truck filled beyond capacity with booming speakers to processions of decorated animals ridden by the celebrating couple and their families, all wearing the finest cloth and jewelry yet seen by our own eyes. Our new environment was truly a majesty to behold. It was immediately obvious that our time in this city would be completely different to anything we had known before.
Our home for the month was a spacious couple of rooms and kitchens, more than enough to juggle, practice acrobatics, and rehearse parts of our show. The real kicker was the access to the 5th level rooftop which offered yet more space, sunlight, privacy, and luscious vistas in all directions about our humble and loud neighbourhood. We found comfort in the peace offered us by this lovely home and felt completely safe there, protected by Peanut – the hotel's ancient and ever-vigilant guard Beagle. Settled into our cozy nook, our party ventured forth to meet the children of the Asha Deep school, with whom we would be spending the coming month.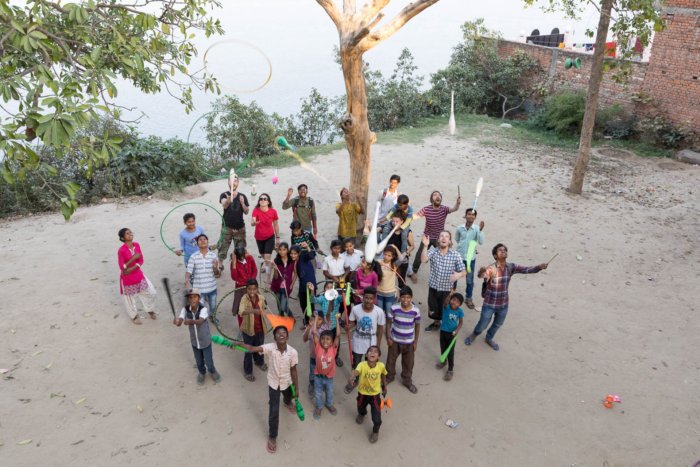 Asha Deep is a lovely school nestled in the heart of the southernmost neighbourhood of the city along the Ganges; bustling vibrant energies burst forth from every nook, revealing full intent to learn and grow and prosper. Connie Rao is the supervisor, a wonderfully bright woman whose care and intention shown powerful through every part of her work with the children. The students range from five to eighteen years of age, some fifty in total. Our work with them was a totally new experience for us: we had only worked with each previous group of children for one day and this time around we were to have the same group to teach and befriend and mentor for one entire month! Our work was cut out for us, as demanding as it was rewarding in each utterly new moment. We held one advantage that lent an element of confidence and chaos all at once: most of the children had been taught by PWB in a similar capacity in years previous, giving them an intention and expectation concerning our visit that would be vital for the challenges we would set before them.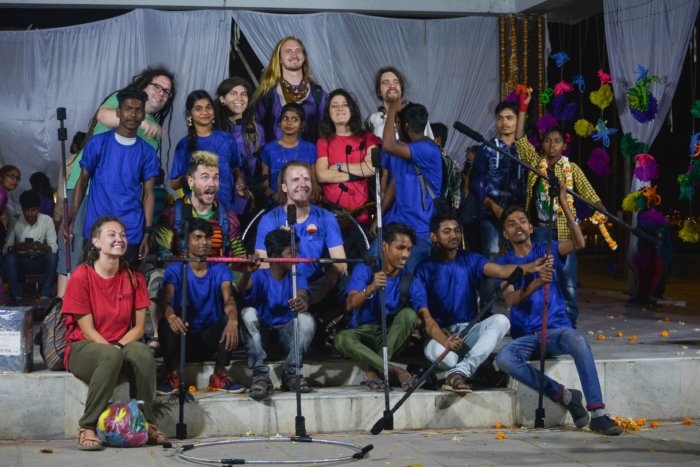 Our first day working at the school was as wild as any we had previously experienced, the excitement of the children and ourselves building moment by moment up to an expansive chaos of energy and laughter and joy that none of us knew just quite how to wield. Our solution was to cooperate with one another like the team we were, and with the children to give them as much leeway as necessary to keep them engaged and treat them fairly as the tiny, autonomous humans they were. Thus we built an educational structure based on their desires, which we catalogued as effectively as we could have given the circumstances and language barrier – most often this culminated in each of us holding a different circus prop in the air until all of the children noticed, divided, and gathered with fierce jubilance around the one that they craved the most! The girls tended to gravitate towards the more classically feminine hula hoops and fans, while the boys seemed barely capable of deciding on any one thing in particular – perhaps indicating some social effect that none of us quite dared to put our finger on.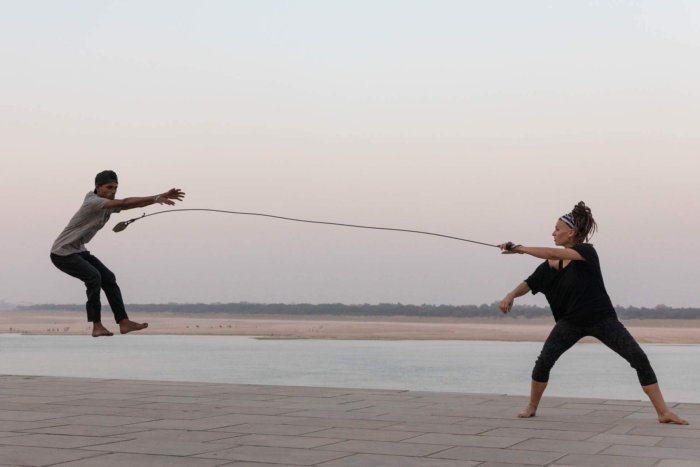 As the days flew by, filled with immeasurable quantity of culturally foreign experience for us, we began to cultivate some measurable increase in capability within our individual groups. We gradually moulded these budding skills into the choreography that would eventually become a full-fledged show. The work was truly demanding, requiring an elastic teaching style that we all found ourselves learning and implementing at about the same pace as the children learned from us. As our malleability increased so too did the children's respect for us as teachers and friends, clearly noticing and appreciating the freedom given them and feeding it right back into their practice. At long last the day of their show and our reckoning came, bringing with it all of the nervous jitters with which we were all so familiar from our own performative exploits, but altogether different in that our jitters were for our students this time!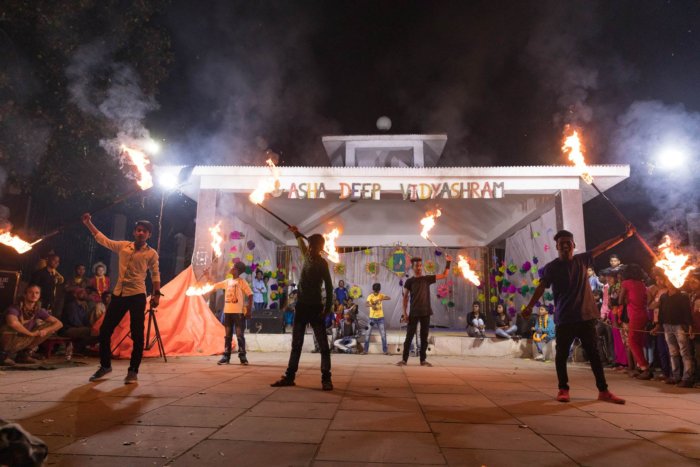 The sun fell restlessly into the haze of the city skyline as the river-side stage filled with families and friends of the children upon whom the spotlight would rest, along with interested persons from all over who had caught wind of the promising spectacle. All of our hopes and dreams for their performance piled into a veritable mountain as we prepared them backstage as best we could, the same chaos we knew so well being exacerbated by the rush of upcoming showtime and an anxious audience. Finally, the anticipation peaked and the first act began: a grand and magnificent group dance number with deep-rooted cultural origins. This was followed by a series of group choreographies based on each circus skill that we taught: poi, fans, juggling, clowning, hoop, staff, and diabolo. A unique hoop and staff act was performed in which the props with filled with colourful powders that exploded out onto the stage like a rainbow caught in a tornado! The clowns repeatedly marched about in glorious, unabashed silliness as the other acts prepared for their turn on the stage, leaving the audience giggling and smiling at their hilarious antics. The finale was a fire show put together by some of the more adept kids of the Asha Deep, utterly epic and enthralling as the children wielded the flames with due intensity and fearless passion. The ending came all too quickly for the children and our team both; it seemed to be over so suddenly for the incredible energy and anticipation had preceded it. All of our dreams and desires for this evening peaked then and there, leaving us all with an overwhelming satisfaction, elation that our task had finally come to completion, and a well earned pride on behalf of the children for all of their hard work on and off stage.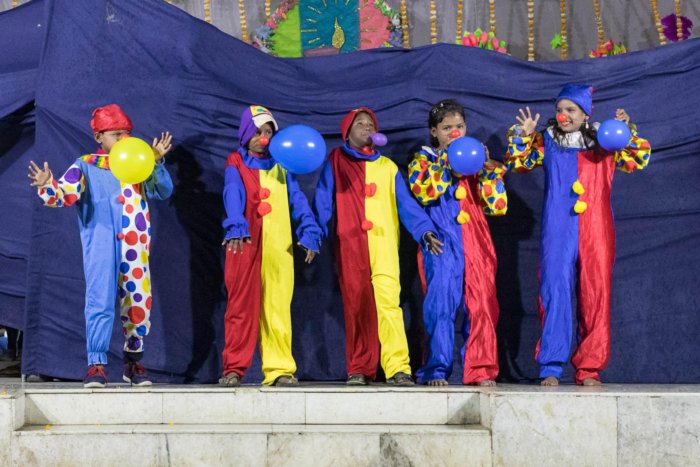 Having completed the mission for which we came to Varanasi only one month before: the work with Asha Deep and a few days teaching and performing for two other beautiful schools in the area – the Dunyia and Jeevan Schools – we at long last officially embarked on our mid-tour break. It would be two weeks of freedom which we had each designed to be just the thing necessary to rejuvenate and prepare for the last leg of our tour in Darjeeling. Just before we parted ways we celebrated Holi Festival, a Spring celebration of love and colour. We donned our whitest clothes and ventured forth into the city to be anointed with vibrant explosions of colourful powders and liquids as the whole city erupted in celebration. Painted to capacity with every colour visible to the eye and brimming with joy, some adventurous number of us scattered off to answer the call of the wild experiences that can only be offered you by the tempting open hand of this endless country. Others found rest in lush accommodation atop high mountains in perfectly isolated peace, wanting for nothing as their needs were met in a decadent parade of alternating feast and slumber. We sought and found, each in our own way, a satiating experience that at once sounded the ending bell of one chapter and laid the foundation for the fast-approaching story of the next.
Logan "Kaaw!" Goethe