India 2019 – Darjeeling: Clowns Among the Clouds
Categorised in: India 2019
By Tour Updates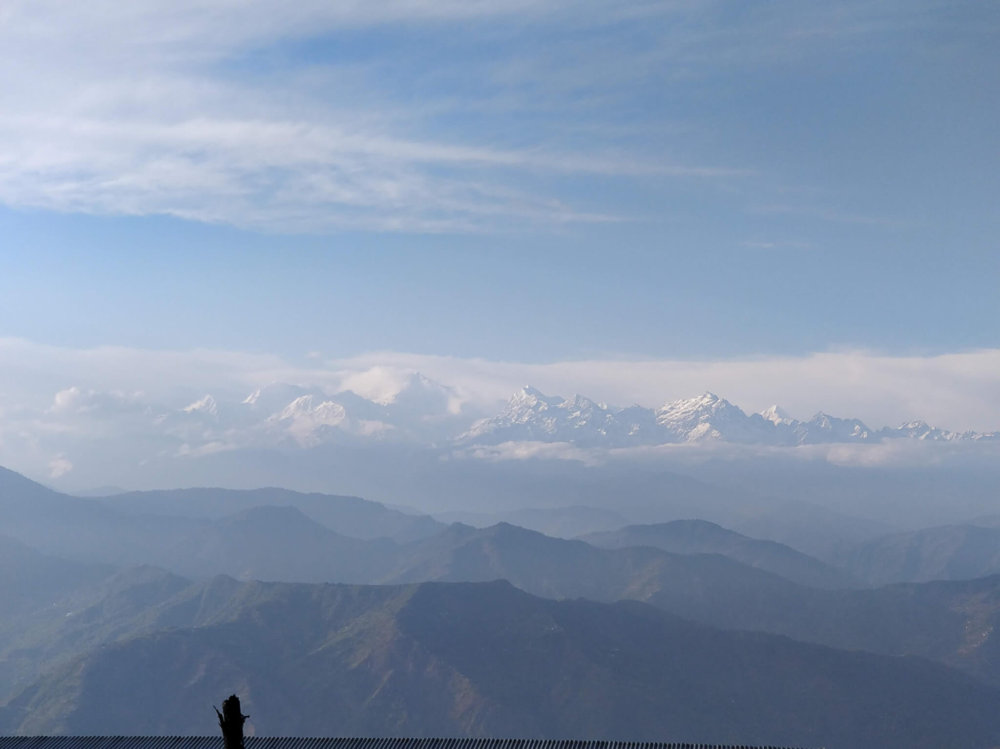 With hearts emboldened by the success of our tour thus far, PWB India Team marched up the foothills of the Himalayan Mountains into the cold embrace of Darjeeling. It was in this majestic mountain town, perched high among the clouds, that we would spend the final month of our tour. The streets were tidy and filled with decadent food vendors, the air refreshed by regular and gentle wind, and the kind inhabitants a melting pot of the vibrant cultures from the surrounding countries: Nepal, Bhutan, and Tibet. Our home was cozy and quaint, nestled precariously upon a steep, terraced hill with the boundless view of a sunrise cresting over Kangchenjunga Mountain – the 3rd highest in the world. We quickly made friends with our local guard dogs as was our tradition, as well as our neighbors and two wonderful Irish students whose work involved project managing at the school we were to teach at for the coming month.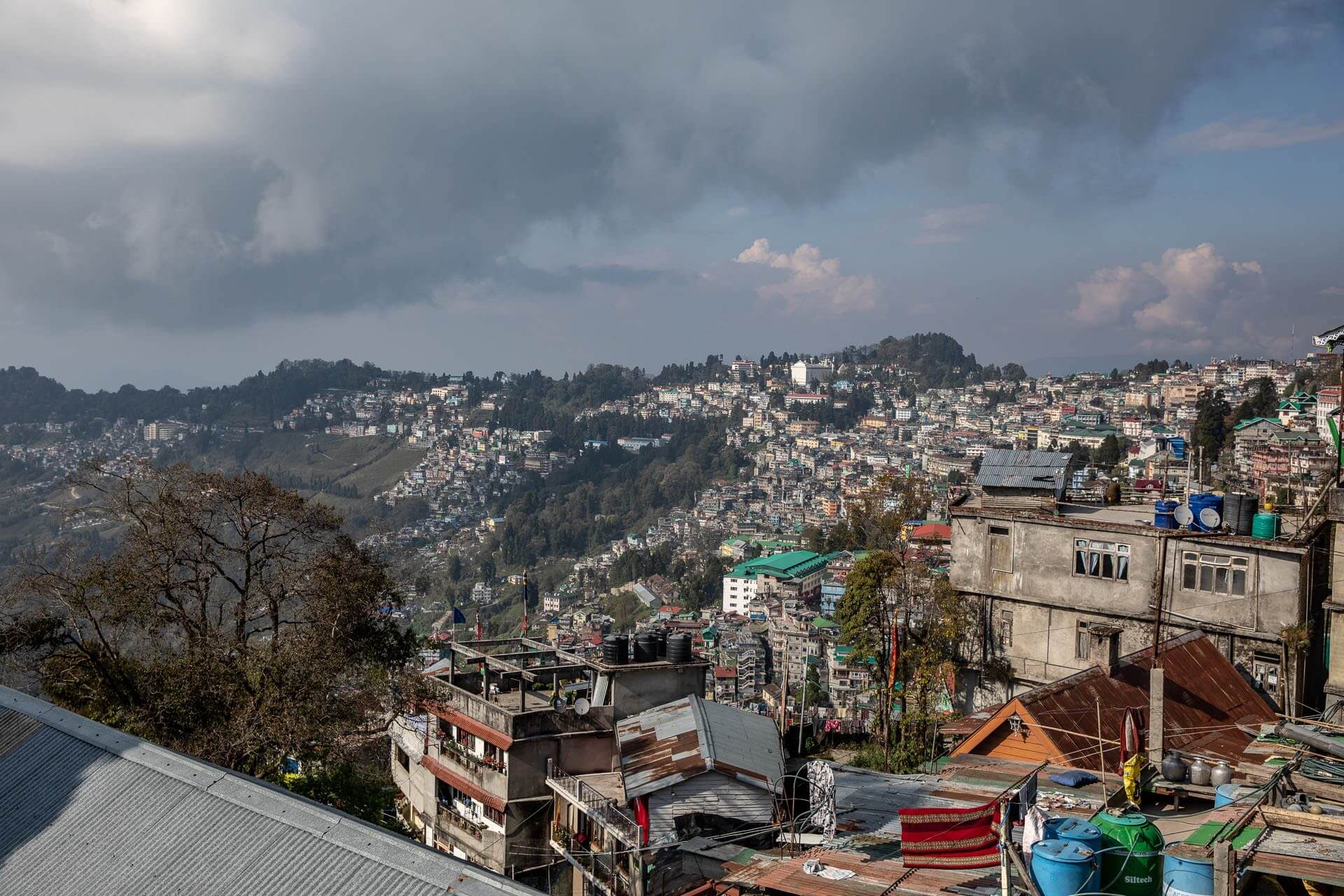 We found ourselves well rested by our recent break from work; we were mentally and physically prepared to achieve something we could be proud of in this welcoming new environment. With it being the last leg of the tour there lingered a certain expectation in the air about our team. This was to be our third and final project. Until this point we had been developing everything from our team dynamic to the execution of our curriculum, but now we had much more of a handle on ourselves and our work in this foreign land. Perhaps as a symbol of our thorough preparedness, we received our fabulous costumes in the mail from our talented costume designer, Shubhra Gupta, just in time to perform our final shows in their full capacity! All of this led to the feeling that here was to be the most potent distribution of our work, our experience and skills to be fully implemented to achieve the most positive effect of which we were capable. And so with all haste we embraced our fate, put our heads down, and got to working.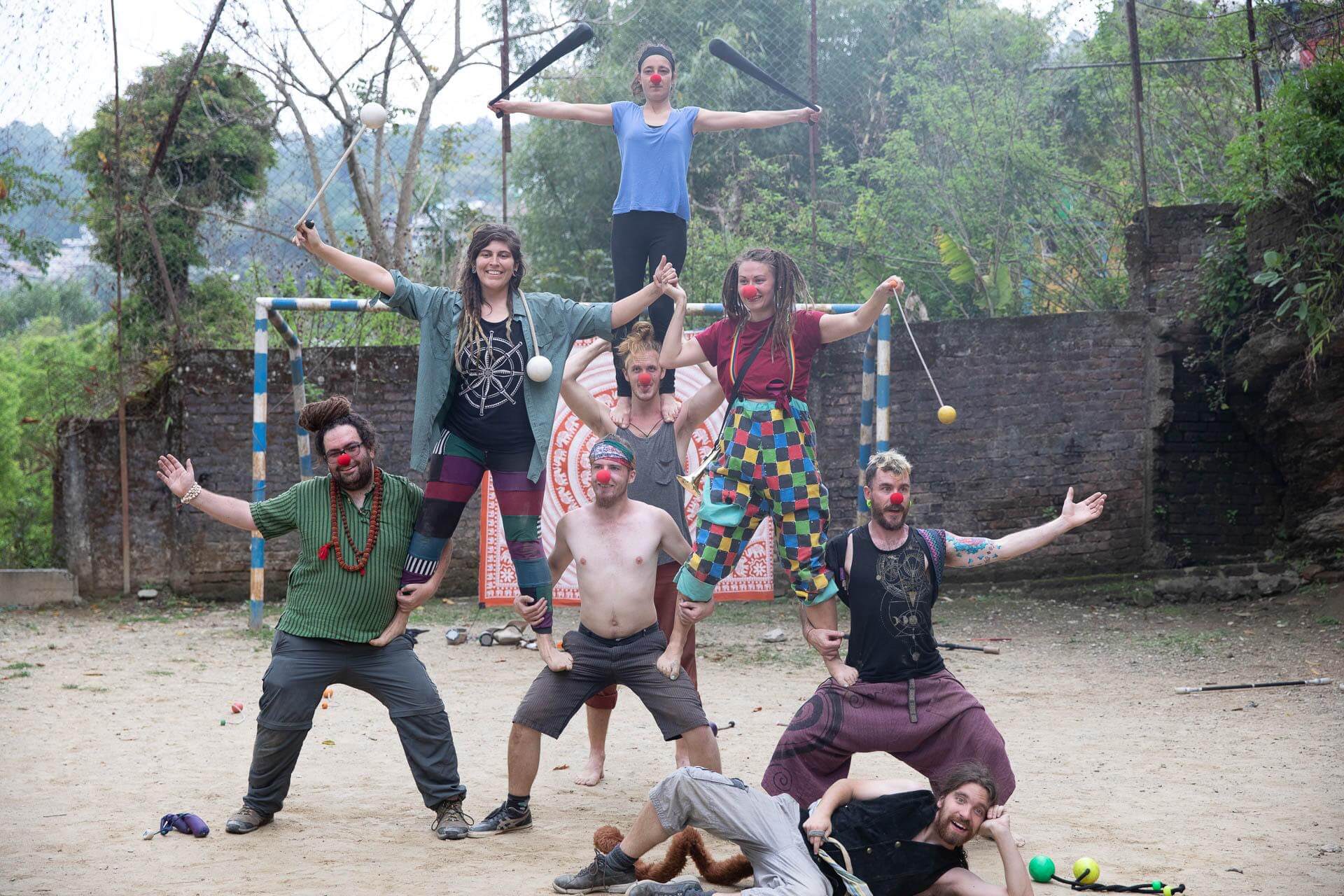 When we arrived we were tentatively supposed to be working at one school daily for the month and two others for short periods in between, but due to the hard work of a couple of our proactive team members, Gina Disney and Erika Brocca, we had secured two further opportunities. We then had five schools to grace with our circus shenanigans: Edith Wilkins School for Street Children, Bethany School, The Salvation Army School and Home for the Deaf, Sardeswari Heritage Girls School, and BSA School of Kalimpong. We would teach at Edith Wilkins almost every day, and distribute our time and energy amongst the others in shorter spurts throughout the month.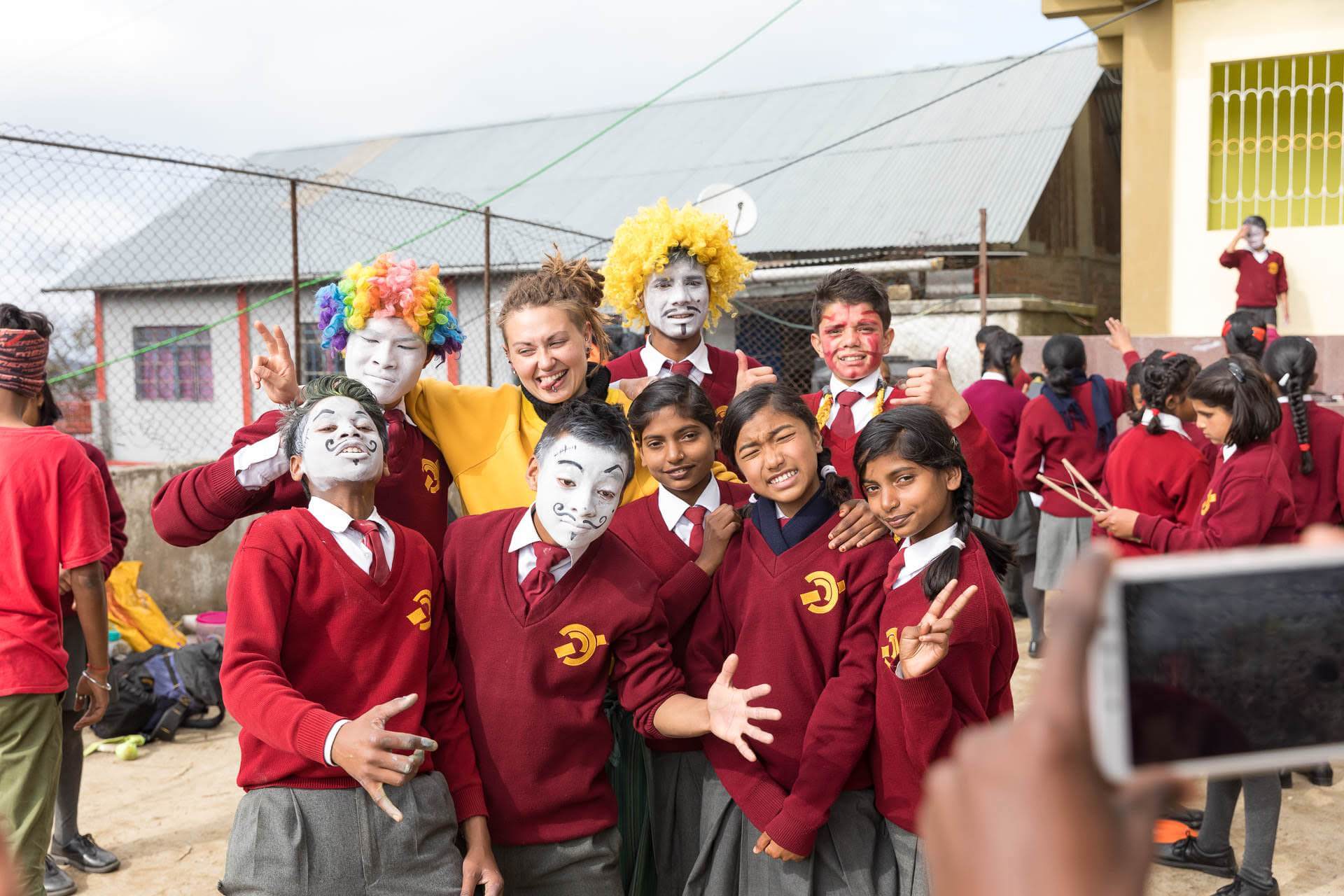 Our first venture out was to Salvation Army Deaf school, where we were kindly received by the headmaster Xavier, and would spend the subsequent five days. Working with deaf children was an utterly new experience for all of us – we had spent some time in bootcamp preparing for teaching without language since none of us were proficient in Hindi but this was something completely different. Whatever our expectations going in, they were absolutely shattered upon arrival. The children there were completely engaged in everything we did with them from group games to directed teaching to performing. Their attention was consistent and full while learning and we connected through physical gestures instead of verbal communication with ease! Notably, a larger percentage than any previous group we had worked with were natural clowns – able to access the silliest and most playful parts of themselves with ease and seemingly without self-judgment. We all agreed that this was the most peaceful teaching experience we had in India due to the children making almost no sound at all with their voices (though the sparse verbal moments that did occur were ubiquitously jubilant outbursts of glee and laughter!). Our time among the students there was absolutely unique and unforgettable.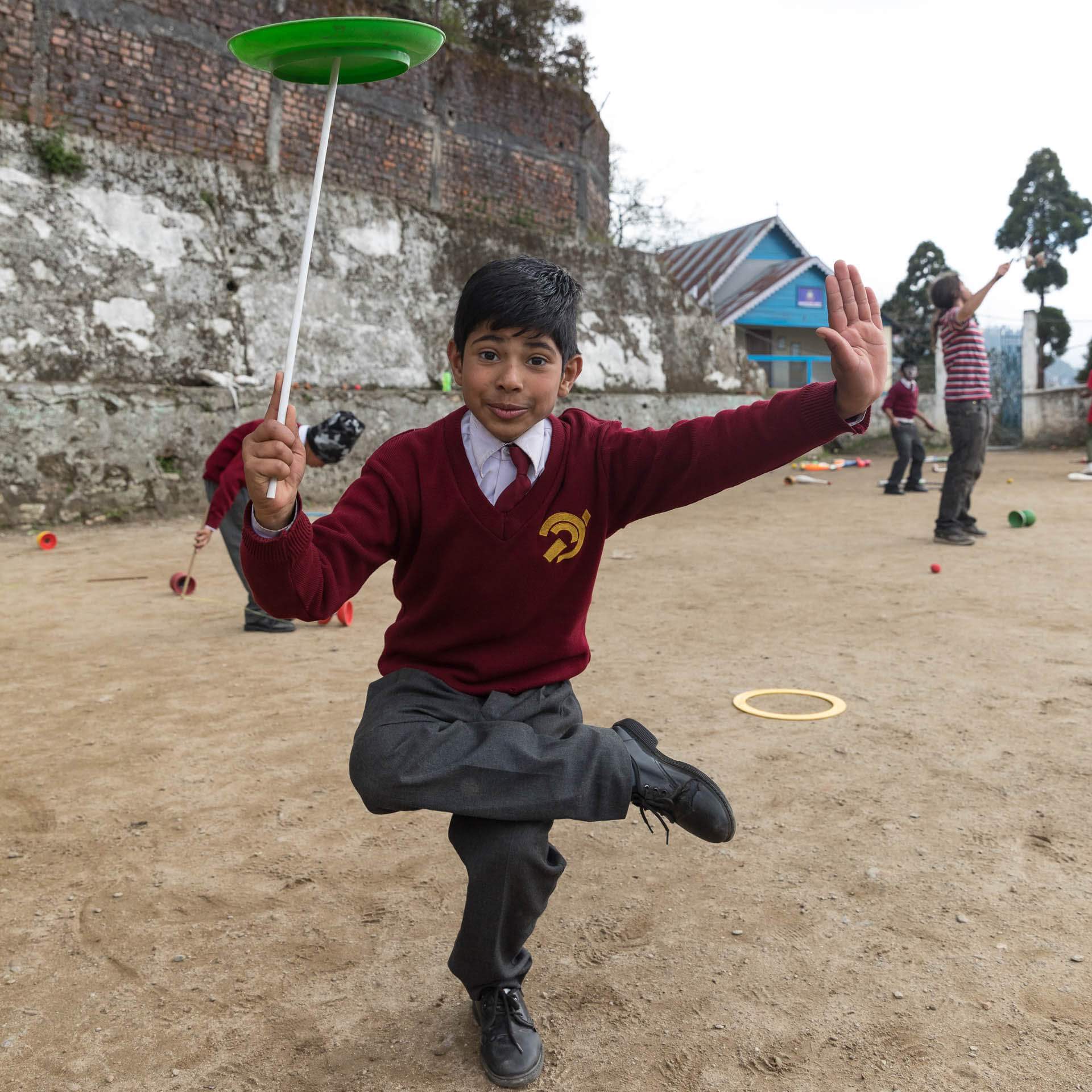 Daytrips to three more schools followed, the first being Bethany Catholic School in the center of Darjeeling where our contact Sister Gemma welcomed us warmly with tea and biscuits. We taught heaps of workshops in rapid-fire to their multitude of students – arguably the most well behaved we had come across so far – on a rooftop overlooking the heart of the city. Next we made an excursion to the nearby town of Kalimpong to visit BSA school where Sister Subechane would receive us. Packed tightly with all of our gear into a tiny jeep we sped through the mountains along winding dirt roads at blinding speed, promised by our Formula 1 racer of a driver that our safety was ensured. The children of this isolated school were beyond grateful to host us. Our classes and performance left all of our spirits soaring as we left begrudgingly with the children demanding that we return one day – we all hoped deeply in our hearts that we would. Lastly we spent a day at the school over which our house was nestled, Sardeswari Heritage Girls School, where Head Mistress Seemapakhrin had organized a packed schedule for us. The girls were especially excited to have us there since, as our neighbors, they had been watching us training and enjoying our home every day for most of the month! If ever we felt like our efforts in India were underappreciated, they decimated the possibility. Our official last show was for those girls and Shubhra, our costume designer, who travelled all the way out to witness it in fully costumed glory. It was the perfection of the idea of our show as we had imagined in the very beginning; the culmination of months of hard work and absolute determination to go out with a bang – and we absolutely did as we nailed scene after scene without hiccup, the sun setting behind the distant mountains that formed the backdrop for our spirits to soar higher on stage than ever before.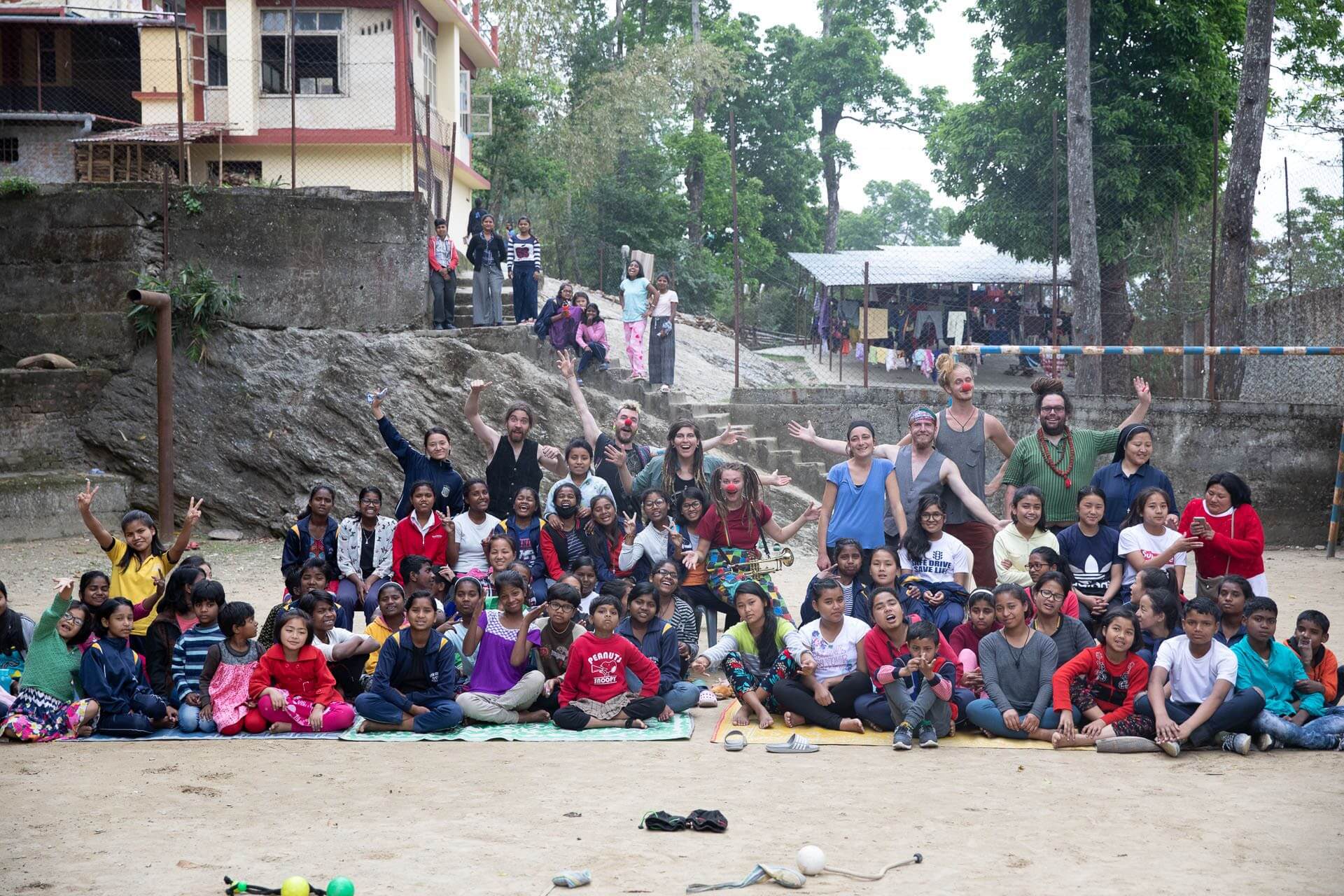 Throughout all of these experiences we were engaged in daily work at Edith Wilkins Home for Street Children, headed by Numrata and Anup who could not have been more welcoming hosts – feeding us daily and making sure that our every need was met as we worked. We came to know these children as friends, learning all of their names and playing group games with them daily before splitting into groups to teach them the carefully formed curricula we had prepared. They were already fairly educated in circus due to the previous PWB tours so their capacity for play and skill was a sturdy foundation for the knowledge we would bestow upon them. Two weeks passed and the children grew their favorite circus skills with adept proficiency. The following two weeks were spent in preparation for their own circus show to be performed for the nearby schools. We split into groups based on their preference: contact staff & poi, acro-balance, clowning, diabolo, juggling, hoops, and unicycle. We then choreographed a unique act for each group and rehearsed constantly until they had all but perfected the pieces – we even found them rehearsing when we weren't around! When the day of their performance came we could not have been more proud as they effortlessly excelled in each routine, carrying an explosive energy throughout the show that left us and the audience totally astounded. It was a truly beautiful experience to spend time alongside these incredible little humans as they learned, grew, laughed, and surprised everyone around them with their loving and dedicated hearts.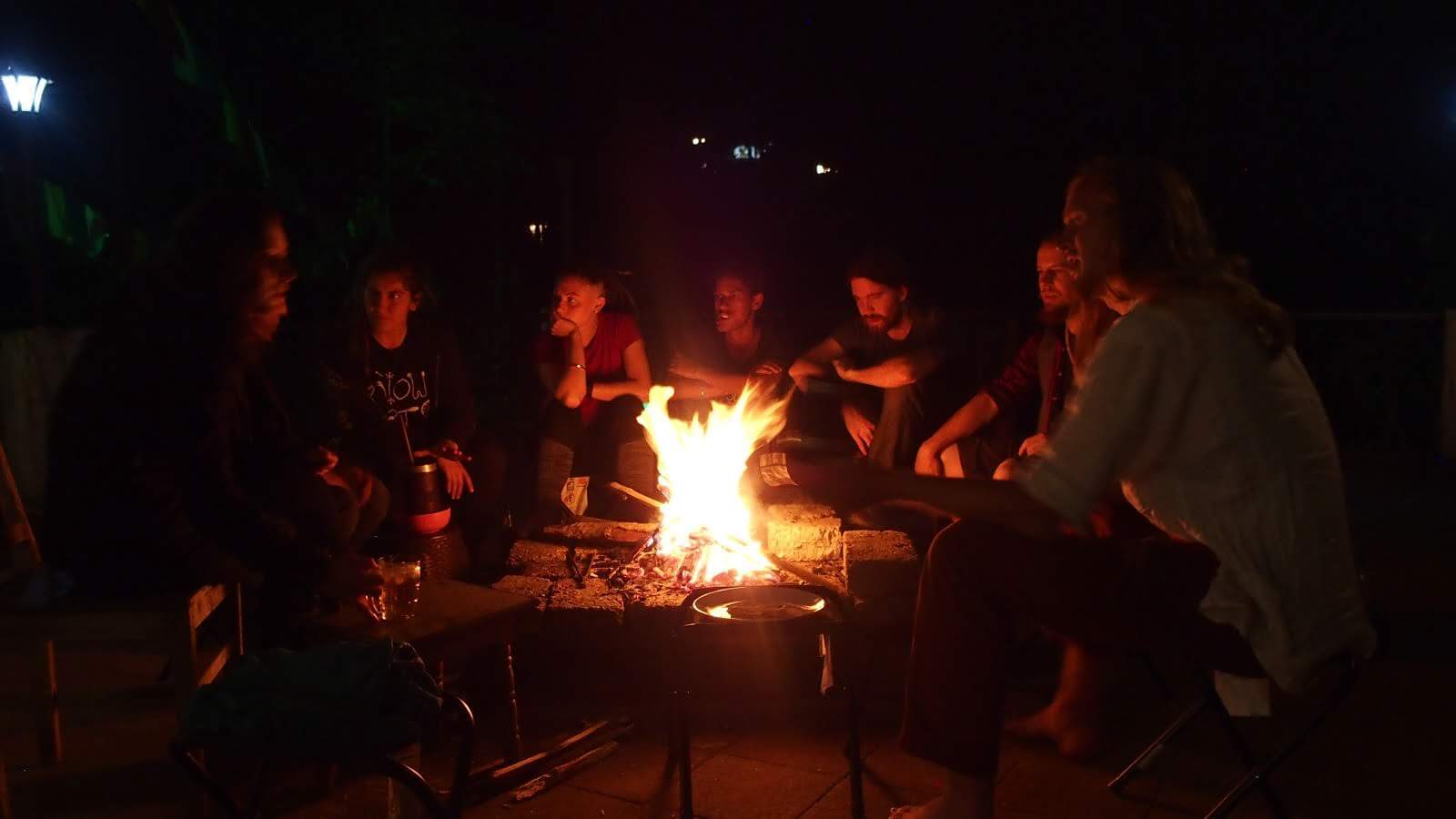 Our time in Darjeeling was certainly the golden age of our tour. We had our work and life pretty well under control and managed to lay a huge blanket of fun-filled circus over the cold town. We filled our spare time with incredible side quests: putting on epic fire shows on the public stage in the main square, visiting vast estates where the finest tea of the world is grown and prepared, we even went on a group field trip to the movies (a welcome familiar cultural experience to be sure)! Part of our group embarked upon a lovely excursion north to the state of Sikkim where we performed for a tiny village festival at the peak of a mountain, visited grand monasteries, and spent cold nights drinking warm tea and laughing around campfires on the sides of a tall mountain under the brightest of stars. As the tour came to a close, not a single one of us could manage to avoid the emotional avalanche that lay in waiting just above our heads and hearts. As we said our final farewell to the children with whom we had worked all month, we felt unanimously in our hearts that our mission was accomplished, and with flying colors! We held numerous group meetings to discuss our thoughts on the tour and ourselves, resulting in a deeper understand of our own hearts and hopefully improving even further upon this magical experience for tours to follow. PWB India 2019 came to this land united by a single dream: to bring abundant joy through the magic of circus to a part of the world which might not ever know it otherwise. I believe that I speak for us all when I proclaim proudly that, without a single doubt, WE DID IT!!! And surely none of us are quite done with that mission: whether together or individually, here or anywhere on Earth or off, we will keep spreading that joy with the full extent of our open hearts. Thank you Performers Without Borders for this fantastic opportunity, to everyone who has supported our cause and followed our journey, to all of you readers, to my wonderful team members, and to beautiful India.