Empowering Orphans One Smile at a Time
Categorised in: Kenya 2018
By Tour Updates
That's a WRAP on Nairobi and our last week working as a complete team of six!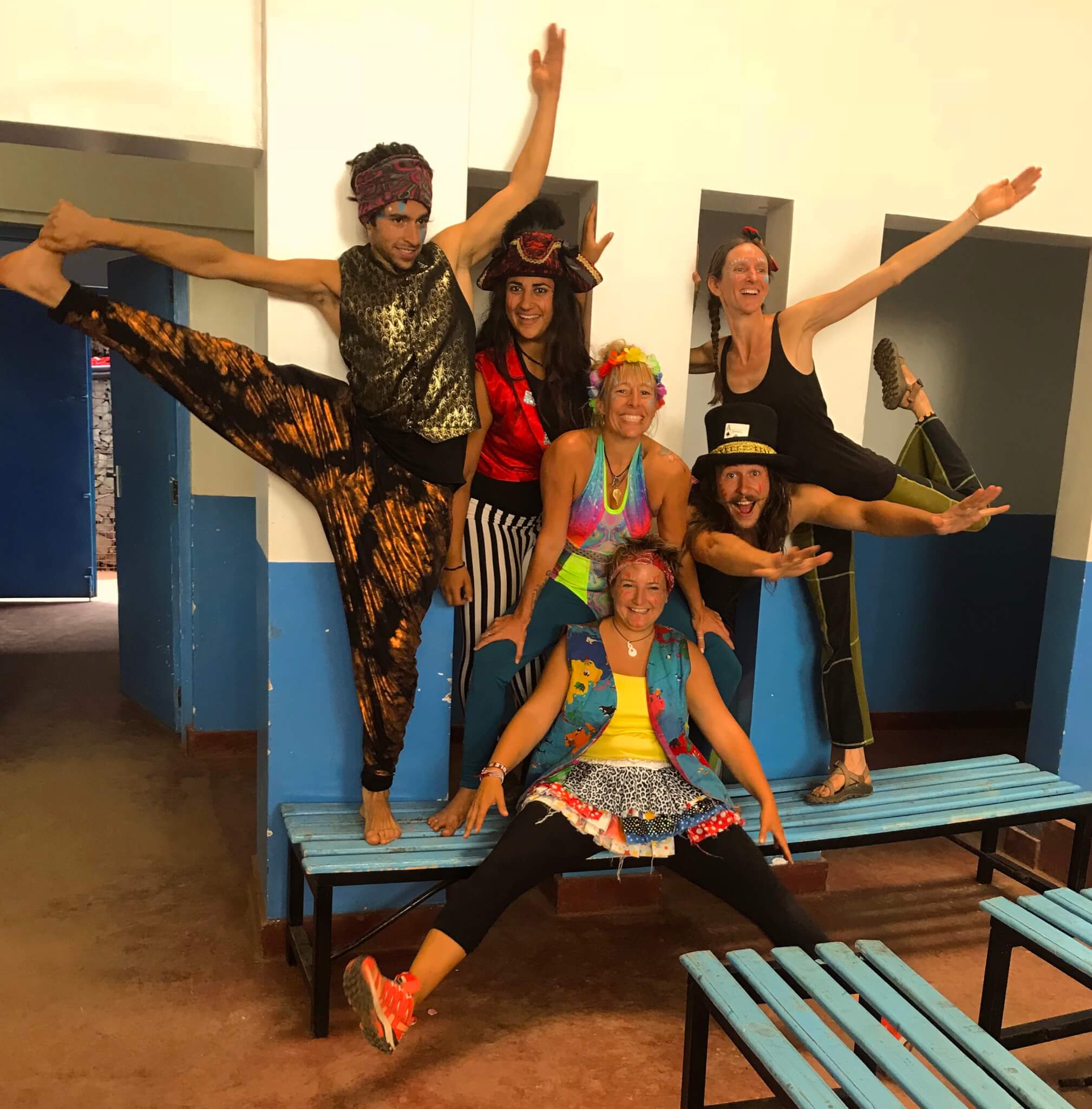 The PWB Kenya team has been busy traveling all around Nairobi and many surrounding areas this past week including the Ngong Hills and Kiambu. We have worked with several inspiring orphanage schools and heard many touching stories about lives changed through these philanthropic organizations.
We started out the week by visiting Dream Children's Home on Monday, February 5th in the Ngong Hills. Like many orphanages in Kenya, their biggest expense is providing school for their children. The families of each student privately pay for all schooling for their child including the cost of food and uniforms. As you can imagine, this is a big cost for a large orphanage housing dozens of children, so many orphanages have created a public school adjacent to their dorms that enrolls paying students to help subsidize the cost of educating their in-home kids. This seems to be the common model for every orphanage we have visited so far.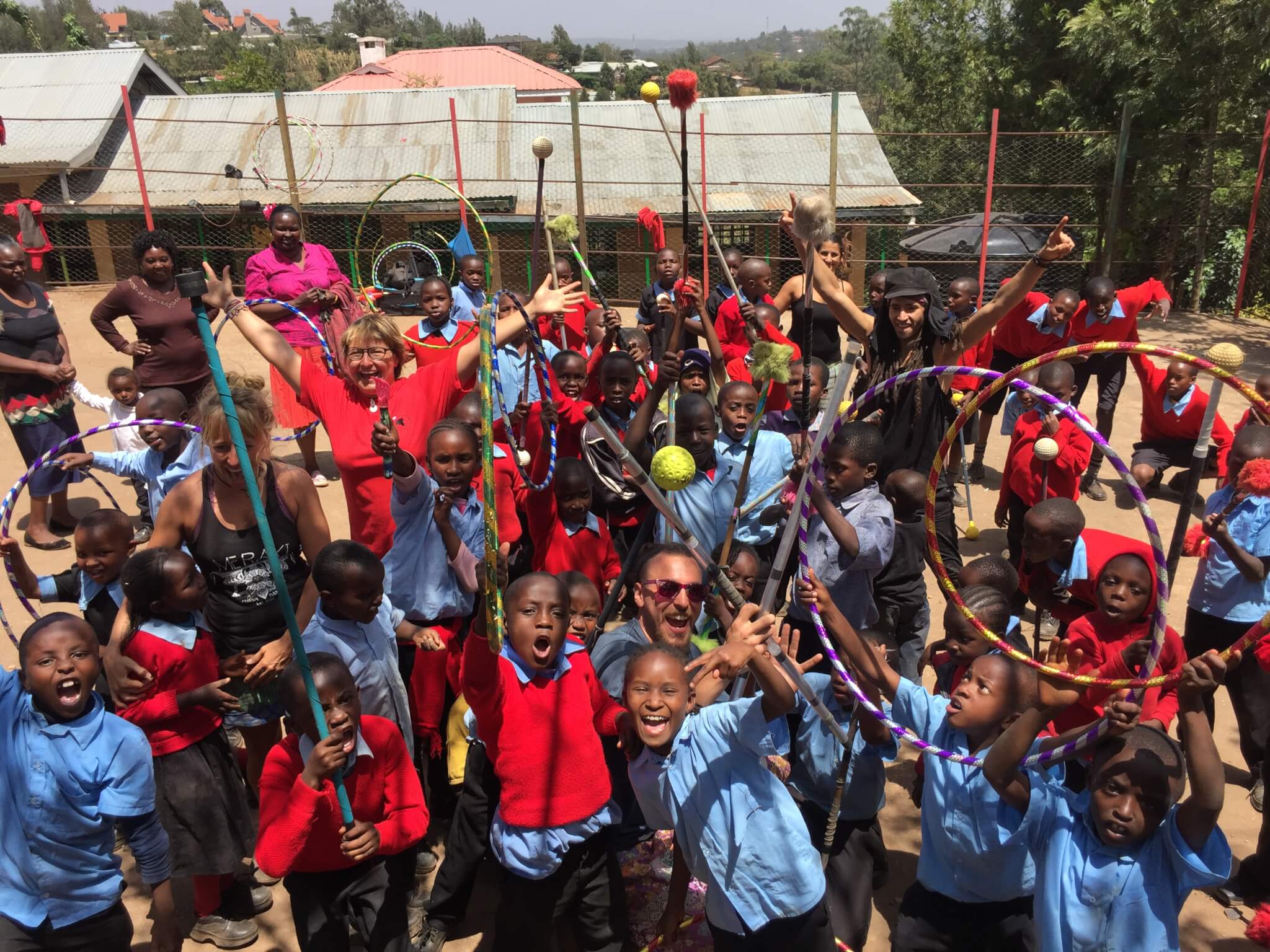 The kids at Dream were VERY excited to meet us and were one of our most energetic audiences. We arrived in the late afternoon and immediately went to work performing our magical circus showcase. Afterwards we were very excited to do a fire show before returning to the dormitories for dinner. We stayed two nights with Dream in their volunteer dorms and were graciously offered delicious breakfast (with fresh milk for our coffee!), lunch, and dinner every day. Both nights we stayed up late with the children laughing, playing, and dancing to the songs they would play on our speakers. Enrico, Ariana, and myself did a second fire show for the children on Thursday night and the kids loved the chance to sit closer to us as we performed.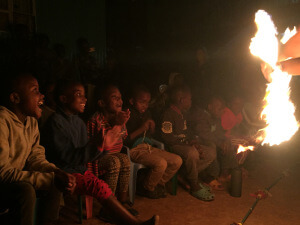 They all went wild for the big fire props and burnoff explosions of the staffs. The children were very sweet and many of them wrote us personal notes before we left on Wednesday.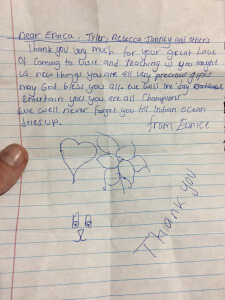 Joseph, one of our friends working with Smiles For Change, lives in Ngong and met us to show us around the area and introduce us to other schools we could work with. He took us to a very lovely school in Ngong called Shelter Children's Home. One show in the afternoon was all we had time for, which made me wish that we could spend longer at each location we visit. The children swarmed us after the show and many of them asked about my friend Nicholas, a PWB volunteer from last year's Kenya tour who stayed with them for several days. They obviously really enjoyed learning circus arts and I was sad to not be able to spend more time teaching them.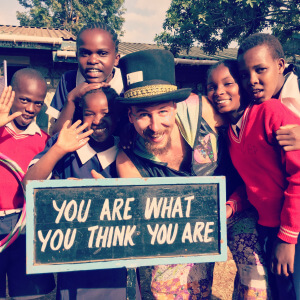 Wednesday morning we were able to take an early hike through a dry riverbed with a local guide before leaving the Ngong Hills area. It was a great change of pace to spend the morning scrambling over giant boulders, breathing the fresh country air, gazing at vast landscapes from beautiful lookout points, and having a moment to ourselves.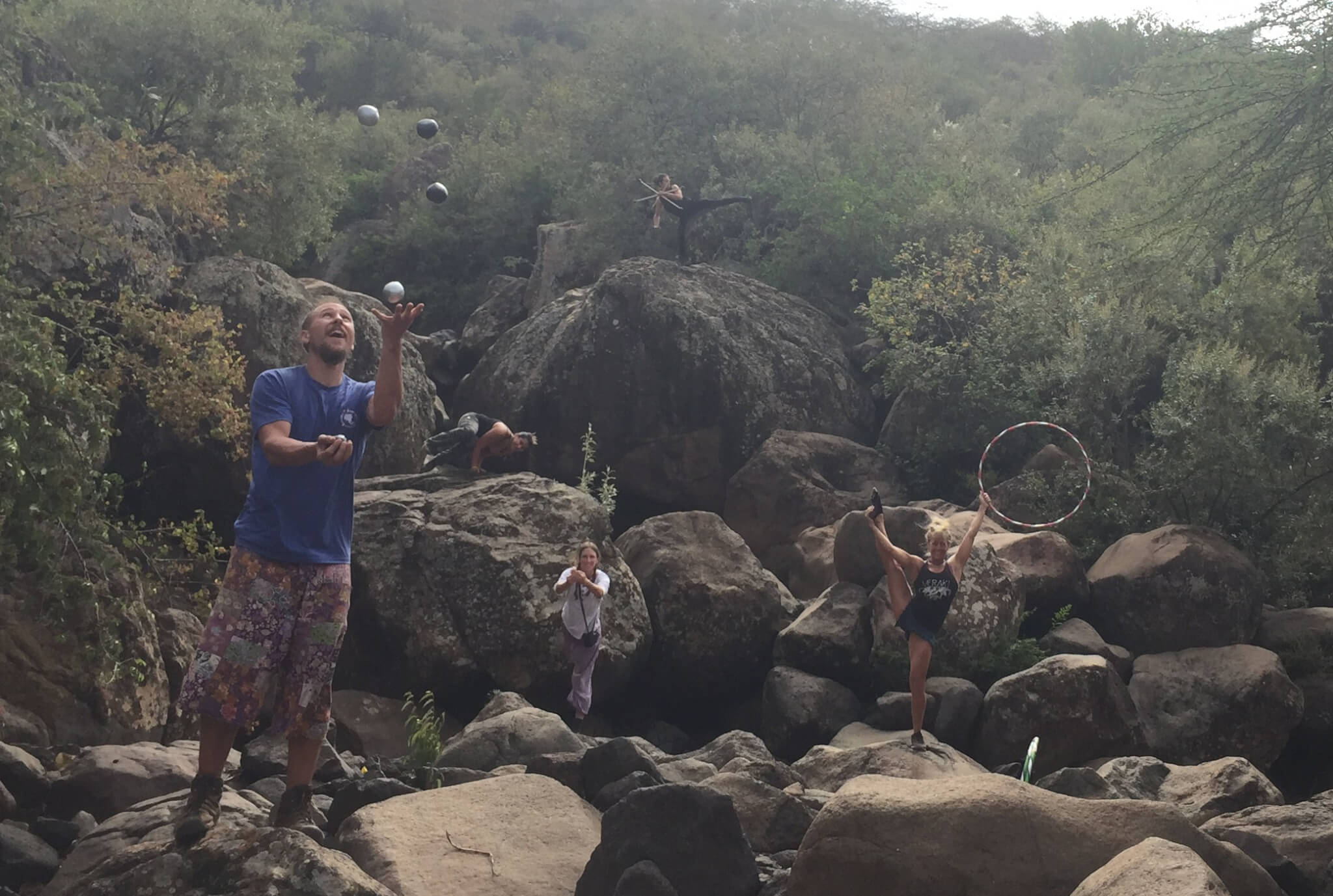 From Ngong we drove directly to another project in Nairobi called Agape Hope Children's Center. The woman running the center was named Margie, but preferred to be called Mom (even by us). She was extremely genuine in her love for her work and proudly showed us around their orphanage which included a small garden, an area for their two dairy cows, several dozen bunk beds for the boys and girls living with her, immaculate classrooms, and a huge playground for the children to run around and play football (soccer). We performed our show for several hundred children surrounding us in a circle. This was fun and unique as it was our first and only show "in the round".
After our show we took an hour or so to play with the children and make some personal connections before setting up for our fire show. The kids were enthralled with the fire performances and chanted for us to do more.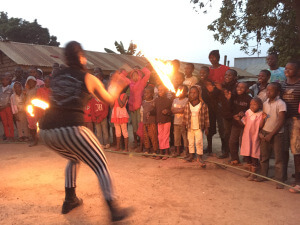 My personal highlight from visiting Agape was listening to the children sing in prayer before eating dinner. Their voices were superbly angelic and created beautiful harmonies together.
Thursday morning we had our closing group meeting which was bittersweet.  We were all very excited from the amazing work we did in Nairobi, and sad that two of our members would be leaving us soon.  We filled out evaluations of all the projects we worked with, shared our emotions and feelings from the tour, and concluded with a round of genuine hugs.
Later that afternoon Juli, Ariana, Jamie, and myself visited a very small boys home in Nairobi called Life4Kids. They housed 26 young boys that they rescued from the street and it was very touching to witness the boys' brotherhood together. The older boys looked out for the younger ones, and they all seemed to have an intricate system of inside jokes and silly mannerisms. It made me contemplate how different their personalities were from the mixed gender homes we visited and appreciate the special bond between brothers.
Friday morning we visited an all-girls school in Kibera, one of the largest slums in the world. It was very interesting to drive deep into the slum and see firsthand just how sprawling it was. The school we performed for is called SHOFCO (Shining Hope for Communities) and is sponsored by private US donors. They offer free schooling to any dedicated young girls in the area who apply. It is a giant, modern building in the center of the slum and stands out prominently, towering over every other structure in the area. It was a treat to climb to the top floor and look out over the miles and miles of makeshift houses created from sheet metal.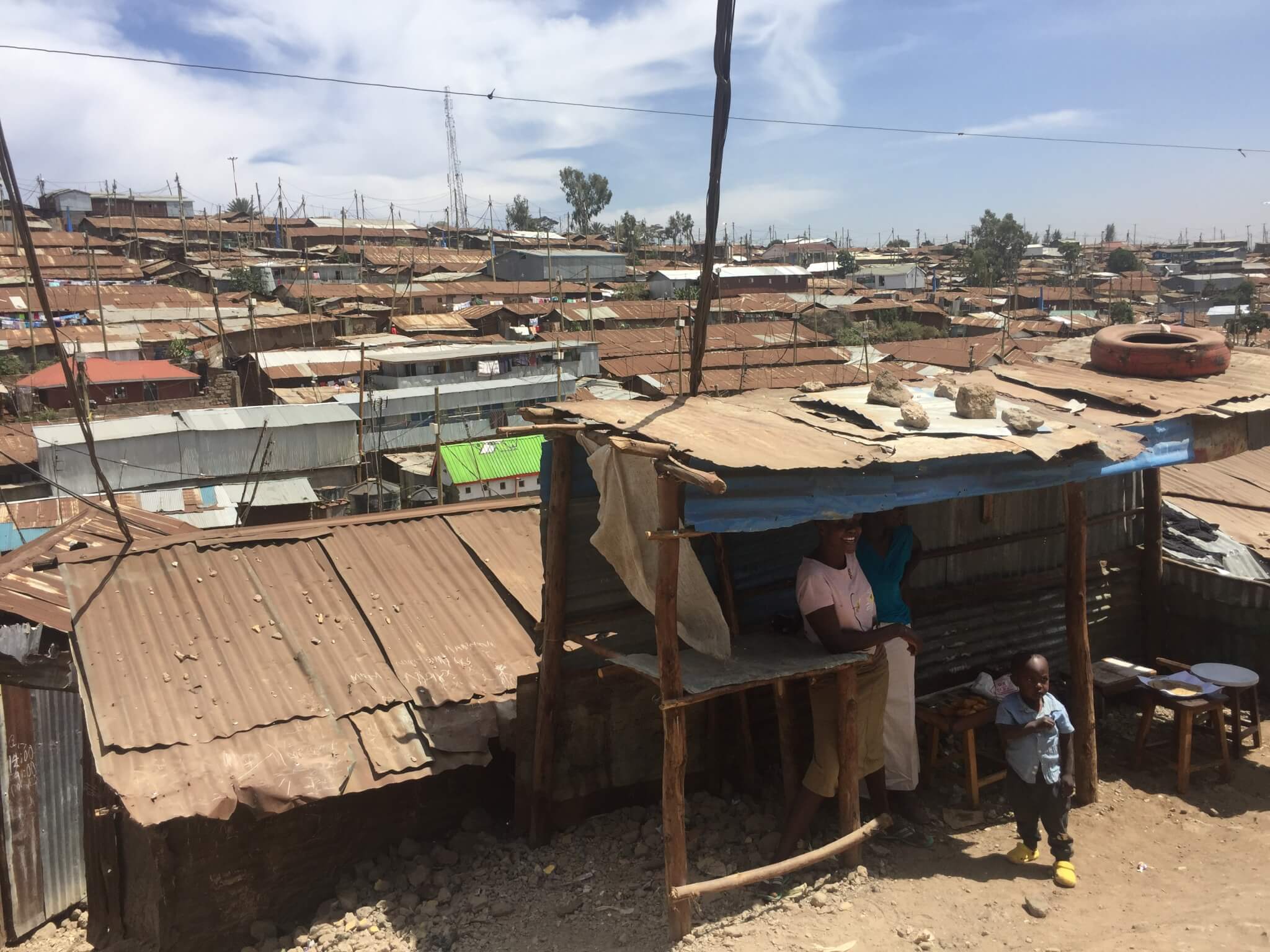 Our show at SHOFCO was absolutely the largest show of our tour and it felt very appropriate to be our last show together as a complete team of six. The hundreds of young girls, all wearing red, were phenomenal to see laugh and yell in excitement.
PRO TIP:If you want to get a crowd excited, blow up a BALLOON!Two of my favorite #socialcircus activities in one! Pants Monster and balloon popping! While most people in the US were sleeping, we visited an all-girls school in Kibera, One of the largest slums in the world. Performers Without Borders Kenya Team put on a huge show to thunderous applause. So fun!!!!

Posted by Spinning Spades on Friday, February 9, 2018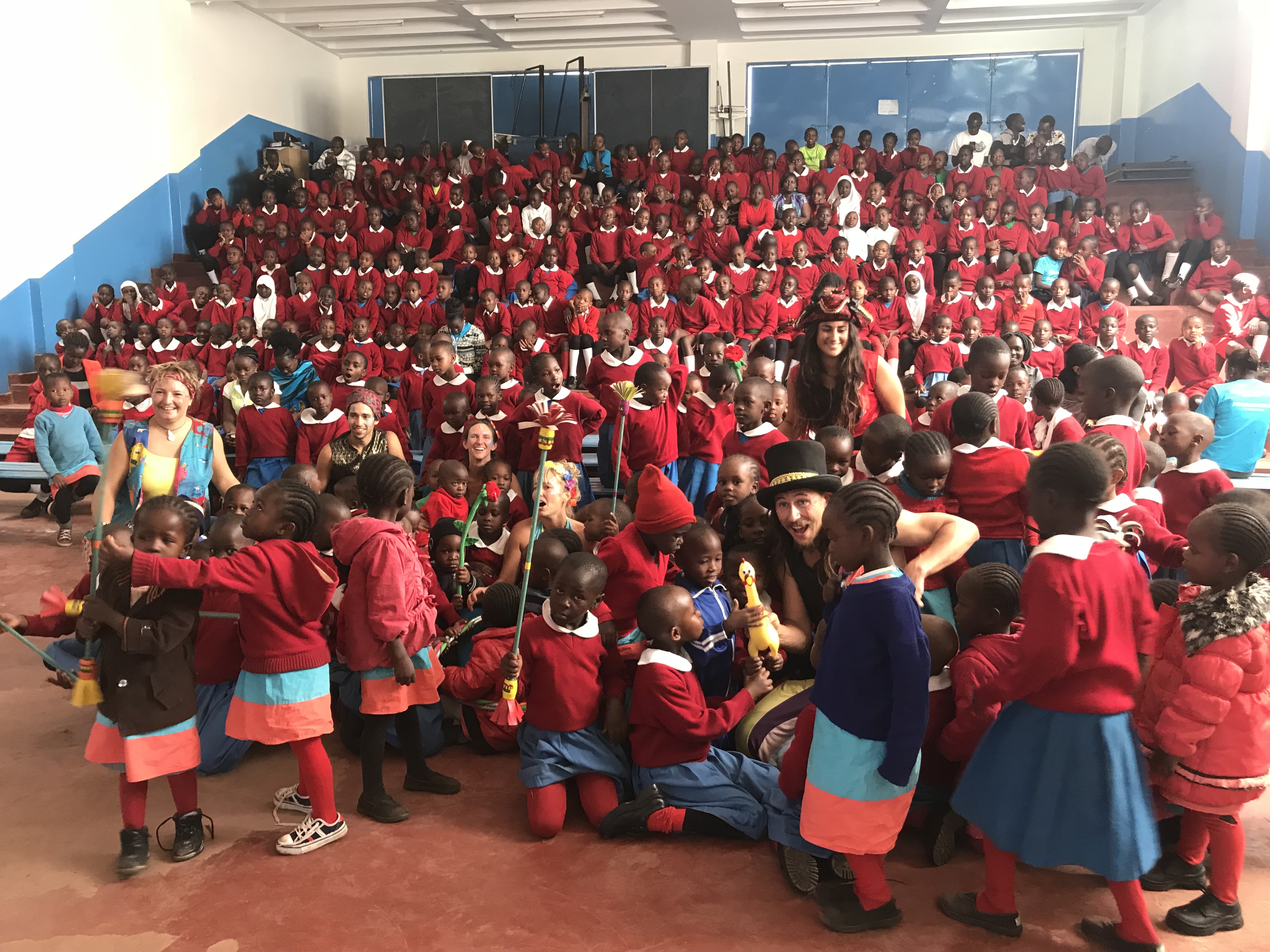 Friday we had our last day working with Smiles For Change. Working at Kenyatta Hospital has been an unforgettable experience and I have learned much from the SMC crew. They are all master clowns and theatrical artists, making the kids in even the most desperate situations laugh, smile, and feel at ease. I will truly miss working with them and playing gently with the healing children.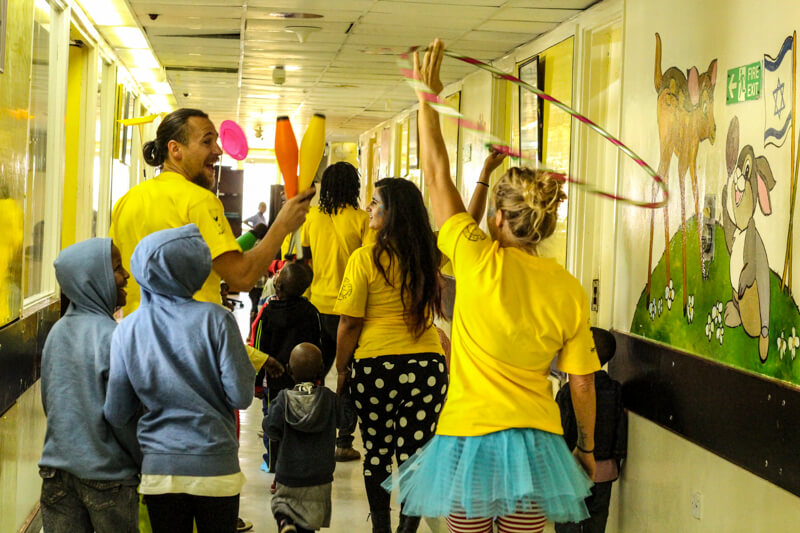 Saturday Enrico, Ariana, Jamie, and I traveled to Kimabu just outside Nairobi for our last project before leaving for Nakuru. We visited Gathaithi, a beautiful orphanage with around 90 children and adjacent public school that also focuses on permaculture along with their primary subjects. Each child living in the orphanage got their own garden bed to tend, but we were informed that there was currently a drought affecting their ability to grow a bountiful harvest.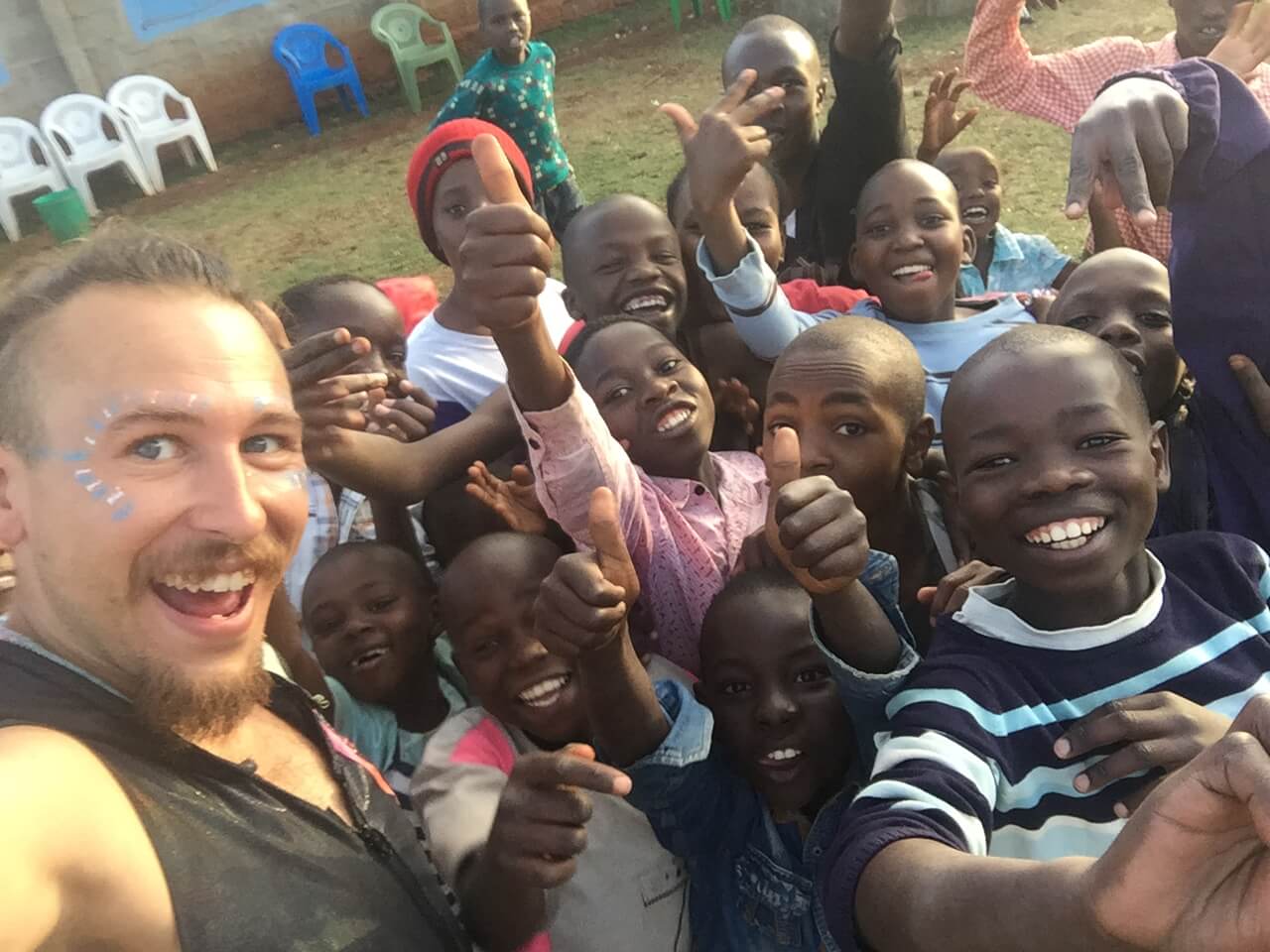 The children were thrilled to watch our show and excitedly participated in our workshops. Enrico and Jamie taught acrobatics, Ariana taught poi, and I taught staff spinning. It was very exciting for me to teach staff because it is my personal favorite subject, but I haven't taught it more than twice this entire tour so far because Enrico and Ariana have also prioritized teaching it. The children caught on very quickly and were learning contact staff moves in under 15 minutes!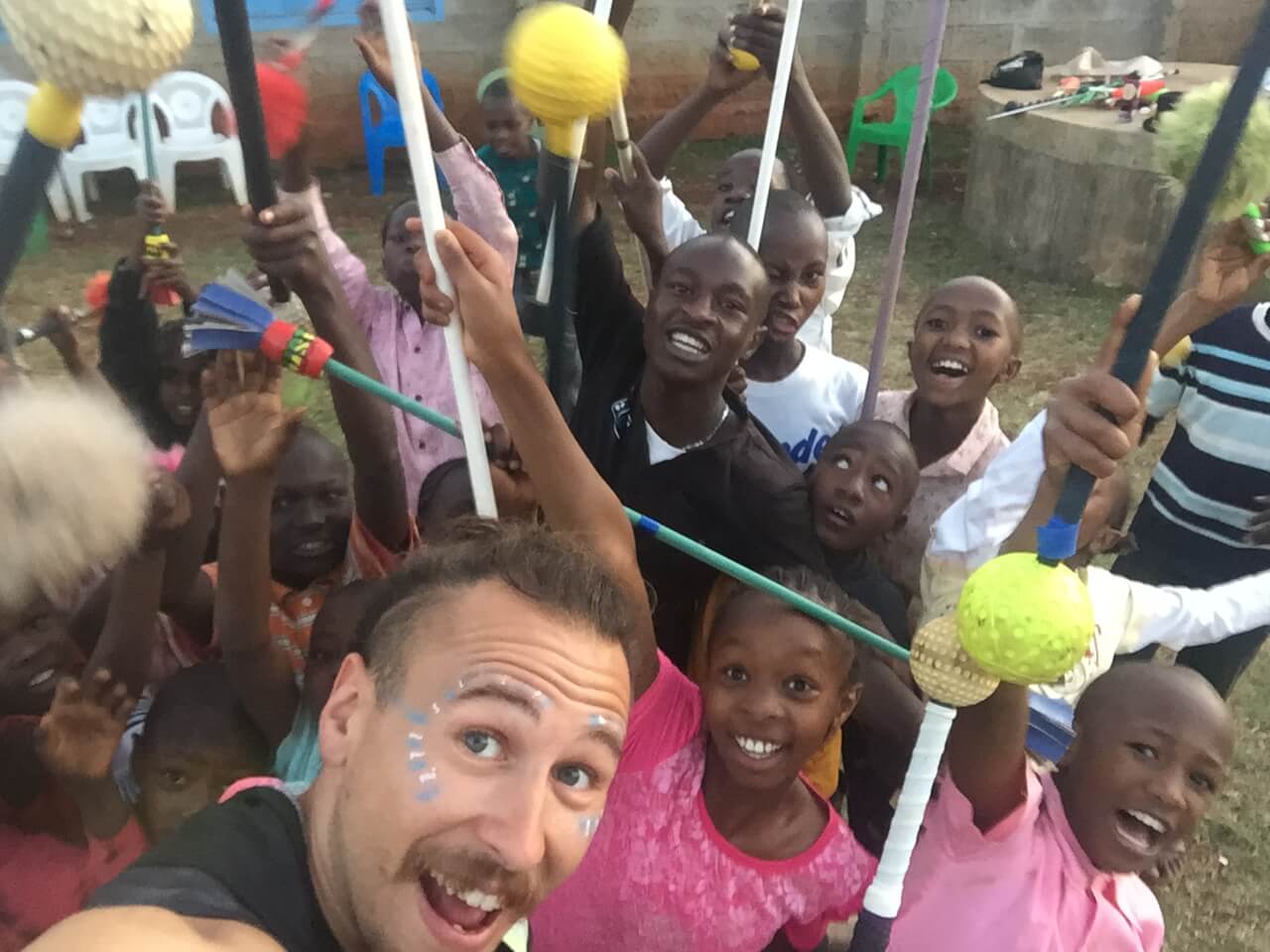 We had dinner at Gathaithi and then performed a small fire show that the children went crazy for! I can honestly say that they were our most emotional group of children to leave. The kids hugged us endlessly, surrounding us with songs, asking for selfies, playing with our hair, and asking us to take them with. One child came to me crying, telling me that he didn't want us to leave. I hugged him close to me and held him tightly until his heart began to slow from a mad pounding to a normal rhythm. The kids all yelled and chanted after us as we drove away.
Our team has truly formed a unified family over the past 39 days, and just as we were settling into harmony we are now disbanding. Rachel had to leave the tour early to continue running her circus school in Australia, and Juli needed to continue traveling to attend a personal training she was enrolled in. We were all very sad to see them go, but are also confident that our remaining team of four will be capable of spreading smiles and circus arts to the children of Nakuru.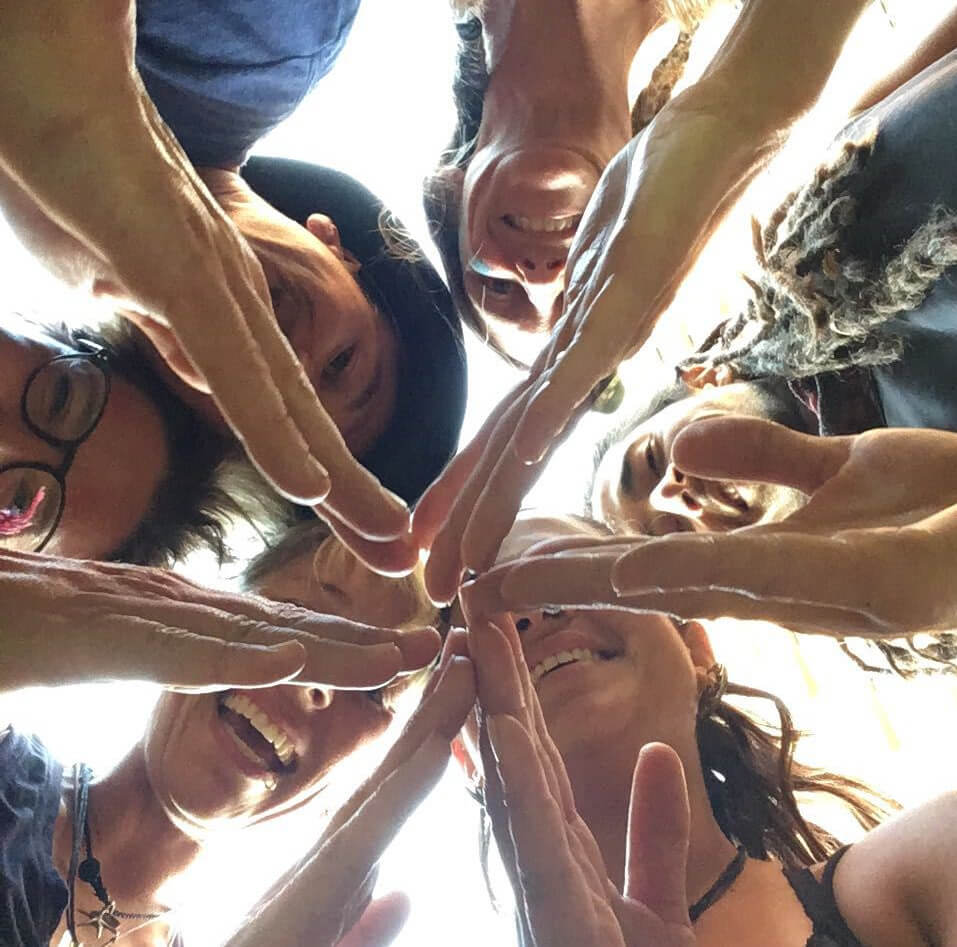 Now we have a week off to do some personal exploring before meeting back up to continue another month of our tour. Be sure to follow the PWB Instagram PWB.NGO and search for our hashtag to get daily updates!
#pwbkenya2018
MUCH LOVE FROM KENYA!!
~Written by Tyler Spades