PWB Calais/Dunkirk November 2019 Project
Team – Tour Co-ordinators Jess Herman and Chez Dunford
Volunteers – Megan Brooks, Gina Disney, Jamie Moore and Rowan Thompson.
Performers Without Borders Winter Calais & Dunkirk 2019 crew assemble!!
Day One!
We began day 1 with safeguarding training from the wonderful Project Play followed by an energiser session in the Warehouse with the amazing The Flying Seagull Project before going out in the field with the dedicated Refugee Youth Service for a magical session at a local distribution site.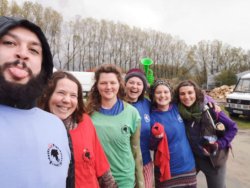 Here's a short poem from Chez.
'Props and play
Connection, presence stays
Team work and timing
The skies light with forks
Feet skuffle and dance
Coloured atmosphere
Smiling eyes'
To end the session we danced, and then the skies turned dark and there was an electrical storm.  One young unaccompanied minor said
"Look! God is taking a photo".
In the depths of uncertainty and transition these young people find the positive in their situation, trusting in their faith and journey.  When the rain started to come down we were reminded that these young boys have no shelter.  What had once been a refuge for some under a bridge on a roundabout is now surrounded by barbed wire and metal fencing.  What kind of a world is this to force our most young traumatised people literally out into the harsh conditions of winter?!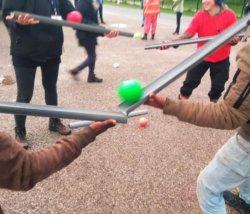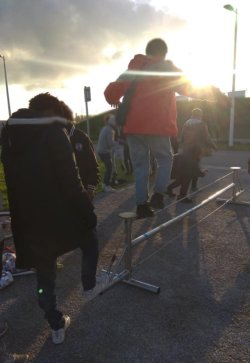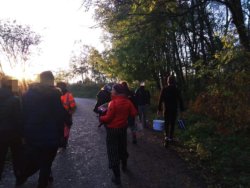 Our partner organisations who attend this site most days were so grateful that we held a space for these young unaccompanied minors to forget their traumatic journeys and worries of daily life here.
Day Two!

 
We had a full power day. Collaborating with our partners Project Play and Refugee Youth Service we delivered a whole afternoon of facilitated play, workshops and fun with the young people. We then made parade way to invite the 400 strong community to come together and relax a while with music from Megan Brooks and Chez Theatre and fire performances from Gina Bazinga Disney Jess Mess Herman Jamie Moore and Rowan Sarah Thompson
There was smiles
If only for a while
In the sunset we connect eyes
Laughter sprinkles and feet rest
New families arrive
And in this we trust
Circus offers a magical mist
Day becomes night
So many big heart filled thank yous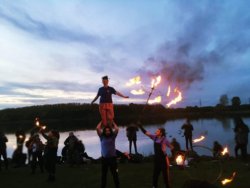 Day Three!
Today we provided two very different sessions 🤡🤸💟 The first through Refugee Youth Service with some unaccompanied minors and their temporary community in a carpark near their rough sleeping camp. There were some underlying tensions, we managed to break through the seriousness to create some joy.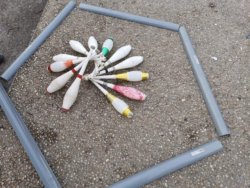 The second session through Project Play was a delightful play world for families and children in their temporary accommodation centre.  We were left with flavours of uncertainty about the quality of provision here for families and learnt that the centre is under investigation.  To think these already traumatised families are not receiving the utmost care and security is appalling.   Despite this we created a magical play space for the young people and their families to relax a while and come on a circus journey with us.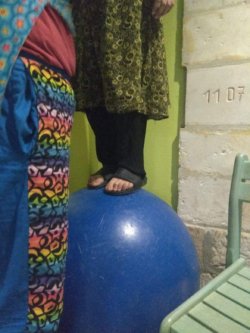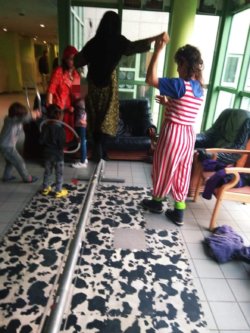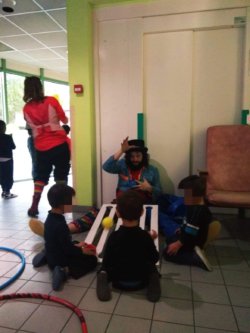 Day Four!
Two more play sessions delivered today; the first with L'accueil du jour de Calais, a day care centre run by the most incredibly big hearted humans.  We have delivered session here all 5 times we have come out and despite the rising uncertainties and animosities in the Calais community they continue to deliver a warm, safe space for people to just be; wash, cut hair, play music, charge phones, art therapy and since we last visited there is now a brilliant bike workshop.  A truly inspiring project that provides the things that people are actually needing.
Our second session was with the wonderful Refugee Youth Service.  We had a great session full of rope skipping, drop in play with all the props, tight wire, games and music.  We performed another fire show as the sun set and the moon rose above us all. We keep coming back to the question 'what more can we do?'.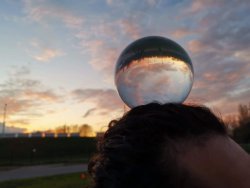 Day Five!
The last session we held with Project Play in Dunkirk. Although we provided a 'safe' place for children and their families to play, laugh and connect, we felt and witnessed the tension of the wider community. 
This is no place for a child.
The reality is harsh. 
The conditions are appalling.
This is no place for a child. 
What more can we do?
– We can share information
– We can open our eyes & hearts
– We can donate goods, money or time
– We can practice loving kindness 
– We will keep coming back.
Thank you for your ongoing support throughout this project. We could not have done this without you. 
♥️Chez, Gina, Jamie, Jess, Megan & Rowan♥️
To donate goods please visit 
To volunteer in Calais and Dunkirk please via Help Refugees​ please visit;
Or via Collective Aid
https://www.collectiveaidngo.org/
To volunteer or donate to Refugee Community Kitchen​ please visit; 
https://www.refugeecommunitykitchen.com/
To support our partner agencies please like and share Project Play​ & see their website;
For the up to date needs list please see their poetry video they asked us to help with.
**Donate for Children's Rights**Following World Children's Day, we are calling on you to fight for children's rights. All children are entitled to an education, playtime and safety. Yet children are denied these rights by governments across Europe. This means grassroots groups like us have to step in to try to fill the gap. These children deserve more, but it's a good first step. You can help children access their rights to play, learn and feel safe by donating resources to be used in our sessions.Watch this video from Project Play's talented wordsmith Otis Kirby-Dunkley, featuring the fantastical Performers Without Borders, to find out what we need. #WorldChildrensDay #ChildrensRights #PowerofPlay #buildingpositivememories #action #change #UNICEF #UNHCR #donations #play #education #rights #donate —————————————Convention on the Rights of the Child: Every child has the right "to rest and leisure, to engage in play and recreational activities" – Article 31 Governments "recognise the right of the child to education" – Article 28Every child has the right to "a standard of living adequate for the child's physical, mental, spiritual, moral and social development." – Article 27

Posted by Project Play on Thursday, November 21, 2019
To support Refugee Youth Service​ visit;
https://www.refugeeyouthservice.net/
To support Secours Catholique L'accueil du jour de Calais​ please visit;
http://pasdecalais.secours-catholique.org/
Share the love ♥️
#chooselove #performerswithoutborders #ryscalais #secourscatholique #socialcircus #fireshow #learningnewskills #teamwork #playful #calais #allonthisplanettogether  #onelove #solidarity #
♥️🙏🏽♥️