A Week at Gandhi's Ashram with Manav Sadhna
Categorised in: India 2017
By Tour Updates
After a marathon sleeper coach journey north from Gokarna, Team India arrived in Ahmedabad, Gujarat. Famous for fabric weaving, embroidery and Gandhi, the city is an energetic step up from the calm of boot camp. Even crossing the roads has taken some getting used to. With the armies of auto-rickshaws, cyclists and helmetless scooter drivers interspersed with haphazard trucks, hand pushed vendor carts and of course cows, there is never any guarantee that all the road users are travelling in the intended direction of any given carriageway.
For the next week we were welcomed in by Manav Sadhna, an organisation based on the site of Gandhi's former ashram. The organisation has been caring for vulnerable children from the city's slums for 26 years. 9000 children are cared for every day across five community centres, in different slums, and several hostels for children and teens. Manav Sadhna runs different education programs and provides medical care and nutritious meals for many of the kids. The organisation also works with women from the slums and is supported by volunteers from around the world.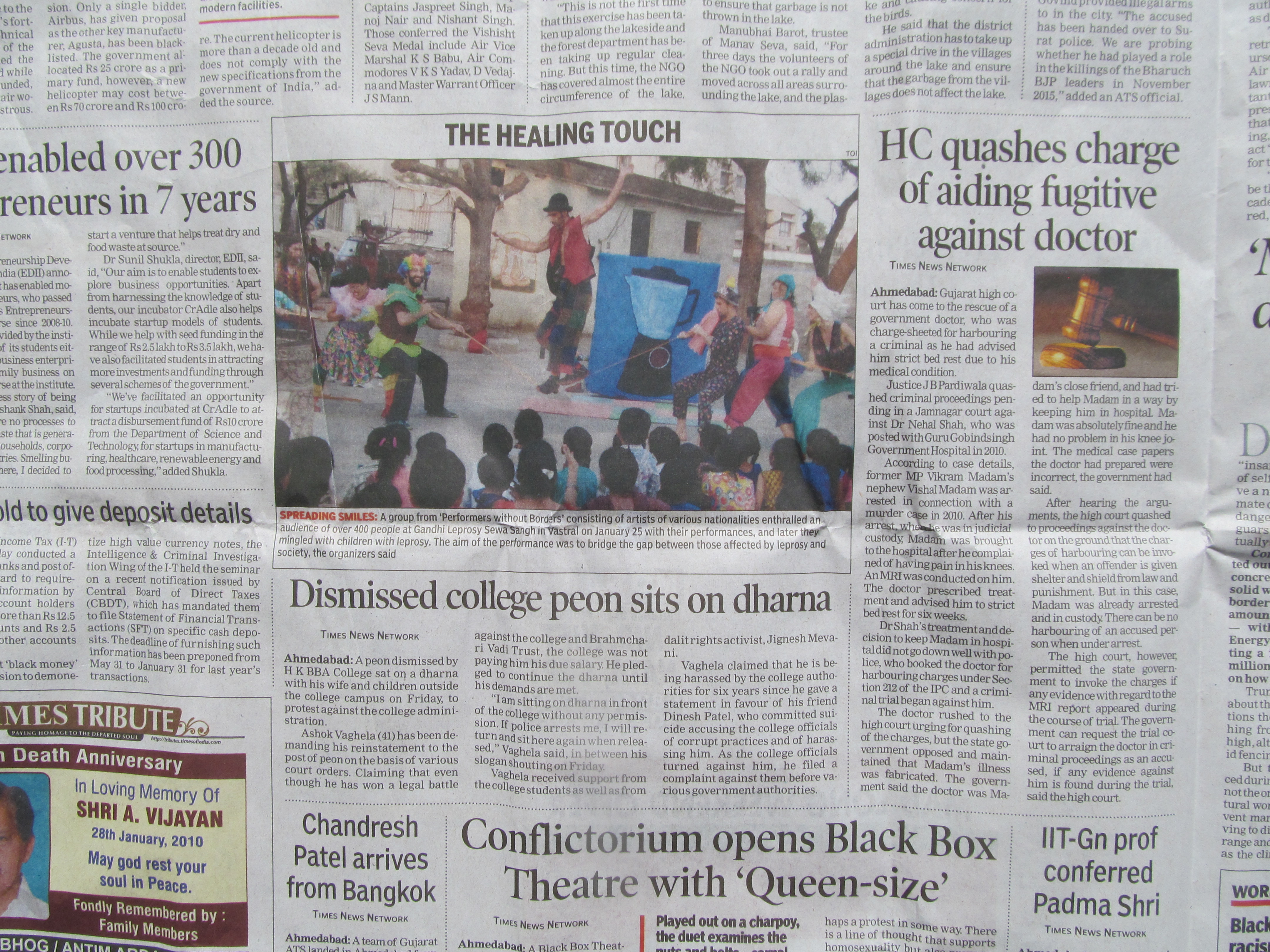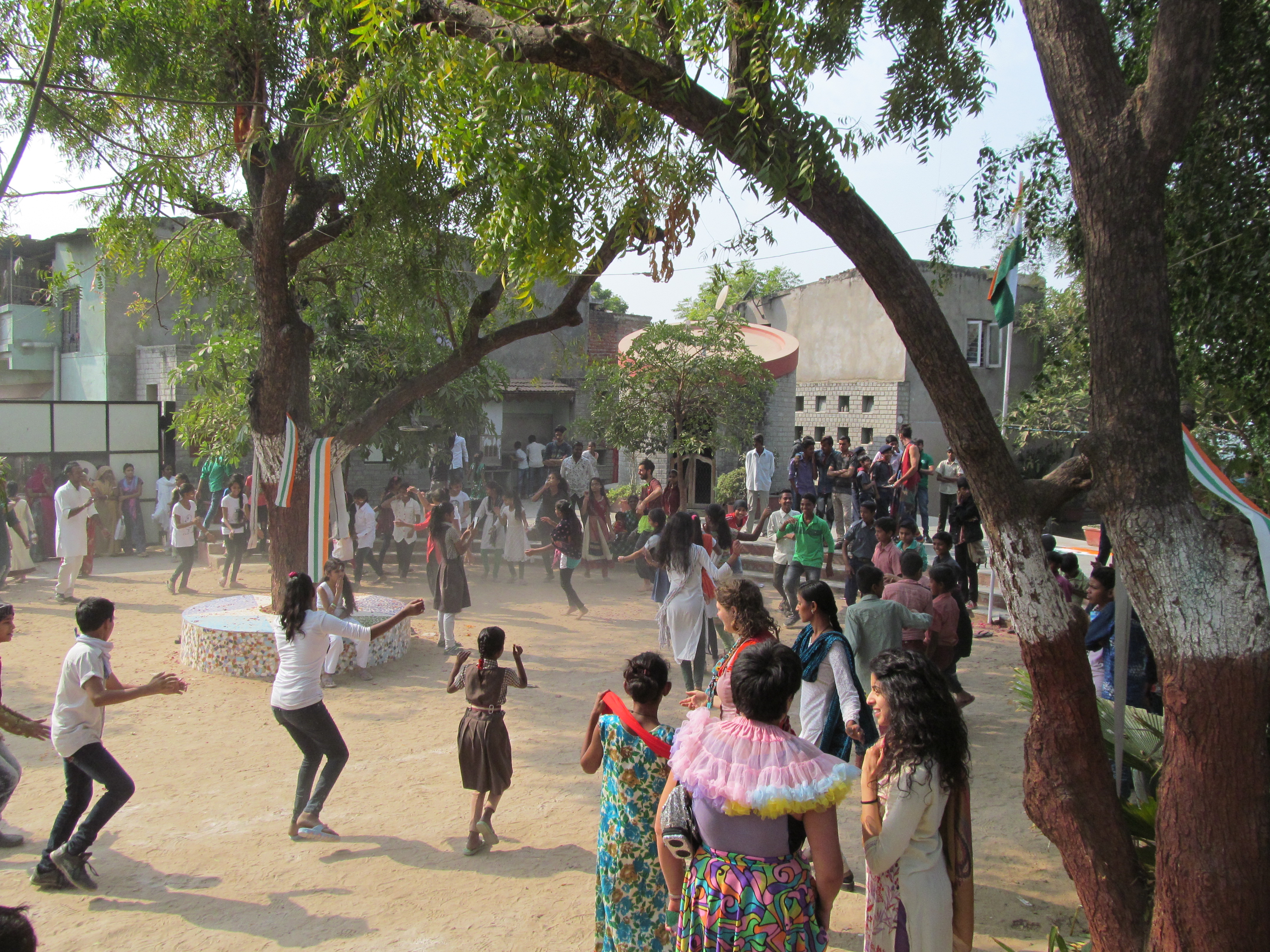 This is the second year that PWB has visited Ahmedabad and Manav Sadhna on the India tour. Thanks to the time invested in our visit by Manav Sadhna staff we were kept busy. Over six days we visited all the community centres and performed our show seven times, with an additional three fire shows and one impromptu birthday party. Our audiences were filled with energetic and enthusiastic children of all ages making them a joy to perform to. The bollywood dance finale in particular was a source of much amusement for the kids. It was particularly special to perform as part of Republic Day celebrations, one of India's biggest national holidays. All day the city buzzed with excitement and everyone was dressed in shiny colourful clothes. The flag raising ceremony included lots of traditional story telling dances from the children and after our show we were pulled into dancing circle dances with everyone (or at least attempting to!).
Leading a few workshops has allowed us to flex our teaching muscles and made us even more excited about the next months when we will spend focussed time with kids with more opportunities to share games and practice different skills. With so many donations we were able to leave some toys with each of the groups at Manav Sadhna we performed for and taught. Hopefully the relationship between our organisations will continue and we will see the enthusiasm for performance and circus skills develop.
For the team our visit to Ahmedabad has been a wonderful introduction to working with the children here and a good initiation to the chaos of Indian city life. It was great to start doing the work we have all travelled here to do. We all love to share circus joy with anyone and we are so grateful to have the opportunity to bring it to children who really have very little and to help out an organisation already making a real difference to so many people. The gratitude shown by the staff at Manav Sadhna on our last morning was a little overwhelming. It was wonderful to have such positive feedback and thanks for bringing our energy and laughter. We are sad to be leaving this colourful and loving organisation but I think we all now feel fully fuelled for the challenges and rewards our time in Varanasi will bring.