First project: Kolkata
Categorised in: India 2015
By Tour Updates
Last week, the PWB team wrapped up Bootcamp in Gokarna with a circus/fire show to remember. The team had a blast putting up flyers all around town and parading across Kudle beach to gather attendees. The generosity, support, and applause from the people of Kudle beach was simultaneously humbling and energising.
It was time to give our heartfelt goodbyes to the radiant Namaste Yoga Farm and embark on a 50+ hour series of train rides across the country to Kolkata. PWB sends our gratitude to Namaste Yoga Farm for accommodating volunteers every year and giving us tremendous support throughout Bootcamp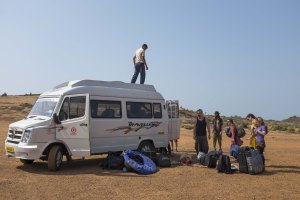 After a long but entertaining quest to Kolkata, we were warmly welcomed into our new home, provided by Hope Foundation. Instantly, we rearranged the furniture to suit our mutual obsession for practice and play. Home cooked meals, frequent skill shares, and quality time together have helped us all be grounded so that we can share what we love with the children.
In Kolkata, we are working primarily with Hope Foundation www.hopefoundation.org and several other NGOs for one-off workshops including Topsia http://www.childrenoftopsia.org/ . Several young adults, who were empowered by Hope Foundation's mentoring program, showed us self-made documentaries about the problems in their city that they are shedding light on. The documentaries helped us become more informed about the current paradigms in which we are entering. Furthermore, we have had several discussions about the correlation between human trafficking and forcing kids into circuses in India. How do we convey that circus skills are intrinsically rewarding rather than something that should be forced? How do we be sensitive to children who may have been trafficked? How do we be sensitive to children who may have been forced to perform for money? These tough questions have given us the opportunity to reflect on what values we want to model in our behaviour and how to be sensitive towards the experiences that some of these kids are persevering through.
Throughout this week, we have spent time with several groups of children, giving each of us the opportunity to teach our workshops. Chez's red-nose clown workshop gave the whole room instant laughter and engaged the kids in flocking exercises.
Avi's contact staff workshop taught the kids how to move through space while balancing the staff on their necks and how to control a rolling staff on their arms and legs.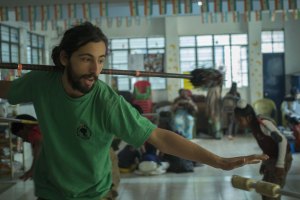 Mika's juggling workshop engaged the children in cooperative ball games and partner scarf juggling.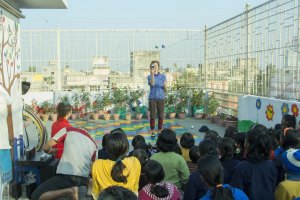 Emily's hoop workshop also include cooperative play, teaching eager children fun partner hoop moves.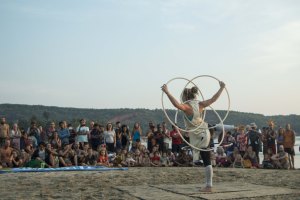 Mark led a creative workshop with iso-hoops, helping the kids to use their imagination while finding unique ways to play with the iso-hoop.
Lilian's self-defence workshop fused the art of dramatic play and teaching valuable life skills such as how to act towards a person who is threatening you. Her exercises included how to find your inner voice and express yourself by harnessing your personal power.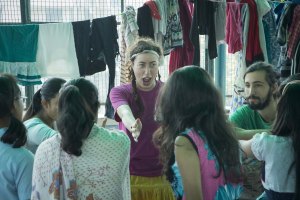 Magnus, (a.k.a. Mango) led a marvellous acro-balance workshop that resulted in several impressive poses by the children. His workshop taught the kids how to break through fears, be completely alert, and to trust your partner and your self.
All the while, our "visual arts department" has been busy painting the kids faces. In just a few workshops, there has already been an abundance of learning exchange between the team and the children. They have taught us valuable lessons about simply having fun and playing, overcoming communication barriers, being patient and always maintaining a sense of compassion.
On Friday, January 23rd, the India PWBelievers presented their first show in Kolkata to all of the children at Hope Foundation's Boys and Girls Homes. The team has incorporated loads of fresh ideas to convey the skills we want to teach and share moments of outrageous laughter. We have also developed a story within the show that we feel clearly articulates themes of cooperation, overcoming bullying, daring to be different, self-love, finding what you love and sharing that with those around you. Each show is building off of the last, and we are thrilled to announce our 8th member, a narrating bilingual puppet chicken!
Saturday night, the PWB team celebrated Saraswati Puja, an honoration to the Goddess of Education and Arts. Local families on our block made a massive alter of Saraswati and had an epic dance party into the night. The team was thrown into the celebration full force; participating in spontaneous dance battles, juggling performances, and awesome skill shares. Additionally, some of our richest moments of encouragement come from the spontaneous crowds that form just to watch us practice on the side of the street. A massive thank you to the locals here for encouraging and energising us throughout our journey.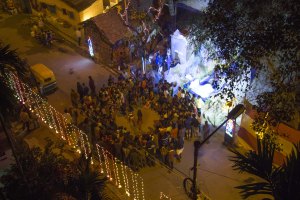 PWB India, over and out
Love,
Avi