Kenya 2018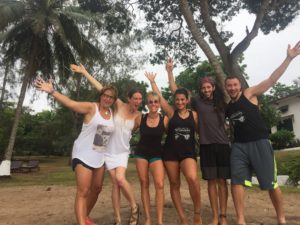 Jamie Mulligan Smith, 42,USA    –   Combining over twenty years of performance experience in theatre, dance, fire arts, and original spoken word with twenty years of experience working with children, Jamie is returning for her second tour with PWB after touring to India earlier in 2017. We are happy to welcome her experience and energy in helping to make this tour to happen.
Tyler Spades,31, USA   –    Tyler joins us for his second adventure with PWB, having been part of the 2016 India tour we welcome him back to share his skills and experience with our partners in Kenya. Tyler is also helping to run the tour. He entered the circus world with a passion for staff spinning in 2007 and loves multiple forms of contact multi-staff, juggling, dance, performance technique, theatre, and movement arts.
Rachel Butler, 34, AUS    –   With more than 15 years of professional theatre, circus and dance experience, as well as having lived and worked in Kenya previously, Rachel is going to be our 'in country coordinator', helping to acclimatise and guide the team through their adventures. Rachel founded and runs the successful company 'Meraki Circus'.  Touring with PWB combines sharing her passions, giving and travelling  – we think that's a perfect fit for PWB.
Ariana Madappa, USA   –    A multi skilled circus and flow artist, Ariana has stepped up to join the Kenya Team at late notice and brings with her extensive travelling and teaching experience.  Ariana majored in international studies and dance and since then has performed extensively across the states as well as wider afield.  We are excited to have her join Team Kenya and glad she was available to get involved.
Julia Schmitz, 37, GER   –    An experienced traveller and having travelled in Africa before, Julia wants to return to share her knowledge and skills.  She catches people's attention with her mime and juggling skills and quit her teaching job earlier this year to follow her dream of working more full time with social circus. She is currently studying on the social circus course at Ecole National de Cirque de Montreal.
Enrico Vinholi, 26, USA/BRAZIL    –    Professional performer and avid traveller Enrico brings with him a variety of flow arts and dance experience.  He has created the 'sponser a staff' initiative, and has his own company 'Solriso'. He says for him that travelling and connection with people from other communities and cultures is the most valuable experience.