Styles
Shows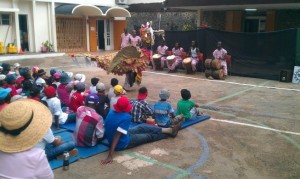 Our talented performers each have unique individual skills and also participate in several group performances. Including choreographed traditional dances set to skilful and exhilarating drumming. Hence we can put together a show to suit any audience (e.g. ex-pat or nationals) and vary it to any length of time from 10mins to 2 hours. Prices increase with length of show and number of performers involved.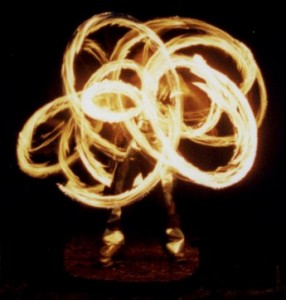 Please get in touch so that we can discuss your specific requirements, but see below for a summary list of commonly booked shows:
1) Traditional West African Dance and Drumming Show – 4-7 people for 1-2 hours.
2) European Style Cabaret Show – showcasing mainly circus skills like : juggling, tray spinning, hoola-hooping, diabolo and stilt walking – 2-4 people for 20mins to 1hour.
3) Fire show – showcasing fire spinning and fire juggling skills like: fire poi, fire staff, fire skipping rope, fire juggling, fire acrobatics and fire eating and body burning – 1 to 4 people 5-30mins
4) Combination show – this show combines elements of each of the above to produce a traditional Salone show combined with Western circus skills and fire skills. This can be adapted to suit your audience, venue, budget and time constraints. Just ask for details.
Meet-n-greet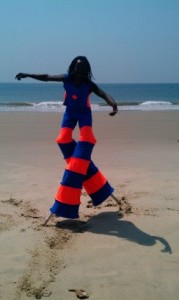 Usually at the entrance to the venue to create a grand spectacle on arrival and to welcome guests to the event. Good choices here are stilts, juggling, spinning, traditional dancing, drumming and fire performance.
Mix-n-mingle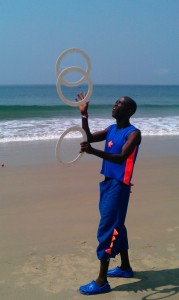 Used once people have arrived and the entertainers mingle amongst the guests displaying their skills and interacting where applicable. This can be done as table side entertainment where guests are seated for dinner or where the guests are just stood up having drinks. Good choices here are stilts, juggling, balloon modelling and spinning.
Teaching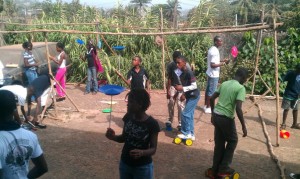 For when you want your target audience to learn new skills by being taken through the learning steps involved with each discipline by a tutor. This can be drumming, or dance, or circus skills workshops (35 people max), or balloon modelling workshops (10 people max).  These classes are limited by the space available, the age of the learners and how many people a single tutor can attend to at once. The workshops can be for just one hour or any period longer than that, depending on your requirements. We recommend that regular breaks are scheduled for longer sessions. We can teach several different classes in one day to different learners or several different classes to the same group. See also our Outreach page [linked] for information on more detailed programmes.
Team Building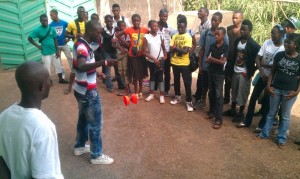 Many of the items listed in the teaching section can also be used as Team Building exercises. But instead here the focus is on learning with a final exercise in mind. Usually this will be working together to help each other learn new skills, identify individual abilities and play to those abilities to achieve a performance goal. The groups can then be asked to present what they have learnt to the other groups in the form of a show or presentation. Emphasis can be put on the importance of working together to achieve the desired outcome.