Skills
Juggling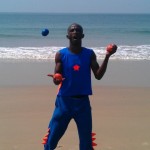 The art of keeping many different objects in the air at once is always an impressive sight. Whether its balls, clubs, rings or knives – the mesmerising effect is the similarly amazing. Juggling can be booked as meet-n-greet, mix-n-mingle or as part of a show. We can also teach large groups or individuals how to juggle.
Spinning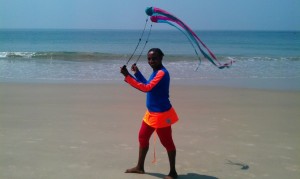 Fast moving objects twirling around the performers body in seemingly impossible ways is guaranteed to wow any audience. We currently offer poi, staff, plate and tray spinning. Poi, staff and tray spinning can be done as meet-n-greet or mix-n-mingle and a show, but fire poi and staff is best reserved for meet-n-greet or shows, so that the performer is kept a safe distance from the audience. We offer plate spinning as part of our circus workshop classes and they are an ideal way of getting kids into circus performance.
Stilts (Sticks)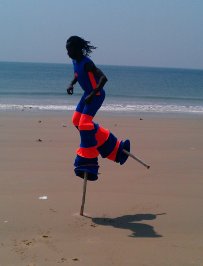 Seemingly impossible, a 9 foot person walking towards you or greeting you at the door is a spectacular sight. Combined with an exciting costume, this style of entertainment can give your event that extra something as the stilt walker greets your guests or walks amongst them. We also offer a stilt walking performance as part of show.
Fire Performance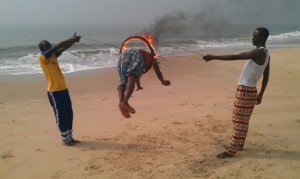 Spinning and juggling props set on fire and moved around the body skilfully, creates a truly awe inspiring effect and is sure to make your guests gasp in amazement. Fire skills can be used in meet-n-greet to give your guests an uplifting arrival. Or they can be put together to form a FIRE SHOW. We can create a fire show according to your needs from 5mins to 30mins. It can also be combined with other skills to create a longer show if required. [linked to styles page – shows section].
Balloon Modelling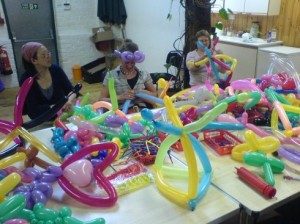 Not always just for kids, adults also love watching the skill involved in twisting a balloon into fun shapes like: animals, hats, swords, flower bracelets and other shapes (all requests considered). With a wide repertoire of balloon shapes to choose from, we can keep your kids or guests entertained for hours. Balloon Modelling is best done as mix-n-mingle, whether it's at a party venue or where the guests are sitting down to a meal. We can also teach balloon modelling to a smaller number of people around a table in a workshop format.
Workshops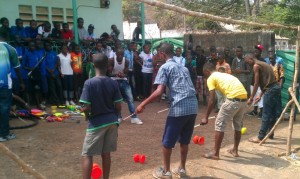 If you have ever wanted to learn to juggle then this is the option for you. Also great in schools as part of an activity programme. We can develop a schedule that fits your time constraints which depends on the number of children or adults to be engaged with. We teach: diablo, devil sticks, juggling (balls, clubs, rings), hoola-hoop, plate spinning, staff and poi spinning and balancing (beginners stilts). We can teach up to 35 people at once.
We can also teach dancing and drumming. Please also see our Teaching section.
Traditional Dancing and Drumming
Ever wanted to learn how to drum or learn Sierra Leone traditional dancing? Well look no further: we can provide lessons in both. We also have a wide range of dance show pieces set to drums, including the traditional Sierra Leone Max Devil.  Please see our Traditional Performance page for details.